Wat is Flowfinity?
Creëer, automatiseer en integreer aangepaste toepassingen voor elk bedrijfsproces. Geef je teams de beschikking over flexibele, schaalbare oplossingen voor workflow- en gegevensbeheer die je configureert zonder code. Probeer het intuïtieve platform dat het volgende combineert: een webgebaseerde app-editor, centrale SQL-database, interactieve dashboards, uitgebreide gegevensverzameling, procesautomatisering en betrouwbare systeemintegraties. Implementeer direct op het web en mobiel. Prijsopties beschikbaar op aanvraag. Gratis proefperiode van 14 dagen.
Wie gebruikt Flowfinity?
IT- en bedrijfsleiders die snel geavanceerde mobiele gegevensverzameling en bedrijfsprocestoepassingen willen implementeren. Stimuleer digitale innovatie via workflowautomatisering en integratie zonder code.
Waar kan Flowfinity worden geïmplementeerd?
Cloud, SaaS, Web, Mac (desktop), Windows (desktop), Windows (lokaal), Android (mobiel), iPhone (mobiel), iPad (mobiel)
Over de leverancier
Flowfinity Wireless
Gevestigd in Vancouver, Canada
Opgericht in 2000
Telefonische ondersteuning
Chatten
Beschikbaar in deze landen
Australië, Canada, Nieuw-Zeeland, Verenigde Staten
prijzen van Flowfinity
Beginprijs:
Niet door leverancier verstrekt
Ja, heeft een gratis proefversie
Geen gratis versie
Flowfinity heeft geen gratis versie maar biedt wel een gratis proefperiode.
Over de leverancier
Flowfinity Wireless
Gevestigd in Vancouver, Canada
Opgericht in 2000
Telefonische ondersteuning
Chatten
Beschikbaar in deze landen
Australië, Canada, Nieuw-Zeeland, Verenigde Staten
Video's en afbeeldingen van Flowfinity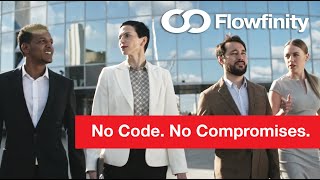 Vergelijk de kosten van Flowfinity met soortgelijke producten
Functies van Flowfinity
API
Aanpasbare rapporten
Aanpasbare sjablonen
Activiteitendashboard
Afsprakenbeheer
Afvalbeheer
Auditbeheer
Automatisering van bedrijfsprocessen
Beeldregistratie
Beheer van gevaarlijke stoffen
Beheer van luchtemissies
Bestandsopslag
Betalingen innen in de buitendienst
Compliance bijhouden
Contactendatabase
Controle van goedkeuringsbeheer
Documentbeheer
Duurzaamheidsbeheer
Elektronische formulieren
Elektronische handtekening
Externe ondersteuning
Factureren
Formulierbeheer
Formulieren maken en ontwerpen
Foutopsporing
Gegevens importeren en exporteren
Gegevens ophalen
Gegevens vastleggen en overdragen
Gegevenskwaliteitscontrole
Gegevensreplicatie
Geïntegreerde ontwikkelomgeving
Grafische gebruikersinterface
Implementatiebeheer
Incidentenbeheer
Inspectiebeheer
Integratie in de administratie
Integratiebeheer
Integraties van derden
Klantendatabase
Mobiele toegang
No-code
Offertes
Offline toegang
Online tijdklok
Ontwerpsjablonen
Op regels gebaseerde workflow
Plannen
Prestatiemeetwaarden
Proces- en workflowautomatisering
Rapportage en analyse
Rapportsjablonen
Risicobeheer
Samenwerkingstools
Servicegeschiedenis
Slepen en neerzetten
Streepjescodes en tickets scannen
Taakbeheer
Testen van compatibiliteit
Toegang en controle op afstand
Toegangsopties/machtigingen
Trainingsbeheer
Veranderingsbeheer
Verzendbeheer
Visueel modelleren
Voor no-code development
Voor ontwikkelaars
Voorgedefinieerde modules
Voorgedefinieerde sjablonen
Voorraadbeheer
Waarschuwingen/Meldingen
Waterbeheer
Web- en mobiele apps ontwikkelen
Werkorderbeheer
Workflowbeheer
Workflowconfiguratie
Alternatieven voor Flowfinity
Jonathan P.
Refrigeration Engineer in VK
Geverifieerde LinkedIn-gebruiker
Heeft de software gebruikt voor: 2+ jaar
Flexible reliable system, easy to adapt and very good value for money.
Opmerkingen: Flowfinity has drastically reduced our paperwork and allowed us to have a live view of activities across several sites showing the status of jobs and issues found. Also the custom coding developed has reduced the amount of time engineers spend writing reports and given them more time to carry out site work. We use the system to satisfy FGas obligations in the UK HVAC industry and it works extremely well.
Pluspunten:
Extremely easy to use and changes can be made and published very quickly. The offline storage of data sets Flowfinity apart from its competitors and permits usage in low signal areas. The support department are very helpful and any issues are dealt with very quickly.
Minpunten:
To fully exploit the system to its full potential a strong background in IT/Programming is extremely beneficial. But anybody can design and publish a basic application to users in less than a hour.
Elliot S.
Director of IT in Canada
Management non-profit organisaties, 51-200 werknemers
Heeft de software gebruikt voor: 2+ jaar
Overwogen alternatieven:
A great experience
Opmerkingen: We are using FlowFinity to do several different things. It is our main data capture tool. Our fleet of trucks and drivers enter all delivery and pickup metrics in it on a continual basis. We use it to schedule our work orders and ensure all goods are picked up and delivered. We also use the system to gather general information throughout our business.
Pluspunten:
FlowFinity has been a great system and has enhanced our operations. It's easy to set up and seems to be infinitely adaptable to our business. If we have a need we just add it to FlowFinity. The system is light weight and does not take a lot to run. The user interface on the mobile device and the website are great and easy to use and learn. We have had advanced users and novice users all pick it up and use it in very little time
Minpunten:
Not many Cons it has really transformed how we work. If I had to define a least favourite item it would be the reports. I wish we could add more branding to them but that is minor to the rest of the system.
Reactie Flowfinity Wireless
3 jaar geleden
Hello Elliot, Thank you, we really appreciate your insight. It's great your team is finding value in the platform. We'll take your request about branding on reports into consideration to include in a future release. - Team Flowfinity
Steve C.
Project Manager in Canada
Bouw, 51-200 werknemers
Heeft de software gebruikt voor: 2+ jaar
Review of Flowfinity Products
Opmerkingen: Data collection from the field is easy and it is able to be audited to suit our clients' needs.
Pluspunten:
The apps are very easy to design and provide our customer with the data that is needed through importing
Minpunten:
The ability to be able to designate view/actions are only allowed to be assigned to Admin/Power user/regular user etc. If you could assign each user with permissions per app or tab, it would provide a great benefit
Reactie Flowfinity Wireless
3 jaar geleden
Hello Steve, Thank you for your honest review of your experience with Flowfinity. Your comments regarding user permissions will be taken into consideration in future releases. Also, unlimited custom roles are available in Enterprise Edition. In the meantime if you have any questions or issues our support team is happy to help. Sincerely, Team Flowfinity
Consumentengoederen, 11-50 werknemers
Heeft de software gebruikt voor: 1-5 maanden
Flowfinity solved our numerous field service challenges with ease and great service
Opmerkingen: We deployed a cross nation field team to visit outlets and conduct in store activities, collecting data through forms and surveys. We also needed features like gps tracking, mature data storage and extraction, cloud enabled, dashboard creation and performance tracking. Our previous solution - built specifically for our industry - was a disaster - combination of the software and the supporting team. 5-6 months in and it never worked. By contrast, Flowfinity created a partnership, held our hand day and night for 5 weeks, answered all queries in real time round the clock, and best of all - it worked. Took 5 weeks from start to finish. Simply could not be more satisfied and wish we had found the solution 6 months earlier. I highly recommend the solution and the Team.
Pluspunten:
Flowfinity is a mature solution. Our sales and on-board team were former clients, highly engaged advocates of the product, very knowledgeable, patient, and very thorough. Though we are not a big client (less than 20 licenses) we were treated with respect, as important, and received amazing round the clock responses to both strategic and technical questions. The solution is highly intuitive and easy to use. Our development team is good, but small and stretched. With flowfinity we were able to get to a solid usage standard, and deployed, in 5 weeks. That's fully operational in 5 weeks. In contrast we worked with previous solution for about 5 months and it never worked.
Minpunten:
Like all solutions this one does not do everything we want. Neither does any other solution we use. What we really like about Flowfinity is that their Team takes on board our inputs, requests, and gives us honest management of our expectations around feasibility, timeframes, costs, etc. This type of honest and transparent handling of what we want that perhaps we cannot have is difficult to find in the market - with Flowfinity we got it.
Reactie Flowfinity Wireless
3 jaar geleden
Hello Brett, Thank you for your honest and enthusiastic review of Flowfinity. Thank you for highlighting our commitment to customer service, and the fact that you went from concept to deployment of your app within 5 weeks, congratulations on your success with the platform! We acknowledge that software cannot always meet all "nice to have" requirements, and we try to manage expectations accordingly. It's great to hear that you are reaping benefits from your custom solution over your previous off the shelf system. We look forward to working with you going forward to help drive your success. Best Regards, -Team Flowfinity
Sarah R.
Operations Director in Canada
Heeft de software gebruikt voor: 2+ jaar
Built a custom solution for managing a SMB - staff time tracking, client database, invoicing
Opmerkingen: -Reduced administrative overhead by about 80%
Pluspunten:
-Completely flexible to use, lets you build truly customized solution completely tailored to your business processes -Great value, because you get offline mobile forms and apps, a built-in database, cloud hosting, unlimited forms, dashboards and workflows all included -Easy to use and super fast to make changes, so you can always improve your solution and keep updating it based on user feedback -Can build all the BPM apps you need without any coding -After you build an application, you can use it on the web or on your mobile device right away as soon as you publish it -It's easy to set up data lookups from other apps, so you can manage your customers in one app and pull the information into other apps for example -It has nested data which lets you create lists with different levels, which we use for creating items in invoices -You can set up custom searches so it's easy to find whatever data you're looking for -I was able to easily set up automatic emails that alert me based on my own business rules, for example if a client doesn't come to their appointment, or is missing contact information, or if a payout rate is outside a certain threshold -They recently added dashboards, so I can see all of my invoicing and staffing information in charts and I don't have to export any data to Excel or another system to work with it, it's all in Flowfinity
Minpunten:
-Looking forward to new product features that will be coming out, for example being able to launch into apps and activities directly from dashboards