eloomi
Wat is eloomi?
eloomi is een gebruiksvriendelijk en intuïtief leermanagementplatform. Creëer of importeer leerinhoud in je favoriete indeling en maak gebruik van elke fase van de trainingservaring van werknemers
Meer informatie
met een moderne auteurstool. Je kunt nieuwe medewerkers onboarden en ontwikkelen, unieke leerervaringen bieden en hun vaardigheden en betrokkenheid verbeteren met een slimme online oplossing.
Minder informatie
Wie gebruikt eloomi?
Voor bedrijven in alle sectoren en van elke omvang, over de hele wereld.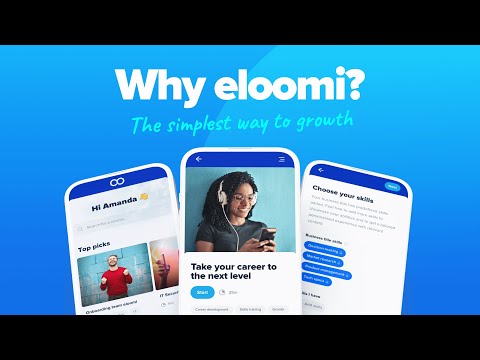 Twijfel je over eloomi? Vergelijk met een populair alternatief
Geen prijsinformatie gevonden
Gratis versie
Gratis proefversie
Geen integraties gevonden
Geen prijsinformatie gevonden
Gratis versie
Gratis proefversie
Waarom krijg ik dit te zien?
Alternatieven voor eloomi
Rubén
Learning Experience Jr Manager in Mexico
Geverifieerde LinkedIn-gebruiker
Financiële dienstverlening, 201-500 werknemers
Heeft de software gebruikt voor: 1-5 maanden
Overwogen alternatieven:
Great & appealing learning experiences
Opmerkingen: eloomi has been a great solution for our learning needs. It's friendly, sexy, powerful, flexible & available to take it anywhere and anytime for your learning requirements. We are also going to implement the Performance Management/Appraisal modules, definitively a plus to integrate solutions in one platform.
Pluspunten:
eloomi's interface is definitively a catch but it doesn't stop there. LMS platform is robust, well constructed, logical and easy to use for final users. Plus, you can configure pretty much anything you want on the platform the way it best suits you. Online modules work great either with presentations, videos, SCORMs, tests, content designed directly on the platform or the sum of all of the previous. Webinar and on-site courses scheduling is useful and works great for planing and managing groups. Gamification features are pretty nice and the certificate generator is a great reward for completing learning experiences. Reporting is another key aspect that deserves a standing ovation. You can gather pretty much all of the information needed with a few clicks, in minutes or simply automate it to receive it periodically. You can do online modules tracking, analysis of the evaluations/tests or even comparisons from a survey. On the admin side, you've got a lot of useful tools. But don't worry, Customer Service is there for you to solve any issue very quickly. Implementation was definitely some work to do, but we were always supported by the best assistance we could ever dream of; which made the journey very enjoyable.
Minpunten:
The platform comes with plenty of translations to multiple languages and we mostly use spanish & english versions. English is perfect, but the spanish translations sometimes require local adaptations and a little bit of polish in the use of some words. It's not really a complaint but it's the only not so good thing about eloomi that I could think of.
Robert
Project and Planning Manager in Zwitserland
Sport, 501-1.000 werknemers
Heeft de software gebruikt voor: 1-5 maanden
Overwogen alternatieven:
Easy, engaging & exactly what we needed!
Opmerkingen: eloomi has helped us streamline and optimise the way that we pass on education within our organisation. Our organisation is global and extremely fast paced and so we need a tool that can expand, evolve and scale organically over time. Time will tell how this goes but our initial experience with eloomi has been nothing but outstanding.
Pluspunten:
Choosing, setting up and subsequently using eloomi has been a breeze. This is a platform that has been adopted smoothly and efficiently by our users. We decided to start at a small scale and expand over time. The eloomi team has been nothing short of outstanding in their customer service, support and assistant to set up and make sure the platform is a success for us. We have found our integrations to be very smooth with the system and find that the UX and UI experience is outstanding, a very important factor for our organisation. For anyone looking for an LMS, eloomi comes with our highest recommendation!
Minpunten:
Since eloomi is still setting up, we found that some of it's additional products, such as talent management, didn't quite fit our needs yet, but as what we were looking for was an LMS, it met our needs perfectly. In terms of what we have now, there is nothing negative I can say about it.
annie
Senior Accounting Manager in VS
Informatietechnologie en -diensten, 10.000+ werknemers
Heeft de software gebruikt voor: 1+ jaar
An effective software.
Opmerkingen: I was looking for a learning management system (LMS) that would help me manage my online courses. I decided to go with eloomi because they offer a system that is simple, easy to use, and affordable.The eloomi dashboard is easy to navigate and it's easy to create course content. The performance management dashboard is also easy to use and allows me to monitor the students' progress.The eloomi system is perfect for me.
Pluspunten:
I've been in the IT field for over 20 years and have worked for a lot of companies. But I've got to say, I've never seen a company that has one product that is so versatile and can be used in so many ways. eloomi is a learning management system, a performance management system, a marketing tool, and a web portal. It can be used in so many ways to help you learn, perform, market, and manage your business.
Minpunten:
My overall rating will be positive because everything works flawlessly and it has an extremely easy-to-use interface. It takes an average of 10 minutes to adapt to the software.
Consumentengoederen, 51-200 werknemers
Heeft de software gebruikt voor: 1+ jaar
Poor program. Needs upgraded.
Pluspunten:
I did have some value with my onboarding process and training but other than that it was just a poor experience overall. I guess I should have done more research.
Minpunten:
User experience is poorly written. Not interactive with the end users to select their own trainings. Customer service is non-existent when you are in the United States and customer support is in another country that's in a different day then you.
Reactie eloomi - eloomi
vorige week
Hi Bill. We're disappointed to hear about your experience with eloomi but appreciate hearing from you and take all customer feedback very seriously. Our EVP of Customer Success, Mike Hobler, would really appreciate a few minutes of your time to learn more about your experience. We recognize that our customers are our most important asset and are investing heavily in Customer Success. We are continuously growing our team in the US (Mike included), to provide localized support in the time zones our US customers are in. We are also maturing our customer success practice and are levelling up our customer communications strategy. In the coming months, we will be launching a number of programs to provide thought leadership and best practices to our entire customer base. If we can provide any further support, or clarify some of your questions, we'd be more than happy to help. Best regards Team eloomi
Geverifieerde reviewer
Training Specialist in VS
Geverifieerde LinkedIn-gebruiker
Medische apparatuur, 10.000+ werknemers
Heeft de software gebruikt voor: 1-5 maanden
Overwogen alternatieven:
Great for Learning and Development
Opmerkingen: So far I have really enjoyed using the platform. It is easy for the user to find the content that they are looking for, and that is really what is most important. Also, the admin side is really clean and easy to use as well. Their customer service has been good so far as well. I am enjoying using it so far.
Pluspunten:
I really like that this doesn't fill compliance heavy. It is much easier to find content and just learn. You are not 6 clicks away from playing content. There is a play button, which seems simple, but so hard to find in this space. Also, on the admin side, it is so easy to navigate and maneuver through the activities you want to do. I have really enjoyed using the platform so far.
Minpunten:
Sometimes it runs a little slow. Especially when running reports and other activities that pull a lot of data.