Wat is eDirectory?
eDirectory stelt zijn gebruikers in staat om een verscheidenheid aan directorygebaseerde websites te publiceren die de advertentie-inkomsten helpen maximaliseren. Met uitgebreide zoekfunctionaliteit, geavanceerde SEO-rapportage en mobiele toegang - evenals een volledig aangepast platform - is eDirectory de marktleider op het gebied van prestaties. Met eDirectory kunnen je adverteerders ook hun marketinginspanningen volgen en aanpassen in een tijdperk waarin de ROI bij advertenties nog nooit zo cruciaal was. Bouw je app met slechts enkele klikken.
Wie gebruikt eDirectory?
Personen die op zoek zijn naar de krachtigste, elegantste directorysoftware op de markt. Eenvoudig in gebruik en volledig aanpasbaar met functies voor SEO, leadgeneratie, betalingsverwerking en zelfs mobiele apps.
eDirectory - Details
eDirectory
Opgericht in 2003
eDirectory - Details
eDirectory
Opgericht in 2003
Video's en afbeeldingen van eDirectory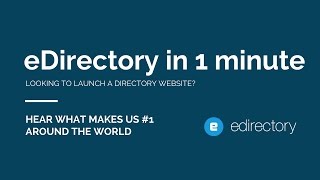 Vergelijk de kosten van eDirectory met soortgelijke producten
Vanaf
US$ 99,00/maand
US$ 145,00/eenmalig
US$ 549,00/maand
US$ 4,00/maand
eDirectory - implementatie en ondersteuning
Ondersteuning
E-mail/helpdesk
Veelgestelde vragen/forum
Kennisbank
Telefonische ondersteuning
Chatten
Implementatie
Cloud, SaaS, Web
Mac (desktop)
Windows (desktop)
Android (mobiel)
iPhone (mobiel)
iPad (mobiel)
Training
Live online
Webinars
Documentatie
Functies van eDirectory
Adreslijstenbeheer
Beheer van profielzichtbaarheid
Betalingen verwerken
Goedkeuring van profielwijziging
Klantenportal
Lay-out en design
Profielsjablonen
Reclamebeheer
Reviewbeheer
SEO-beheer
Zoeken/filteren
API
Aanpasbare branding
Aanpasbare formulieren
Aanpasbare rapporten
Aanpasbare sjablonen
Aanpasbare velden
Aanwezigheid bijhouden
Aanwezigheidsbeheer
Activiteiten volgen
Activiteitendashboard
Applicatiebeheer
Bestanden delen
Betalingen verwerken
Commissiebeheer
Communicatie met leden
Communicatiebeheer
Contactendatabase
Deelnemeraccounts
E-mailherinneringen
E-mailmarketing
E-mailsjablonen
Elektronische betalingen
Evenementenbeheer
Evenementenkalender
Evenementplanning
Facturering op terugkerende basis en op abonnementbasis
Factuurbeheer
Gegevens importeren en exporteren
Herinneringen
Inschrijving/onboarding
Integratie van sociale media
Integraties van derden
Kalenderbeheer
Klantendatabase
Klantenportal
Klasplanning
Ledendatabase
Ledenlijst
Ledenportal
Lidmaatschapverlenging
Rapportage en statistieken
Registratiebeheer
Schuldenbeheer
Toegangsopties/machtigingen
Typen leden
Verwerking van creditcards
Website-integratie
Websitebeheer
Zelfserviceportal
eCommerce-beheer
Informatiediensten, 2-10 werknemers
Heeft de software gebruikt voor: Gratis proef
Overwogen alternatieven:
Very happy with my purchase
Opmerkingen: So far so good I am extremely pleased
Pluspunten:
The demo, the customer service and the product was top notch I am so excited to get plugging away at the information I'm trying to share.
Minpunten:
I wish I had had the money to start easier
Stephanie E.
Web Site Owner in
Heeft de software gebruikt voor: Niet verstrekt
An excellent directory product - EXTREMELY IMPRESSED. You get what you pay for.
Opmerkingen: I wanted to create a regional resource web site for the town I live in, and after searching many different programs, I chose eDirectory. I have been extremely impressed by the eDirectory product and its capabilities. In fact I will go so far as to say that they didn't even hit the tip of the iceberg when selling me on it. I only learned of some of the most detailed and valuable aspects of this system after purchasing and using it. I am very impressed by the SEO capabilities that are built in to every aspect of their application. The interface for people to claim/add their listings and events is very good. One thing I really don't like is the limiting tool for people to upload images; people have issues so I'll have to get that custom change done. Other than that though, people have found it easy to use so far. The blog tool is fairly basic and doesn't look as nice as, say Wordpress. But it's simple to use and has all the right function a blog should have. My site admin interface is easy to use, and I didn't have any training. (Note: you should be web savvy though; a beginner will not find it easy.) You can customize your own emails to/from customers for notifications etc. which are easy use and maintain. There were a few custom changes I had made right away. I didn't like the default way that information showed up. Custom changes are done at a rate of $200 for 3 hours. Not too bad, and I thought they did a very nice job. If it wasn't right, they would fix it for you. I also had them add three custom size Google AdSense blocks for me and that went very well. Their support team is in Brazil, but they are very good. Occasionally hard to get a hold of, but mostly responsive and do a great job. A couple of cons, their email marketing interface seems to need help. I am going to use Constant Contact instead. Theirs seems to be lacking with not much customization flexibility. It appears they don't understand email marketing very well. I had several problems with their hosting and the site being down, but they said it was fixed. (I moved my hosting anyway.) I now own the software and have it hosted elsewhere. All in all, I haven't found any other product out there that comes close to eDirectory. It is a truly amazing product and worth every penny. If you want to have a look, my site is www.redwing.info. It started ranking well for good keywords within three months, and it continues to improve.
Sasha-loriene M.
CEO in VS
Beeldende kunst, 2-10 werknemers
Heeft de software gebruikt voor: 1-5 maanden
Overwogen alternatieven:
Don't waste your time and money on eDirectory
Opmerkingen: Very poor. eDirectory offers amazing packages and services that are nowhere near as functional as advertised if you need customizations/modifications (which you will absolutely need). This will ultimately affect your business, income, and name/brand because the quality of services you intend to provide will not come into fruition and is not user-friendly for your members. Not having fully integrated payment gateways is a major concern as you may be opening yourself to potential fraud disputes, cancellation disputes, payment issues regardless of the payment options you choose (it's the same for them all). Save yourself time and money ($5,000-$20,000) and choose a different platform.
Pluspunten:
Member site has reports, stats, and ability to update their own listings. I also really like the blog and community forum options and the fact that members can have all of their information, photos, and reviews under their listing for optimal marketing . Through a customization, I was also able to have members only access to specific information/resources on the site.
Minpunten:
-not intuitive at all -payment gateways are not integrated (members cannot cancel and there are no automated cancellation emails - you have to cancel in edirectory, cancel in your payment platform, take a screenshot of confirmed cancellation, composed a new email, and attached said screenshot for confirmation email. This is a membership based directory that offers "reoccurring subscriptions integrated" but they leave out the part that there's no cancellation process and you have to cancel 100% yourself... thus making it not an integration. They consider this an additional customization/modification that will take 1 mo+ and cost you an additional $2,000+. It's literally 2020... -every single change you want to make costs money, ie. changing the size of your logo, changing the links color, adding a drop down box, adding social media feeds other than facebook (because of course Facebook is the only platform included for free -they offer the option to buy the source license if you have a web developer that is well versed in php coding. eDirectory has numerous restrictions on the licenses they sell making it extremely difficult for any outside developers to make the necessary changes. You must first pay an additional $100 o $150 a month to gain additional ftp access which afterwards, you're still not able to make changes.
Reactie eDirectory
2 jaar geleden
Sasha, thanks for your feedback. We are working on the cancellation integration for Stripe gateway and should have it out soon. Not all gateways have this level of integration available. Additionally, many companies running directory-based sites prefer to receive and process the cancellation requests through their support ticketing system as it gives them a chance to learn what the client's issues are and correct them. Feel free to reach us out directly if you have any further questions and comments.
Heeft de software gebruikt voor: Niet verstrekt
eDirectory 7.x review
Opmerkingen: Assuming you can live with the feature set and UI, I have not seen a more cost-effective and easy to use product in this category. It is worth massaging your existing (or planned) online business model to use the platform given its performance and price.
Pluspunten:
eDirectory includes a collection of features and monetizing options unmatched for the price. Uploading information is pretty straight forward as is customizing the various elements. The structure and ability to change the UI might seem limiting but I think it helps keep one focused on more important matters like content and sales. One surprise was the flexibility of the support staff to make minor changes to certain UI elements. A couple other things that I can now not live without: their SEO features and ability to create custom pages. These were not high on my research list but should have been. Within a few weeks my content is showing up pretty high in search engine listings.
Minpunten:
I've struggled with two issues so far, both of which I knew about going in. One is the lack of documentation. Perhaps because I was an early user on the new 7x platform there was nothing that explained how to maximize the platform, much less how certain features are supposed to work. I've spent an inordinate amount of time in trial and error testing and have had to call support many times for guidance. Not just about how to use a feature, but to better understand the implications of setting a feature a certain way. The second issue is backend reporting, i.e. network-wide click-through stats, number of website link clicks, clicks on 'view phone', etc. I can do a bit of analysis if I export the data from certain mods but that's clumsy and certain data is not included. There is an excellent search reporting tool (the reason why I waited for 7x) but these other stats would help me monetize the site more effectively. Nevertheless, I suspect these are easily fixable in time.
Heeft de software gebruikt voor: Niet verstrekt
eDirectory. The solution for serious directory owners.
Opmerkingen: My directory is only 3 months old, however Google has already indexed nearly 300 pages and has given me a number of number one rankings for my listings. This is without doing any other SEO on the site whatsoever. At the end of the day, your rankings in the search engines are paramount to your success. This is a testament to the calibre and class of this software. I have used many software applications over the past 6 or 7 years and can honestly say that there would only be a couple of other software solutions out there that have impressed me as much eDirectory and the team behind the it. My opinion: Don't make the same mistake as me. Start with the best first. You WILL NOT be disappointed.
Pluspunten:
After attempting to set up my directory using 2 other directory scripts, I was pleasantly surprised at the ease of use that the eDirectory software offers. The back end control panel is extremely logical and barely needs any explanation. I have hardly had to look at the manual whatsoever. Despite its ease of use it is extremely powerful and has many great features built in. Integrating Google Adsense, Maps and Analytics is as simple as pasting the code that is given by Google. The software has never missed a beat. On the rare occasion I've had problems, the support team have set me straight very promptly. I give this software and the team at eDirectory my highest recommendation. Every aspect of the company is first class. Like most things in life, you get what you pay for. eDirectory is certainly worth every cent.
Minpunten:
In my humble opinion I feel there is only one main negative with the eDirectory software. The stock templates are quite nice however, I would highly recommend having the company tweak them for you. This can all be done in house for a reasonable fee and will set your directory apart from other users.