Wat is Raklet?
Raklet is alles-in-één lidmaatschapssoftware waarmee je op een zinvolle, digitale manier met je gemeenschap kunt communiceren.
Creëer je publiek, laat het groeien en verdien er inkomsten aan via lidmaatschappen, nieuwsbrieven en andere digitale tools.
Naast een krachtige CRM kun je lidmaatschapsabonnementen en een op maat gemaakt aanmeldingsformulier creëren, evenementen organiseren en tickets verkopen, beschikken over je eigen sociale netwerk, je mobiele app en nog veel meer. Het is een eenvoudige en gemakkelijke manier om de betrokkenheid van leden te vergroten en je publiek te laten groeien.
Wie gebruikt Raklet?
Raklet stimuleert organisaties onafhankelijk van hun sectoren. Platform is sterk gericht op oplossingen voor contacten, berichten en betalingen.
Waar kan Raklet worden geïmplementeerd?
Cloud, SaaS, Web, Android (mobiel), iPhone (mobiel), iPad (mobiel)
Over de leverancier
Raklet
Gevestigd in San Francisco, VS
Opgericht in 2014
Telefonische ondersteuning
24/7 (contact met medewerker)
Chatten
Beschikbaar in deze landen
Albanië, Amerikaans-Samoa, Amerikaanse Maagdeneilanden, Andorra, Anguilla en nog 126 andere
Over de leverancier
Raklet
Gevestigd in San Francisco, VS
Opgericht in 2014
Telefonische ondersteuning
24/7 (contact met medewerker)
Chatten
Beschikbaar in deze landen
Albanië, Amerikaans-Samoa, Amerikaanse Maagdeneilanden, Andorra, Anguilla en nog 126 andere
Video's en afbeeldingen van Raklet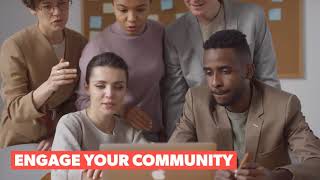 Vergelijk de kosten van Raklet met soortgelijke producten
Functies van Raklet
Aanwezigheid bijhouden
Administratie
Alumnibeheer
Applicatiebeheer
Badgebeheer
Beheer van deelnemers
Beheer van fondsenwerving
Beheer van ontvangstbewijzen
Beheer van profielzichtbaarheid
Betalingen verwerken
Bezoekersbeheer
Bijdragen bijhouden
Budgettering/prognoses
CRM
Campagnebeheer
Commissiebeheer
Communicatie met leden
Contactenbeheer
Dashboard
Documentbeheer
Donaties bijhouden
Donorenbeheer
E-mailmarketing
Evenementenbeheer
Evenementplanning
Expositie- en leveranciersbeheer
Factureren
Gebruikersprofielen
Gereserveerde zitplaatsen
Goedkeuring van profielwijziging
Groepsregeistratie
Inschrijving ter plaatse
Integratie van sociale media
Kaartverkoop
Kalenderbeheer
Klantenportal
Klantgegevensbeheer
Lay-out en design
Ledendatabase
Ledenlijst
Ledenportal
Lidmaatschapsbeheer
Lidmaatschapverlenging
Marketingautomatisering
Online giften
Online registratie
Online reserveren
Overzicht beschikbare plekken
Pandbeheer
Promotiebeheer
Rapportage en analyse
Registratiebeheer
SEO-beheer
Schuldenbeheer
Sociale promotie
Streepjescodes en tickets scannen
Subsidiebeheer
Teammanagement
Terugkerende giften
Tickets reserveren
Typen leden
Verkooppunt
Voor non-profitorganisaties
Waarschuwingen/Meldingen
Websitebeheer
Zoeken/filteren
Alternatieven voor Raklet
Amando boncales B.
CEO in VS
Geverifieerde LinkedIn-gebruiker
Schoolleiding, 11-50 werknemers
Heeft de software gebruikt voor: 1+ jaar
Membership & Continuing Technical Education Software
Pluspunten:
We are a professional organization that requires the capacity to track our members in order to award certifications, track continuing education units, and conduct events for the professional growth of our members. In light of the preceding requirements, we discover that racklet are capable of assisting us in achieving our goals. The certificate is one of the things we'll need to make, and it will help us a lot to make sure that our organization runs smoothly. The developers working on this platform are quite approachable and well-versed in the requirements of our firm. Their understanding of our organization's needs, as well as their eagerness and willingness to help us reach our goals, is a big deal. There is always the chance to check with the team and ask that a feature be added to your account if one isn't already there. It is possible that this platform will provide us with many additional functionalities that we have not yet completely explored. Utilize digital tools such as memberships, newsletters, and other forms of advertising to develop and monetize your following. There is no need for coding. There are a lot of useful tools that this platform can offer that we haven't used yet that will help us make our community experience beautiful. I would strongly recommend this platform to any serious businesses that want to give their users a great experience.
Minpunten:
Feature limitations on artifact submission
Garrett J.
Director in Turkije
Management non-profit organisaties, 1.001-5.000 werknemers
Heeft de software gebruikt voor: 1+ jaar
Overwogen alternatieven:
Great platform, highly recommended!
Opmerkingen: Support team is really helpful. We can easily get in touch with them over phone/video calls. Engineering team delivers new features and improvements all the time.
Pluspunten:
It's really easy to import members, assign dues and collect payments online. We use it for membership management at Center for Financial Inclusion at Accion.
Minpunten:
Nothing in particular. It works like a charm.
Terry W.
membership chair in VS
Burgerlijke en maatschappelijke organisatie, 2-10 werknemers
Heeft de software gebruikt voor: 1+ jaar
Bad experience with this company
Opmerkingen: This company is NOT located in the US. All the support comes from somewhere 8 hours ahead of Mountain Standard Time. Names are foreign and it does not seem that English is the common language. They are very slow to return emails or to address the issues.
Things would randomly go wrong - and no recourse was offered, much less apologies offered.
Pluspunten:
the poor service and communication make it difficult to comment here. For a time, the renewals and notices went out smoothly, then, for no apparent reason, they stopped. Then, many memberships were deleted, again. no reason for this was given.
Minpunten:
Not consistent. The updates seem to "break" processes that had been working fine.
Reactie Raklet
vorig jaar
I'm founder of Raklet and I want you to know more about what happened here. We're a US corp, operating in California. We have been a remote company since 2013. That's how we have the best pricing in the market. Our product is modern and easy to use. We offer free email/chat support and respond in less than 24 hours (usually within minutes). We worked with Horticultural Art Society for about 18 months. We offered them a huge discount in order to help their non-profit grow. Things went great on the first year, they even had a 5 star review on this site with a great comment (unsurprisingly it is now deleted). They collected significant amount of payments so our payment gateway requested additional info about their owners as part of Know-Your-Customer laws and regulations. They declined to provide necessary documents, hence their payment account got disabled. We responded 200+ emails along the way, tried our best to help them out but they did not cooperate, so here we are...
Elisabetta M.
Professor in Italië
1.001-5.000 werknemers
Heeft de software gebruikt voor: 1+ jaar
Evviva Raklet!
Opmerkingen: I am the President of a No Profit Italian Cultural Association (we perform Ancient Classical Theatre in Milano) and I can assure that a software like Raklet can give a very important help in the administration of the Association (a complex task) and in the relationships with members.
Pluspunten:
It gives an answer to most of the administrative and other kind of needs of our Cultural No Profit Association. The founders of Raklet have been and are open to our requests and we found a very positive collaborative dialogue with them.
Minpunten:
At the moment - I do not understand how I can get the complete list of all the anagraphical, fiscal and administrative data related to all members (this is our most important administrative need). For each member we need to show: Name, Second Name, Italian Fiscal Code, date of request and date of acceptance of the Association, address and email or telephon number, if he is Active or not. If we receive a Fiscal Visit we have to present easily the complete list of all these data of all our members. - Raklet does not still allow to keep a register of Contacts of Persons that are not yet MEMBERS. Therefore we cannot envoy Newsletter to them, nor envoy promotional messages or Invites. - The graphic possibilities of Newsletters might be potentiated. - It might be good to let New Members of our Association to read Italianinformations about Raklet and few but clear instruction about its use. - It might be developped the use of Raklet as Social Network of Members. - It might be developped the use of SMS for the payment of the fees!
Christian A.
Secretary in Duitsland
Milieudiensten, 11-50 werknemers
Heeft de software gebruikt voor: 6-12 maanden
Good option for starting your own organization
Opmerkingen: We are using Raklet as a membership management tool in combination with the private social network. For our members, it is implemented as a membership area, where they can share their details and information about themselves as well as details about their affiliation. The details are basically our stock of data about our members. So they have to keep their details updated and we save time for other tasks. We are also using the events function of Raklet which enables us to sell tickets to our members and the public charging them different event ticket prices. That is very practical because it is automatically checked whether one is a member or not. We are also using the Email function which enables us to send automated emails on the basis of pre-designed forms. Another important function for us was the relatively new developed function of Raklet "pages" which enabled us to publish content within the private social network that should be seen from our members only. This was a crucial point to us because we had this area on our website first and were not willing to have a double login, one for Raklet and one for the member area on our website. Therefore, we are glad that we have had the support of the Raklet team and would recommend you to use Raklet.
Pluspunten:
Raklet is very handy if you like to have a membership management tool for your association in combination with a private social network for your members. I really like the approach to sharing new developments in the community. All functionalities are mainly focussed on customer needs and once they are developed they will be released to other organizations as well. The Raklet team is very friendly and is willing to help and assist with any adaptions and where ever possible. Their development prices are quite competitive.
Minpunten:
It seems to be an ongoing project where major developments can be only expected if paid for. This means that basic functionalities should be checked before a decision is made. Adaptions will cost you extra. A high number of smaller developments are risking to get a kind of "messy code" - Therefore, in my opinion, a basic revision of the Raklet code every now and then would be a reasonable measure.
Reactie Raklet
3 jaar geleden
Thanks for your detailed feedback Christian. We're constantly improving our platform and we're glad to have you onboard!