Wat is Hemlane?
Betaalbaar vastgoedbeheer voor langetermijnverhuur:
Hemlane is de slimste en nieuwste technologie die beheer uitvoert via intelligente software en toegang tot on-ground agents. Het is ontworpen en ideaal voor eigenaren met 1 tot 100 huurwoningen.
Wie gebruikt Hemlane?
Werkt met verhuurportfolio's, waarbij de eigenaren en het management op zoek zijn naar een transparant en geautomatiseerd platform voor beheer.
Waar kan Hemlane worden geïmplementeerd?
Cloud, SaaS, Web, Android (mobiel), iPhone (mobiel), iPad (mobiel)
Over de leverancier
Hemlane
Gevestigd in San Francisco, VS
Opgericht in 2015
Telefonische ondersteuning
24/7 (contact met medewerker)
Chatten
Beschikbaar in deze landen
Verenigde Staten
Over de leverancier
Hemlane
Gevestigd in San Francisco, VS
Opgericht in 2015
Telefonische ondersteuning
24/7 (contact met medewerker)
Chatten
Beschikbaar in deze landen
Verenigde Staten
Video's en afbeeldingen van Hemlane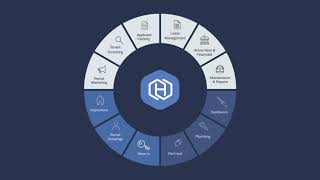 Vergelijk de kosten van Hemlane met soortgelijke producten
Functies van Hemlane
Administratie
Communicatiebeheer
Contactenbeheer
Documentbeheer
Factureren
Faculteits- en personeelsbeheer
Financieel beheer
Financiële verslaglegging
Huur bijhouden
Huurders volgen
Huurdersportal
Leads beheren
Leasebeheer
Leasecontracten volgen
Onderhoudsbeheer
Onkosten bijhouden
Online betalingen
Portefeuillebeheer
Rapportage en statistieken
Transacties controleren
Vacaturebeheer
Vastgoeddatabase
Alternatieven voor Hemlane
Jessica M.
President in VS
Geverifieerde LinkedIn-gebruiker
Vastgoed, 2-10 werknemers
Heeft de software gebruikt voor: 1-5 maanden
Great value and customer support for small business owner
Opmerkingen: We did extensive research when choosing on online platform for the management of our properties. Hemlane was one of the only platforms that we felt truly protected on, as landlords who are conscious about legal concerns around allowing online payments. But we also greatly appreciate that the software is easy to use for our tenants, and so far, they really appreciate the functionality of it! It's made communication and processes so much more seamless!
Pluspunten:
Being able to provide my tenants with a secure platform for online payments and communication has made our operations so much more seamless! The customer service has been exceptional, and there are so many other features we are still learning, ad have yet to implement. What a great value for our money as a small business!
Minpunten:
The financial features are still basic, but I appreciate their compatibility with QuickBooks and other software.
Reactie Hemlane
3 jaar geleden
Thanks Jessica! And, we look forward to improving the financials for you!
Raul C.
Property Manager- Agent Sales in VS
Vastgoed, 2-10 werknemers
Heeft de software gebruikt voor: 1+ jaar
Hemlane saved my business!
Opmerkingen: I have been utilizing Hemlane for the past couple years and every time I have a question or concern they are always super responsive and help with any assistance I may need whether it be with tenants or Landlords. Exceptional service! Looking forward to continuing to do business with Hemlane and growing my Management company.
Pluspunten:
The most important feature that I love is "Transparency" , a platform that is designed to be clear with your landlords without any gimmick. The rent's being directed to their accounts at a push of a button is super helpful. The communication feature between the tenants is great! Simplicity is also key here with this platform.
Minpunten:
To be picky I do think the platform is a little compartmentalized a little too much it makes it a little hard to navigate certain things. However, once you get the hang of it you know your way around. I would say the two things Hemlane can improve on is 1.) Guest Cards a little bit of a easier way to schedule a showing. The showing set up is kind of weird. I don't use it but would like it to be integrated with my calendar. 2.) The maintenance requests are a little hard to navigate such as recording payments and such. Just very minimal technical things. Hemlane is constantly improving their software though.
Vastgoed, 2-10 werknemers
Heeft de software gebruikt voor: 2+ jaar
Great Property Management Solution
Pluspunten:
Hemlane is great because it's easy to use, inexpensive, and has a lot of great features. Additionally, the support team is great!
Minpunten:
I wish it could stay logged in on my browser and phone so that I didn't have to enter login info every time I want to access it.
Heeft de software gebruikt voor: 6-12 maanden
Terrific tool, really enjoy how it's made my life easier!
Pluspunten:
It's pretty quick and easy to get right into it and start working. And, I have never experienced such incredible customer support with software - simply the best, and the standard by which all others should be judged.
Minpunten:
There are a couple functionality elements that sometimes leaving me scratching my head. But once I get it, I'm good to go.
Maddie M.
Digital Producer in VS
Marketing en reclame, 10.000+ werknemers
Heeft de software gebruikt voor: 1-5 maanden
Great experience!
Opmerkingen: I have had a great experience using Hemlane. I moved to a new city over an hour away and instead of selling my house, I wanted to make it a rental property. The rental property industry/ process was all very new to me and Hemlane made it very easy. I have the "Complete" package and it gives me a huge sense of relief. I did not need an agent to help find a tenant, but I do use all of the other features in the package. I am not the first point of contact the tenants go to if there are any issues with the house. The tenants go directly to Hemlane. I was able to provide Hemlane with services providers that I have worked with in the past that I trust and know will do a good job. Hemlane will coordinate any repairs with those service providers and ensure the job gets done. Overall, I have been very happy using Hemlane. They have been responsive to my questions and have fulfilled all of my requests. They are professional and you can tell they want to ease the stress of owning a rental property.
Pluspunten:
I have only been using Hemlane for less than 6 months, but so far what I like most about this software is the Dashboard. This allows me to see at a quick glance the following information; outstanding tasks, quick stats of my property, and quick jump links to other areas of the site that are frequently used.
Minpunten:
My honest review is that I have not found something that I dislike about Hemlane. All of my requests have been fulfilled.