Wat is ScreenCloud?
Digitale beeldweergave hoeft niet ingewikkeld of duur te zijn. Met ScreenCloud kun je elke tv, iPad of tablet gebruiken om je boodschap op een aantrekkelijke manier over te brengen.
Met één druk op de knop kun je content plannen, beheren en uploaden naar je schermen, alles vanuit je browser. Toon moeiteloos je nieuwste aanbiedingen, deel bedrijfsnieuws, toon de sociale media van je merk en nog veel meer.
Wie gebruikt ScreenCloud?
Dit product werkt met elk bedrijf of elke organisatie die wil communiceren via schermen. Dit kunnen kleine bedrijven zijn, ondernemingen, startups, winkels, horeca, gebedshuizen, onderwijs, enz.
ScreenCloud - Details
ScreenCloud
Opgericht in 2015
prijzen van ScreenCloud
Starting Price:
US$ 24,00/maand
Ja, heeft een gratis proefversie
Geen gratis versie
ScreenCloud heeft geen gratis versie maar biedt wel een gratis proefperiode. ScreenCloud heeft een betaalde versie vanaf US$ 24,00/maand.
Prijsmodellen
vraag een gratis proefversie aan
ScreenCloud - Details
ScreenCloud
Opgericht in 2015
Video's en afbeeldingen van ScreenCloud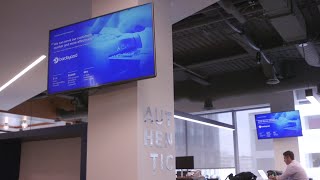 ScreenCloud - implementatie en ondersteuning
Ondersteuning
E-mail/helpdesk
Veelgestelde vragen/forum
Kennisbank
Telefonische ondersteuning
Chatten
Implementatie
Cloud, SaaS, Web
Mac (desktop)
Windows (desktop)
Android (mobiel)
iPhone (mobiel)
iPad (mobiel)
Training
Live online
Webinars
Documentatie
Video's
Functies van ScreenCloud
API
Aanpasbare branding
Aanpasbare sjablonen
Activiteitendashboard
Afbeeldingenbibliotheek
Audittrail
Automatisch bijwerken
Beheer van afspeellijsten
Beheer van externe weergave
Bewaking
Campagneplanning
Contentbeheer
Contentbibliotheek
Contentplanning
Digital signage
Digitale menukaarten
Evenementenkalender
Geautomatiseerde planning
Gebruikersbeheer
Gegevens importeren en exporteren
Gegevensbeveiliging
Integratie van sociale media
Integraties van derden
Interactieve inhoud
Lay-out en design
Mediabibliotheek
Mobiele toegang
Multilocatie
Multimedia-ondersteuning
Offline toegang
Ondersteuning voor meerdere schermen
Plannen
Rapportage en statistieken
Realtime controle
Realtime gegevens
Realtime meldingen
Realtime updates
Reclamebeheer
Sjabloonbeheer
Slepen en neerzetten
Toegang en controle op afstand
Toegangsopties/machtigingen
Video-ondersteuning
Videobeheer
Videostreaming
Visuele editor
WYSIWYG-editor
Waarschuwingen/Meldingen
Widgets
XML / RSS
Fabian M.
Marketing and Communications Manager in VS
Geverifieerde LinkedIn-gebruiker
Schoolleiding, 51-200 werknemers
Heeft de software gebruikt voor: 1+ jaar
Real-Time automated Digital Signage
Opmerkingen: It allows real-time and automated information about events and happenings at our school.
Pluspunten:
We use screen cloud to display live Twitter and Instagram feeds throughout our Campus. The interface is clean, easy to use and accessible via a web browser from everywhere. Lots of additional app integration are available and being added regularly. The Screencloud staff is very responsive and helpful. What I particularly like is the clean design of the displayed apps. It looks very professional.
Minpunten:
Ideally, I would like even more customization on the look and fell of certain apps. But overall there is nothing I dislike so far.
Logistiek en toeleveringsketen, 51-200 werknemers
Heeft de software gebruikt voor: 1-5 maanden
ScreenCloud is very easy to use and the customer service is great!
Opmerkingen: I enjoy ScreenCloud a lot. It livens up the workplace and is easy to use. The customer service was great and they seem to really care about their customers.
Pluspunten:
When looking for a digital signage software, ScreenCloud was a little bit more expensive per screen than competitors, but in my opinion, a lot more easier to understand and use. Also, uploading your own videos and pictures is easy along with scheduling times for certain playlists. The customer service was also phenomenal compared to other software. I would email someone about a question, and then 30 minutes later I would have an answer! The team at ScreenCloud was very helpful and worked with us for a while in order to make sure we understood what we were buying and to help us understand all the different parts of the software.
Minpunten:
The canvas feature has limited customizability and the app store doesn't have a ton of new apps. Using internal links is also not possible at the time but it seems like other services also do not have that feature. However, from talking to customer support, it seems like they are working on new apps and improvements all the time.
Overwogen alternatieven: OptiSigns
Redenen om over te stappen op ScreenCloud: The customer support was very good and the software was much easier to use and understand.
Reactie ScreenCloud
3 maanden geleden
Hi Cameron, thank you so much for leaving us a review. It's great to see the value you're getting from using ScreenCloud and it's always a nice boost for the team to see their efforts recognized. We strive to create a great experience for our users and always welcome feedback on how we can make further improvements. If you'd like to submit additional feedback, please reach out to our support team at [email protected]
Steve K.
I.T.Manager in Canada
Bouw, 51-200 werknemers
Heeft de software gebruikt voor: 1+ jaar
A great product, but not competitive pricing
5
2 maanden geleden
Nieuw
Pluspunten:
We have used ScreenCloud for over a year. I always thought it was too expensive per screen. I had a need for a second screen to be added, and I came across OptiSigns. I reached out to ScreenCloud and asked about the second screen and if they could be competitive. I was told no. OptiSigns does the same thing as ScreenCloud, and even used our existing hardware (firetv stick), and is half the cost. At $10 per screen, it's a reasonable price for use to expand to more screens. So we switched.
Minpunten:
The cost was too high, and there are similar and better priced products available.
Bouw, 501-1.000 werknemers
Heeft de software gebruikt voor: 1-5 maanden
Great potential but a lot still to develop
Opmerkingen: This is just used as our entry way marketing material. This has been more of a head ache than it should have been.
Pluspunten:
Ease of use is a fact. I liked the layouts and basic idea of this product. That was about it.
Minpunten:
Needs more native apps. Not a very "smart" program (i.e. have pictures in a custom zone to a special size - this requires me to go back to marketing team to re-edit the photos down to what the app can handle. This should be done as part of the program to allow for overall easier use). While the support team is quick to respond, they missed the mark greatly in actually addressing the issues and are rather snarky when you point out the pitfalls of the program. There are misspellings in the warnings that pop-up throughout their app. It is all around a work in progress.
Reactie ScreenCloud
2 jaar geleden
Hi Mitch, this is Adam, the Head of the Support team at ScreenCloud. I'm really sorry you've been experiencing these issues. We take your feedback seriously, so thank you so much for taking the time to share this with us. We're always trying to improve our app and stay on top of an agile work environment and sometimes we don't meet the standards we want to achieve for our customers. Although we've built ScreenCloud to optimize your images to look at their best for your screens, in some cases you'll need to edit the dimensions of the image to capture the area you want to show the most. To make this easier, we've been developing a new app to help you do just that. We've also been revising our on-boarding experience to share the good practices as early as possible. I'd really appreciate it if we had a call to get to the bottom of this and also show you what we've been working on. I'll make sure to personally reach to you.
Runar I.
Systems engineer in Noorwegen
Bouw, 1.001-5.000 werknemers
Heeft de software gebruikt voor: 1+ jaar
Affordable, easily scalable and easy to use Digital Signage!
Opmerkingen: We're very pleased to be able to distribute digital signage to multiple locations, with little effort in terms of implementation, as well as eliminating the need for on-premise or LAN management.
Pluspunten:
Great support for most OS-types, low cost, versatile in terms of deployment, easy to use for users with basic IT knowledge. Cloud managed, only need local access to internet in able to manage a remote screen.
Minpunten:
Required the use of a credit card, at the time of acquisition. Invoice would be better suited to our needs.
Reactie ScreenCloud
3 maanden geleden
Hi Runar, thank you so much for leaving us a review. It's great to see the value you're getting from using ScreenCloud and it's always a nice boost for the team to see their efforts recognized. We strive to create a great experience for our users and always welcome feedback on how we can make further improvements. I'll pass on your feedback about the acquisition payment process to our product team. If you'd like to submit additional feedback, please reach out to our support team at [email protected]