Wat is SendPulse?
SendPulse is een geïntegreerd berichtenplatform met het "kunstmatige intelligentie"-systeem en personalisatie om klantenservicemedewerkers bovenmenselijk te maken, waardoor gebruikers met alle apparaten kunnen communiceren via e-mail, sms, webpush, SMTP enz. Klanten die SendPulse Al gebruiken, zien regelmatig een toename van 50% tot 100% in de betrokkenheidsstatistieken, inclusief klikfrequenties, paginaweergaven, tijd doorgebracht op de site en conversies.
Wie gebruikt SendPulse?
Bloggers Kleinhandel E-commerce Toerisme Banksector Kleine tot middelgrote bedrijven
Waar kan SendPulse worden geïmplementeerd?
Cloud, SaaS, Web, Android (mobiel), iPhone (mobiel), iPad (mobiel)
Over de leverancier
SendPulse
Gevestigd in Bernardsville, VS
Opgericht in 2011
Telefonische ondersteuning
24/7 (contact met medewerker)
Chatten
Talen
Engels, Portugees, Russisch, Spaans, Turks
prijzen van SendPulse
Beginprijs:
US$ 9,85/maand
Ja, heeft een gratis proefversie
Ja, heeft een gratis versie
SendPulse heeft een gratis versie en biedt een gratis proefperiode. SendPulse heeft een betaalde versie vanaf US$ 9,85/maand.
Prijsmodellen
vraag een gratis proefversie aan
Over de leverancier
SendPulse
Gevestigd in Bernardsville, VS
Opgericht in 2011
Telefonische ondersteuning
24/7 (contact met medewerker)
Chatten
Talen
Engels, Portugees, Russisch, Spaans, Turks
Video's en afbeeldingen van SendPulse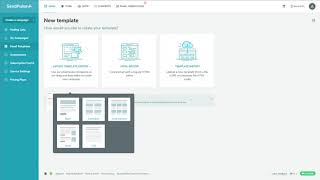 Functies van SendPulse
A/B-tests
API
Aanpasbare velden
Abonneebeheer
Autoresponders
Beheer van e-mailcampagnes
Beheer van verkooppipeline
Bestemmingspagina's en webformulieren
CAN SPAM-compliance
CRM
Campagnebeheer
Contactenbeheer
Documentbeheer
Door gebeurtenissen geactiveerde acties
Drip -campagnes
Dynamische inhoud
E-mailbeheer
E-mailmarketing
E-mails bijhouden
Integraties van derden
Interactie bijhouden
Klantenbeheer
Klantendatabase
Klantensegmenten
Leads beheren
Lijstbeheer
Marketing via meerdere kanalen
Marketingautomatisering
Mobiele toegang
Personalisatie van berichten
Rapportage en analyse
Sjabloonbeheer
Voor mobiel geoptimaliseerde e-mails
WYSIWYG-editor
Waarschuwingen/Meldingen
Alternatieven voor SendPulse
Fernando manoel B.
CEO in Brazilië
Geverifieerde LinkedIn-gebruiker
E-learning, Zelfstandig ondernemer
Heeft de software gebruikt voor: 1+ jaar
great email marketing management tool
Opmerkingen: Overall I am satisfied with the use of the tool in terms of value for money. I believe I will continue to use SendPulse for a long time.
Pluspunten:
The structure is very simple and practical. I can build campaigns and automations without too many problems. The fact of sending unlimited emails is also very interesting.
Minpunten:
In automations, more functionality can still be added to simplify the flow.
Overwogen alternatieven: Sendinblue
Redenen om voor SendPulse te kiezen: I was looking for a tool that was simpler to configure and with more features, as well as an affordable price.
Overgestapt van: Sendinblue
Redenen om over te stappen op SendPulse: More user-friendly interface, better price in relation to cost-benefit, ease of configuring the tool and quick response from support.
Automotive, Zelfstandig ondernemer
Heeft de software gebruikt voor: 2+ jaar
No learning curve
Pluspunten:
SendPulse is very easy to learn and use. There is no frustration in any sense. The one time I needed help, I got it within 2 minutes.
Minpunten:
I have been using SendPulse for 2 years. I can't honestly say there is something I don't like about it.
Geverifieerde reviewer
Consultant in
Geverifieerde LinkedIn-gebruiker
Managementconsulting, 51-200 werknemers
Heeft de software gebruikt voor: 1-5 maanden
Bron: GetApp
Good but API is hard work
Opmerkingen: So – I am going to caveat this whole thing with – if you're not interested in using the API or you are not coming from another service with an existing API integration, this probably won't apply to you. Summary: 2 different API's, both awfully designed, both poorly documented, both with completely different authentication methods, credentials etc. however, the application itself is great, so if you're not using the API, it's probably fine. Full Review: SendPulse has a functional API, but it feels like it was created by someone that read a REST API book of best practices without really thinking about how people would / should use it. My biggest problem is the way authentication works (on the main API which is for sending your campaigns, managing subscriptions etc.), sure it follows all OAUTH standards, but this means you need to manage identify on your application so you send all the correct tokens etc., it feels very Salesforce, not Slack (if you have used either of these API's you will know, Slack is easy, Salesforce is really really hard) – another comparison would be that it feels like IBM made this software when you are using the API, not a start-up. If you are coming from something like MailChimp – the MailChimp API is easy, send a request with your API key and whatever you are requesting happens or you get a meaningful response, I have seen many garbage responses from the SendPulse API – you cannot guarantee JSON will come back, sometimes you get HTML, sometimes you get a weird HTML 404 page with some Yahoo copyright notices all over it, it all depends on how mangled your request is – so on top of having to worry about handling identity, you need to handle all sorts of strange responses not just JSON – and therein lies the next problem – DOCUMENTATION: The API documentation is god-damn-awful, and because the API is quite complex and / or obscure in terms of how you request stuff, you often end up with garbage responses and have to trial-and-error how stuff works. SendPulse has created a bunch of libraries to make this easier, and if you want to hang your PHP application by using their library, then go ahead – but if you have some kind of background task manager you will probably have to write your own stuff, which in most cases would not be too hard, but because the documentation is sparse, I really struggled to do even the basic stuff with CURL on the command line – if I was to suggest anything, provide CURL examples like Slack does, at least that way I could reverse engineer the CURL to sort out the lack of actual documentation (again, it's a problem because the API responds with junk HTML if you get your request wrong so you don't know what is actually wrong and have to trial-and-error a lot). On top of all of this, if you are planning on using the SMTP send-alone API, you have a completely different authentication process – one that I still have no idea how to make work – this is what the documentation says about how to authenticate: http://i.imgur.com/sVAc3II.png (the original documentation is here, but I think you need to be logged in to view it: https://login.sendpulse.com/manual/smtp-api/) I personally have no idea how to authenticate against this SMTP API. I have not yet asked support about it because they are looking at something else for me that is more important, but I just don't…….. what….. from the documentation (a required parameter to authenticate, IV): "iv – an initialization vector, encrypted by a public key with an OpenSSL Library usage" – what is this? Why is it never mentioned again? how do I get it? And most importantly, why on earth is it different to the (already convoluted) other OAUTH authentication on the main mail API? Anyway, to wrap this up, I picked up SendPulse because I needed both templated / campaign based email and SMTP / transactional email and I previously had MailChimp, but did not want to pay for Mandrill because my SMTP volumes were super low. SendPulse is fine, but I have wasted more time than the money I would have saved just using Mandril, however if you can get over all of this, the product is actually pretty good which is why I have not left a steamer of a review score, and as I said at the start, if you are not using the API it is great. I just hope they release a new version of the API that focuses on functionality rather than horrible REST standards (although I'm not convinced all of this is standards compliant), which I think have generally been thrown away by the new-wave tech start-ups so people can quickly deliver value.
Pluspunten:
Price Web Interface Email Builder
Minpunten:
API Can't use Email Builder emails in the SMTP email interface
Geverifieerde reviewer
Consultant in Nepal
Geverifieerde LinkedIn-gebruiker
Bouw, 11-50 werknemers
Heeft de software gebruikt voor: 2+ jaar
SendPulse Helps Keeps Subscriber Updated
Opmerkingen: Happy to use such an awesome product.
Pluspunten:
SendPulse is a cloud-based email marketing and transactional email service provider. It helps you to send emails, manage subscribers, and monitor your campaign's performance. They provide a suite of tools for those who want to get their message out to the world in the most effective way possible. SendPulse offers an easy-to-use interface that allows users to design content for various channels like SMS, Push Notification, Social Media, etc.
Minpunten:
Not so much of cons but the limitation in subscriber number is quite the thing I don't like about SendPulse.
Reactie SendPulse
2 maanden geleden
Thank you for your review, happy to hear that you find combination of various tools in one product convenient.
Kumar B.
Engineer in India
Civiele techniek, Zelfstandig ondernemer
Heeft de software gebruikt voor: 1+ jaar
Best solution for email campaigns
Opmerkingen: I use Sendpulse to send out our cold email campaigns and lead generation newsletter and it has delivered very good conversion rates which have helped us generate more leads and customers. It has one of the best easy-to-use messaging platforms.
Pluspunten:
Sendpulse is one of the best inexpensive and feature-rich email marketing tools that has improved the way I manage my email campaigns. This is one of the best email campaigns and IT has increased my conversion rate and lead generation through email campaigns. It has various profitable Plans
Minpunten:
When emails are rejected, they restrict email delivery, thus resulting in no lead generation for that day. It can also have more integration if possible with CRM to track and maintain data with the Analytics aspect.