Wat is BOSSDesk?
De BOSS Solutions Suite is een volledig geïntegreerde, op ITIL gebaseerde oplossing voor service desk/helpdesk en beheer van IT-middelen die zowel lokaal als in de cloud beschikbaar is. Het bevat capaciteiten voor het garanderen van een productieve en efficiënte externe werkervaring, waaronder een bekroonde gebruiksvriendelijke interface en een krachtige servicecatalogus. BOSS wordt door klanten hoog aangeschreven voor het bieden van een betaalbare ITSM-oplossing (IT Service Management) met een geweldige gebruikerservaring, een breed scala aan functies en uitstekende klantenondersteuning.
Wie gebruikt BOSSDesk?
Klanten van BOSS omvatten zowel particuliere als openbare organisaties, geschikt voor bedrijven met meer dan 100 werknemers die de activiteiten van de service desk en het beheer van de IT-middelen willen maximaliseren.
Waar kan BOSSDesk worden geïmplementeerd?
Cloud, SaaS, Web, Windows (desktop), Windows (lokaal), Linux (lokaal), Android (mobiel), iPhone (mobiel), iPad (mobiel)
Over de leverancier
BOSS Solutions
Gevestigd in Norcross, VS
Opgericht in 1997
Telefonische ondersteuning
Chatten
Beschikbaar in deze landen
Verenigde Staten
Over de leverancier
BOSS Solutions
Gevestigd in Norcross, VS
Opgericht in 1997
Telefonische ondersteuning
Chatten
Beschikbaar in deze landen
Verenigde Staten
Video's en afbeeldingen van BOSSDesk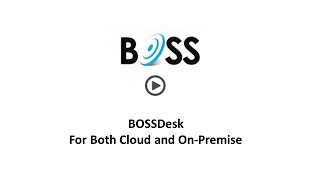 Vergelijk de kosten van BOSSDesk met soortgelijke producten
Functies van BOSSDesk
Aanpasbare rapporten
Activiteitendashboard
Assets volgen
Auditbeheer
Auditing van problemen
Automatische apparaatherkenning
Beheer van IT-assets
Beheer van Service Level Agreements (SLA's)
Beheer van supporttickets
CMDB
Callcenterbeheer
Communicatie via meerdere kanalen
Compliancebeheer
Configuratiebeheer
Contract- en licentiebeheer
Dashboard
E-mailbeheer
Helpdeskbeheer
Incidentenbeheer
Integraties van derden
Interactie bijhouden
Kennisbankbeheer
Kennisbeheer
Klantendatabase
Klantenondersteuning
Kosten bijhouden
Leveranciersbeheer
Licentiebeheer
Macro's/reacties via sjablonen
Opdrachtenbeheer
Prestatiemeetwaarden
Probleembeheer
Rapportage en analyse
Realtime meldingen
Realtime rapportage
Samenwerkingstools
Servicecatalogus
Slepen en neerzetten
Taakbeheer
Ticketbeheer
Toegangsopties/machtigingen
Veranderingsbeheer
Voorraadbeheer
Waarschuwingen / Escalatie
Waarschuwingen/Meldingen
Workflowbeheer
Workflowconfiguratie
Zelfserviceportal
Zoeken in gehele tekst
Alternatieven voor BOSSDesk
William
I.T. Support Specialist Supervisor in VS
Geverifieerde LinkedIn-gebruiker
Nutsbedrijven, 201-500 werknemers
Heeft de software gebruikt voor: 2+ jaar
BOSS Support Central - A Remote Support Must Have!
Opmerkingen: We have been with BOSS for over 5 years, and they provide exceptional customer service. Anytime that we have identified an issue, [SENSITIVE CONTENT HIDDEN] has been available to troubleshoot and report bugs to have it fixed in their next software release. They appreciate feedback and work to keep their product up to date.
Pluspunten:
The ability to login to Support Central from anywhere at anytime and process tickets is something that we cannot live without in the new COVID19 world. We have not missed a beat, and our end users are receiving the support that they want and expect in a timely, professional manner because of it. The Dashboard area allows for the creation of widgets to monitor ticket assignments, counts and more on the fly. We utilize routing, templates and automatic responses to make sure support issues are addressed as quick as possible.
Minpunten:
We are very pleased with the product. The only recommendation that I have is for them to invest in a training and tutorial area for technicians to easily reference to learn of new features or to learn about how to get the most out of the product.
Overheidsadministratie, 1.001-5.000 werknemers
Heeft de software gebruikt voor: 2+ jaar
Awesome product and support team for automating and streamlining your service desk.
Opmerkingen: We migrated from a legacy on-prem solution to a BoSS on-prem solution which we easily migrated to the BoSS SaaS solution. All of our information was easily migrated forward as we needed to make organizational changes. The BoSS solution suite is capable, flexible, adaptable, and easy to use, which has resulted in significant process improvements for our organization.
Pluspunten:
The integration and automation of service requests, and the ability to create a service request from multiple avenues. Being a SaaS solution enables access to tickets and inventory from any location and from any device. We are able to update our field techs with ticket assignments or ticket updates while they are in the field, and the techs are able to update the service ticket from the field with the latest information. This makes reporting close to real-time.
Minpunten:
There's nothing that I can point to that I would regards as liking least about the solution, other than the solution won't actually perform the physical work itself :-)
Joshua
Help Desk Supervisor in VS
Overheidsadministratie, 1.001-5.000 werknemers
Heeft de software gebruikt voor: 1+ jaar
Beta Ticketing System
Opmerkingen: Support is sub par. I've worked with one of their high tier support agents to fix an issue with site agent. They ended up suggesting we upgrade the site agent to 2.0. I asked specifically if we need to back up any configurations before we do that and was told no that it should carry over. After the upgrade, none of the syncing configurations carried over. The support engineer had no way to recover this either. Also there is no documentation on the 2.0 agent in their own knowledgebase. I asked for the possibility of making CI's a required field and was just asked "Why? What if there wasn't a CI." I told them I have an n/a option as a CI item and want my techs to have to fill that in. This went no where.
Pluspunten:
The asset management portion is the best part of this ticketing system. The integration with AD and use of the Remote Agent make it easy to maintain inventory. The UI is better than some of the other ticketing systems I've used.
Minpunten:
This ticketing system seems like it's still beta software. Many features available in other standard ticketing systems are not available in this. Only recently have they added time sheets, routing rules, and triggers. The reporting is poor as well with little options for custom reports.
Reactie BOSS Solutions
vorig jaar
Customer satisfaction is our priority and ensuring every customer is happy with our solution is of utmost importance to us. We thank the reviewer for posting his comments and have since discussed the issues in detail with the customer and come up with an action plan to resolve the issues raised. We should note that the features mentioned by the reviewer who is relatively a new user have been available in our solution for several years and our solutions have been performing as expected for our customers. Our solution has advanced capabilities to match most of the competing systems in this market space. We pride ourselves on providing excellent customer support and will work with the reviewer to take corrective action to address any outstanding support issues. We are committed to ensuring that our solutions bring value to our customers and every single user is satisfied.
Ronald
Director of Information Technology in VS
Overheidsadministratie, 501-1.000 werknemers
Heeft de software gebruikt voor: 2+ jaar
Overwogen alternatieven:
Excellent platform for Service Desk
Opmerkingen: We use BOSS service desk to manage the service desk requests, 811 (Call before you DIG) requests, inventory management and reporting of all these key metrics.
Pluspunten:
Our agency likes the flexibility within the platform. We use it to collaborate with our internal users as well as some of our external vendors. The platform allows our employees to keep all service tickets in one solution.
Minpunten:
At this time we do not have any issues with the platform.
Debbi
Information Systems Administrator in VS
Overheidsadministratie, 201-500 werknemers
Heeft de software gebruikt voor: 2+ jaar
Latest Version Soars!
Opmerkingen: BOSS is essential to helping our department work with customers and keep track of inventory and issues. With the latest update, a necessary but not efficient experience has become very speedy and we can flip through tickets and searches with ease
Pluspunten:
Helpdesk ticket management allows us to assign and track individual and project tickets with ease Asset management and inventory help us to easily keep track of our inventory for ticket and audit purposes The latest version speeds the whole thing up so much more
Minpunten:
Older version was slow and flipping between pages took a long time