Wat is TeamGantt?
TeamGantt betekent een moeiteloze samenwerking en planning voor projecten. Alles wat je nodig hebt om je werk te plannen en uit te voeren op één plek. Intuïtieve, aantrekkelijke Gantt-diagrammen gecombineerd met communicatie op taakniveau, bestandsuitwisseling, teamresources en meer, gecombineerd in een aantrekkelijke interface. Proberen is overtuigd worden, meld je vandaag nog aan voor de gratis proefversie van 14 dagen!
Wie gebruikt TeamGantt?
Iedereen met een project waarbij meerdere mensen betrokken zijn, zal TeamGantt waarderen.
Waar kan TeamGantt worden geïmplementeerd?
Cloud, SaaS, Web, Mac (desktop), Windows (desktop), Linux (desktop), Android (mobiel), iPhone (mobiel), iPad (mobiel)
Over de leverancier
TeamGantt
Gevestigd in Lutherville-Timonium, VS
Opgericht in 2009
Chatten
Beschikbaar in deze landen
Verenigde Staten
Over de leverancier
TeamGantt
Gevestigd in Lutherville-Timonium, VS
Opgericht in 2009
Chatten
Beschikbaar in deze landen
Verenigde Staten
Video's en afbeeldingen van TeamGantt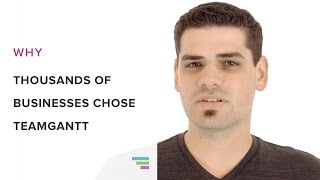 Vergelijk de kosten van TeamGantt met soortgelijke producten
Functies van TeamGantt
Aanpasbare sjablonen
Afhankelijkheden bijhouden
Bestanden delen
Capaciteitsbeheer
Dashboard
Doelen stellen en bijhouden
Gantt-/tijdlijnweergave
KPI-controle
Kanban-bord
Mijlpalen bijhouden
Percentage-voltooid bijhouden
Portefeuillebeheer
Projectplanning
Rapportage/projecten volgen
Resourcebeheer
Resources plannen
Risicobeheer
Samenwerkingstools
Sjablonen
Slepen en neerzetten
Staafdiagram
Strategische planning
Taakbeheer
Taakplanning
Tijd en onkosten bijhouden
Vaardigheden bijhouden
Alternatieven voor TeamGantt
Brock P.
Vice President of Marketing in VS
Geverifieerde LinkedIn-gebruiker
Detailhandel, 51-200 werknemers
Heeft de software gebruikt voor: 2+ jaar
Great Project Management Tool
Opmerkingen: Overall this is a great tool TeamGantt transformed the way our team works and has made us SIGNIFICANTLY more efficient. Problems get spotted and solved quicker and work moves much more smoothly than before.
Pluspunten:
We have a small team of about 10 on staff marketers and 10 remote freelancers. TeamGantt make it easy at a glance, to see where all projects are and see where we may have issues to address.
Minpunten:
There is a bit of a learning curve with this software, and that has limited widespread adoption by other departments within our company, and I believe we may not be using the software to its full potential due to not knowing how all the features work.
Valerie H.
Project Manager in VS
Informatiediensten, 11-50 werknemers
Heeft de software gebruikt voor: 1+ jaar
Overwogen alternatieven:
Life Changing Product
Opmerkingen: Overall, TeamGantt has filled a huge gap that I was dealing with in project planning. I plan to continue using it for many years to come. I'm a huge fan of the ease of use and percent complete tracking. I've been able to use the percent complete to help estimate remaining work / budget for projects to keep stakeholders informed.
Pluspunten:
TeamGantt gives me the ability to create a gantt chart for my projects in minutes (as opposed to hours). I can easily create new tasks and plot timelines by clicking and dragging. If you're currently using a product like Teamwork or BaseCamp, the milestone calendar is great for a day to day view - but for complex projects, I was having a very hard time seeing the big picture in any detail. TeamGantt gives me the ability to quickly create these high level views that can be used to easily shift timelines and deliverables - receive approval on the changes, before making major milestone calendar shifts.
Minpunten:
I'm not a huge fan of the hours allocation portion of the software. It would be a nice feature to have, but it's overly cumbersome. I can add hours for an individual and see how many hours they're slotted for per day - but I can't see a person by person ganttchart of their overlapping responsibilities or how many hours per day they're allotted per project. (This would be a combination of Floats software & TeamGantt, which is how we use the software now.)
Yusuf T.
Game Developer in Turkije
Programmaontwikkeling, Zelfstandig ondernemer
Heeft de software gebruikt voor: Gratis proef
TeamGantt is just average for management.
Pluspunten:
TeamGantt doesn't offer you much, it lets you manage through a Gantt chart, and it's a good thing. Anyone who knows what a Gantt chart is also knows its importance. Interface is good, not complicated that much.
Minpunten:
TeamGantt doesn't offer you much as I said, so it seems expensive. Its competitors can do what TeamGantt does and offer more features.
Matthew R.
Project Manager in VS
Heeft de software gebruikt voor: 2+ jaar
TeamGantt offers simple gantt charting but lacks product polish
Opmerkingen: This tool makes sharing my gantt charts with clients a breeze.
Pluspunten:
TeamGantt offers a clean view of the gantt chart and visually is nice to see who is working on what tasks in line with the bar. But really what lead me to purchasing this software, is its sharing capabilities. TeamGantt allows me to share my charts with other users without the need for a login. This combined with the ability to embed it in webpages has been critical for radiating timelines to clients. A common feature in these types of products I generally don't like is the "sync to calendar" feature. However, you can tell TeamGantt spent some time on this feature, and it works surprisingly well.
Minpunten:
Where TeamGantt fall short is in their overall product polish. The user experience and underlaying design is flat out annoying. Something as simple as undoing a date change can take minutes to figure out and may not even be possible if the site didn't record it in its history. Resizing the charts is a pain and you can't even resize the tasks column. The way projects are listed in the left panel is also very difficult to read and navigate. These things can all be summarized in just the UX design. The feature set is robust and I don't think its lacking anything their customers really are asking for, at this point it just needs to be giving some TLC.
Jaroth M.
Student in Mexico
Computersoftware, 201-500 werknemers
Heeft de software gebruikt voor: 6-12 maanden
TeamGantt a great tool to manage a project
Opmerkingen: The graphic interface, the differents elements in the screen let me see that this software have a great work.
Pluspunten:
I really like the interface, it's nice to see it and i like the colours, the buttons and whole of it, i really like that the interface let you work great and easy to understand, I like the differents tools and functions that this software provide us.
Minpunten:
I really don't like that the work can be stressful or annoying because sometimes some functions and tools doesn't works good, and it makes that the user become annoyed.