Wat is Teamtailor?
Teamtailor is een eenvoudig te gebruiken combinatie van ATS, carrièresite en analysedashboard. Het heeft de manier waarop je kunt werken met employer branding en de kandidatenstroom veranderd. Het is elegant gebouwd en sluit naadloos aan op alle sociale media-pagina's van je bedrijf. Een ander voordeel is dat een kandidaat zich kan aanmelden met een simpele klik op zijn/haar telefoon of tablet! En natuurlijk kun je alles beheren vanaf je mobiele apparaat!
Wie gebruikt Teamtailor?
Meer dan 1500 bedrijven gebruiken Teamtailor om te rekruteren en hun employer branding over de hele wereld te verbeteren.
Waar kan Teamtailor worden geïmplementeerd?
Cloudgebaseerd
On-premise
---
Over de leverancier
Teamtailor
Gevestigd in Stockholm, Zweden
Opgericht in 2013
Ondersteuning voor Teamtailor
Telefonische ondersteuning
Chatten
prijzen van Teamtailor
Beginprijs:
US$ 2.750,00/jaar
Ja, heeft een gratis proefversie
Geen gratis versie
Teamtailor heeft geen gratis versie maar biedt wel een gratis proefperiode. Teamtailor heeft een betaalde versie vanaf US$ 2.750,00/jaar.
Prijsmodellen
vraag een gratis proefversie aan
Over de leverancier
Teamtailor
Gevestigd in Stockholm, Zweden
Opgericht in 2013
Ondersteuning voor Teamtailor
Telefonische ondersteuning
Chatten
Video's en afbeeldingen van Teamtailor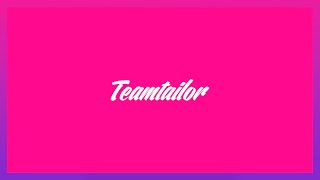 Functies van Teamtailor
Aanpasbare branding
Aanstellen (van personeel)
Activiteitendashboard
Applicatiebeheer
Beheer van sollicitatiegesprekken
Beoordelingsbeheer
CRM
CV's zoeken
Campagnebeheer
Careers-pagina
Database met CV's
E-mailbeheer
E-mailmarketing
Integratie van sociale media
Interne HR
Marketing via meerdere kanalen
Marketingautomatisering
Opslag hervatten
Parseren hervatten
Prestatiemeetwaarden
Profielen van sollicitanten
Rapportage en analyse
Rapportage en statistieken
Samenwerkingstools
Sms-berichten
Sociale werving
Sollicitantenbeheer
Sollicitatiegesprekken plannen
Taakbeheer
Vacaturebank
Vacatures
Volgen van sollicitanten
Werknemersprofielen
Werven van talenten
Wervingsbeheer
Workflowbeheer
Zelfserviceportal
Alternatieven voor Teamtailor
John
HR- och Rekryteringsansvarig in Zweden
Geverifieerde LinkedIn-gebruiker
Heeft de software gebruikt voor: 1-5 maanden
Bron van de reviewer
Teamtailor is the tool that has it all. A perfect balance of functionality and flexibility.
Opmerkingen: It created a more appealing front for the company in a digitalised world, this helped tremendously since our co-workers are spread all around the country, garnering more applications and strengthening our base in comparison to the competition. It also made communcation and hiring more smooth and pain-free increasing initial employee satisfaction greatly. Not to mention it has saved us huge amounts of administration time.
Pluspunten:
The candidate storage is great, easy to maneuver when you need to find that candidate from six months ago what-was-his-name, incredible to make sure no candidate is left unanswered and completely in regulation with GDPR. One less thing to worry about. The drag-and-drop bars connected to various triggers and the ease with which to combine this with other services to automise processes is brilliant. Lastly the career-site has it all while still being easy to design even for the complete novice. The chat-bubble connecting you directly to eventual candidates browsing your site is great - employees deserve as much service as customers. If not more. Aligning with business goals and justifying and measuring different approaches is essential and with the statistics tools built in it's easy to get a overview and from them creating more accurate performance reviews. Lastly the fact that Teamtailor is directly linked to most job advert-pages is truly a time-saver.
Minpunten:
Right now my only problem is the calendar, for which I have no particular use. However I've been invited to participate in the beta-testing of a calendar in which the candidate can book his own interview - effectively rendering youcanbook.me or other third party services needless. So I'm hopeful to say the least!
Stephanie
Talent Scout in Frankrijk
E-learning, 11-50 werknemers
Heeft de software gebruikt voor: 6-12 maanden
Bron van de reviewer
My Teamtailor Experience
Opmerkingen: Overall, it's been very smooth and has allowed us to really speed up our recruitment process as it's easy to track applications and move candidate's through our process. The ability to also collaborate with my team over on the notes section is great and saves a lot of back and forth over other messaging services.
Pluspunten:
The customer service is excellent. Not only from our account manager [SENSITIVE CONTENT] but also the direct messaging via the platform. The responses are always quick and very helpful. It allows for a great overview of our open positions, where the candidates are in the pipeline, and triggers for aspects such as NPS are great. Being able to merge duplicate applications is also a great benefit.
Minpunten:
I can't track which candidates specifically the NPS was sent to. The analytics page is sometimes confusing to understand the number of candidates that have tracked through my pipeline. When publishing new positions, we don't want the email to be sent out to candidates who are connected as oftentimes it's candidates that we wouldn't consider for another position or its noise for them and they ask for their profile to be deleted. However, there is no option to opt-out from this automatic emailer that is sent out from our side. Time in the state is also limited to days, whereas I would prefer it was limited to weekdays in terms of a tracking time.
Overwogen alternatieven: Personio
Redenen om over te stappen op Teamtailor: Price, ease of creating career page, and the various integrations possible.
Akshay
Digital Analyst in Canada
Geverifieerde LinkedIn-gebruiker
Computersoftware, 201-500 werknemers
Heeft de software gebruikt voor: 6-12 maanden
Bron van de reviewer
A great ATS for recruitment and employer branding
Opmerkingen: This software does the job. It could be improved further to complete with the likes of Jazz HR, but all in all it is a great tool with not many reasons to complain about.
Pluspunten:
This is a simple yet powerful ATS. The employer branding features help us standout from the crowd and makes a great first impression via the career site. The candidate experience is great which helps grow the talent pool and adds a personal touch. Messages can be sent as an Email or an SMS quickly. There is also a bulk option for messaging many candidates at once. Candidates can be sourced with a click and colleagues can be pinged to review. The team tailor sourcing extension on chrome also saves a ton of time. The referral section also helps current employees refer other people quickly and can add notes, docs and comments which is super helpful. There is also the ability to recruit and analyze, send a NPS survey to candidates to see how likely they are to recommend the company.
Minpunten:
Pdf files are hard to view becuase they are embedded in a window which is weird. I keep having to download it. The analytics reporting is confusing and can be simplified. That being said, they have a simple API. Customisable views would be great.
Christopher
Engineering Manager in Finland
Geverifieerde LinkedIn-gebruiker
Nanotechnologie, 51-200 werknemers
Heeft de software gebruikt voor: 1-5 maanden
Bron van de reviewer
Bron: GetApp
Literally anything but this
Opmerkingen: I think the biggest thing that cannot be overlooked is that the link to one's calendar is occasionally ignored. Our company experienced overlapping interview scheduling 3 times. When reported, TeamTailor customer service told us that this was impossible. So rather than put in a ticket to fix it, they insist that it's somehow our fault. This makes our company look unorganized and gives a terrible view to the candidate, and TeamTailor simply doesn't care. When reviewing candidates, all CVs are attached into an embedded window that cannot be resized. The window isn't wide enough to see the entire CV, so I found myself scrolling a lot. The only other option is to download the CV, at which point I have to say to myself, "What's the point of this service?" Now I have to keep all of this information organized on my computer. Communication between teammates is a bit strange through this platform. There are so many places to write things that it's easy to write about a candidate in a place where teammates won't see it. On the other hand, you get lots of emails from TeamTailor reminding you to write about the candidates even after you've done so.
Pluspunten:
At the very least, it kept the applicants organized.
Minpunten:
1. .pdf files are embedded in a tiny window. The only way to see the .pdf properly is to download it. 2. Occasionally disconnects from your calendar and schedules interviews that overlap 3. Too many places to write about candidates. Notes, reviews, and messages tend to get lost when trying to communicate to other teammates 4. Auto-reply and automatically generated messages make your company feel as heartless as the big guys like MS and Lockheed 5. That notification bell gets updated about once a month 6. So many emails. Easily takes up as much time dealing with these emails than it would organizing these candidates myself. 7. Looks like it was designed by a child 8. One needs special training on how to use this thing properly between teammates. A huge time sink when this is supposed to save us time. 9. Not easy to recommend a candidate to other positions.
Jolene
Talent Acquisition Manager in Zuid-Afrika
Geverifieerde LinkedIn-gebruiker
Marktonderzoek, 51-200 werknemers
Heeft de software gebruikt voor: 6-12 maanden
Bron van de reviewer
Changed our ways of working for the better
Opmerkingen: It has assisted us refining our recruitment process and close rate
Pluspunten:
Its ease of use and functionality has changed our ways of working and made is so much more collaborative across our hiring team
Minpunten:
Ideally ensuring that duplicate email addresses are not submitted on the platform will encourage recruiters to use the candidates' email address when submissions are made. The number of duplicate applicants on the platform will be greatly reduced and will assist us in enforcing GDPR regulations.
Overwogen alternatieven: JazzHR
Redenen om voor Teamtailor te kiezen: It was unable to scale with us at a cost we could afford
Overgestapt van: JobAdder
Redenen om over te stappen op Teamtailor: Value for money and ability to integrate it with our calendars, zoom and BambooHR