Wat is Atera?
Atera is een cloudgebaseerd platform voor beheerde IT-diensten dat een krachtige en geïntegreerde oplossing biedt die is gebouwd voor MSP's, IT-consultants, VAR's (Value Added Reseller) en IT-afdelingen. Atera omvat: bewaking en beheer op afstand, netwerkdetectie, toegang op afstand, ticketingsysteem, PSA, rapporten, facturering en nog veel meer. Dankzij het disruptieve tariefmodel van Atera betalen gebruikers vaste maandelijkse kosten, inclusief een onbeperkt aantal apparaten en eindpunten, met vaste, transparante en voorspelbare prijzen. Probeer het 30 dagen helemaal gratis.
Wie gebruikt Atera?
De klanten zijn Managed Services Providers van elke grootte. Atera brengt je hele bedrijf samen. Minder gedoe, meer controle en een MSP-strategie die echt werkt.
Waar kan Atera worden geïmplementeerd?
Cloud, SaaS, Web, Mac (desktop), Windows (desktop), Linux (desktop), Chromebook (desktop), Android (mobiel), iPhone (mobiel), iPad (mobiel)
Over de leverancier
Atera
Gevestigd in Tel Aviv, Israël
Opgericht in 2011
Telefonische ondersteuning
24/7 (contact met medewerker)
Chatten
Talen
Duits, Engels, Frans
prijzen van Atera
Beginprijs:
US$ 79,00/maand
Ja, heeft een gratis proefversie
Geen gratis versie
Atera heeft geen gratis versie maar biedt wel een gratis proefperiode. Atera heeft een betaalde versie vanaf US$ 79,00/maand.
Prijsmodellen
vraag een gratis proefversie aan
Over de leverancier
Atera
Gevestigd in Tel Aviv, Israël
Opgericht in 2011
Telefonische ondersteuning
24/7 (contact met medewerker)
Chatten
Talen
Duits, Engels, Frans
Video's en afbeeldingen van Atera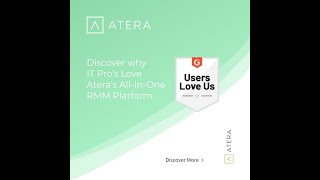 Functies van Atera
Aanpasbare rapporten
Activiteitendashboard
Assets volgen
Auditbeheer
Auditing van problemen
Automatische patchcommando's
Automatische scans
Back-up en herstel
Bandbreedtecontrole
Baselinemanager
Beheer van IT-assets
Beheer van Service Level Agreements (SLA's)
Beheer van problemen
Beheer van supporttickets
Beleidbeheer
Bestanden delen
CMDB
CPU-controle
CRM
Capaciteitsbeheer
Compliance bijhouden
Compliancebeheer
Configuratiebeheer
Contract- en licentiebeheer
Controle en beheer op afstand
Controle op internetgebruik
Dashboard
Diagnostische hulpmiddelen
Documentbeheer
Drempelwaarschuwingen
Gebeurtenislogboeken
Helpdeskbeheer
IP-adressen controleren
IT-reporting
Implementatiebeheer
Incidentenbeheer
Integraties van derden
Kennisbankbeheer
Kennisbeheer
Klantenondersteuning
Kosten bijhouden
Leveranciersbeheer
Live chatten
Maatwerk
Netwerkanalyse
Netwerkbreed beheer
Netwerkcontrole
Onbeheerde toegang
Onderhoudsplanning
Patchbeheer
Plannen
Prestatie bewaken
Probleembeheer
Rapportage en analyse
Realtime chatten
Realtime controle
Realtime meldingen
Realtime rapportage
Releasebeheer
Saneringsbeheer
Scannen op kwetsbaarheden
Scherm delen
Servercontrole
Servicecatalogus
Sessies opnemen
Simple Network Management Protocol (SNMP)
Taakbeheer
Ticketbeheer
Toegang en controle op afstand
Toegangsopties/machtigingen
Uptimerapportage
Veranderingsbeheer
Voor MSP's
Voorraadbeheer
Waarschuwingen / Escalatie
Waarschuwingen/Meldingen
Workflowbeheer
Workflowconfiguratie
Zelfserviceportal
Tom K.
President in Canada
Geverifieerde LinkedIn-gebruiker
Informatietechnologie en -diensten, 2-10 werknemers
Heeft de software gebruikt voor: 1+ jaar
Easy to Use
Opmerkingen: We have asked for enhancements and another report for client SLA reporting. They have been good in walking us through setting up the self serve portal and an additional SLA report.
Pluspunten:
We came off of a much expensive RMM tool. Atera has all the features that we were looking for. Adding another device to monitor is easy and does not increase your costs.
Minpunten:
Since the time we started with them they have expanded their integration to billing and added an app that we can use. You get what you pay for and we are getting a lot more value than we got with our previous tool.
Paul G.
Technical Manager in Verenigde Arabische Emiraten
Geverifieerde LinkedIn-gebruiker
Informatietechnologie en -diensten, 11-50 werknemers
Heeft de software gebruikt voor: 2+ jaar
Mid-level RMM and PSA solution
Opmerkingen: The combination of the helpdesk and RMM/PSA features means we don't use multiple systems to achieve our support objectives. The product is maturing and in active development, while not without a few issues. They are usually resolved fairly easily by Atera's support team.
Pluspunten:
The cost is per technician created in the system, and it doesn't matter whether you have 5 or 5000 endpoints in your customer base. Pricing is predictable and stable. Atera has a features board where subscribers can see what features are recently added, approved for development, being considered or have just been requested, and of course can submit requests as well after checking through existing requests to avoid duplication.
Minpunten:
The helpdesk does not allow the technician to truncate the message trail when replying, so it often happens that the messages being sent between technician and customer get very long. Periodically, it would be helpful to truncate a reply so that only the last few messages are trailing the active reply. Reporting is an improving feature but there are not enough options to get reports just the way you might want them.
Overwogen alternatieven: ManageEngine ServiceDesk Plus en Autotask PSA
Redenen om voor Atera te kiezen: LogMeIn was charged per endpoint and Freshdesk didn't have alerts because there was no RMM or PSA component. We were using the free product at the time. We were looking for a unified package with easy costing and integration between RMM/PSA and helpdesk systems.
Overgestapt van: Freshdesk en Join.Me
Redenen om over te stappen op Atera: The low cost was more appealing and the feature set looked like it was worth pursuing.
Informatietechnologie en -diensten, 2-10 werknemers
Heeft de software gebruikt voor: 2+ jaar
Quality has gone downhill
Opmerkingen: We have been with Atera since 2015. We have seen a lot of changes, most for the better. But at the start of 2019 everything has gone down hill. The site is slow, remote support (Splashtop) frequently goes down, and the lack of true support. What I mean by lack of true support is that they know they have a problem on their end, yet you get a canned response from them to flush your cookies and history. We are a IT company! We know a problem when we see one, and flushing our browsers is not going to fix the issues they are having. It is quite embarrassing when a customer calls you and you are unable to help them remotely because your systems don't work. Time to move to another RMM!
Pluspunten:
The price point for this product is excellent, if it worked properly.
Minpunten:
Constant issues in the past few months. Cannot use remote frequently, it fails consistently since January 2019. Customer support is responsive in a canned response kind of way.
Reactie Atera
vorig jaar
Hey James, thank you for the honest feedback. As we continued on growing, and expanding our customers list, our old infrastructure was seriously tested, which could have caused performance issues, especially during peak hours. However, since 2019, we have added a new method of pinging agents, a back-up method as well, we have revamped the splashtop reliability and integrations, and we added many more features. In regards to the support experience, since Atera is a browser-based app, browser resets/cleaning the cache can help in several situations. This will obviously not fix performance issues, but it is a common troubleshooting procedure. We invite you to test Atera out again, and see the improvements made since 2019 for yourself, both in reliability, as well as in features.
Computer- en netwerkbeveiliging, 2-10 werknemers
Heeft de software gebruikt voor: 2+ jaar
Great MSP Product
Opmerkingen: I was doing 14 hour shifts dealing with maintenance and patch management as I couldn't find a tool that functioned for me like I needed it to. With Atera I still put in a few hours here and there, but the automation process went from a 24 hour job, to looking at a report for an hour and making sure everything worked as it should have. If it didn't I recall the automation script and run it again without my need to sit and watch it roll. That is just one major piece of my overall experience. I do know there are plenty of tools out there that do similar, if not the same type of thing, but I was already using specific tools, and products, and Atera has an integration with those tools, so my comfort level was much greater as I already knew how to use most of the offerings. All in all, Atera has been the best product for my company!
Pluspunten:
The software is very easy to use, and can replace multiple tools with one location. Very simple to setup, and can automate 90% of tasks.
Minpunten:
If we had a tier for billing/managing that was included in a Tech license that would be great. If I could get my CFO access we would most likely switch to Atera for all our time tracking and billing as well, but justifying the cost for a non-tech person to see anything is a hard pill to swallow.
Overwogen alternatieven: Auvik, SolarWinds Service Desk, NinjaOne, Autotask PSA, LionDesk en Zendesk
Redenen om voor Atera te kiezen: I needed something with more options, and functionality.
Overgestapt van: Spiceworks
Redenen om over te stappen op Atera: Mainly pricing, but I continue to stay with Atera as they all seem invested in the community, and making a better product.
Reactie Atera
3 maanden geleden
Thank you for the very kind and detailed review, Brandon! You are one of treasured customers, who we can resonate with our automation mindset and smart IT, and drive us to innovate further, and we are thrilled to hear you tell us about the real life time savings that you were able to accomplish. In regards to our pricing tiers, we try to hit the sweet spot beetween offering the best bang for your buck feature-wise, while also following our financial plans, but we are always listening to feedback for potential improvements.
Frank G.
Principal Solutions Engineer in Australië
Geverifieerde LinkedIn-gebruiker
Informatietechnologie en -diensten, 2-10 werknemers
Heeft de software gebruikt voor: 2+ jaar
Bron: GetApp
Great RMM product
Opmerkingen: always friendly and supportive.
Pluspunten:
ATERA is easy to use, fast and very reliable platform for remote management and
Minpunten:
There is nothing I dont like with ATERA, it supports antivirus and backup (via webroot and acronis)
Overwogen alternatieven: Kaseya VSA en ConnectWise Manage
Redenen om voor Atera te kiezen: ATERA is faster, more integrations and cheaper to run
Overgestapt van: Central
Redenen om over te stappen op Atera: ATERA is faster, more integrations and cheaper to run
Reactie Atera
vorig jaar
Thank you for the kind words, Frank! Happy to be a long-term vendor and partner of yours!