Wat is Atera?
Atera is een cloudgebaseerd platform voor beheerde IT-diensten dat een krachtige en geïntegreerde oplossing biedt die is gebouwd voor MSP's, IT-consultants, VAR's (Value Added Reseller) en IT-afdelingen. Atera omvat: bewaking en beheer op afstand, netwerkdetectie, toegang op afstand, ticketingsysteem, PSA, rapporten, facturering en nog veel meer. Dankzij het disruptieve tariefmodel van Atera betalen gebruikers vaste maandelijkse kosten, inclusief een onbeperkt aantal apparaten en eindpunten, met vaste, transparante en voorspelbare prijzen. Probeer het 30 dagen helemaal gratis.
Wie gebruikt Atera?
De klanten zijn Managed Services Providers van elke grootte. Atera brengt je hele bedrijf samen. Minder gedoe, meer controle en een MSP-strategie die echt werkt.
Waar kan Atera worden geïmplementeerd?
Cloudgebaseerd
On-premise
---
Over de leverancier
Atera
Gevestigd in Tel Aviv, Israël
Opgericht in 2011
Ondersteuning voor Atera
Telefonische ondersteuning
24/7 (contact met medewerker)
Chatten
Talen
Duits, Engels, Frans
prijzen van Atera
Beginprijs:
US$ 99,00/maand
Ja, heeft een gratis proefversie
Geen gratis versie
Atera heeft geen gratis versie maar biedt wel een gratis proefperiode. Atera heeft een betaalde versie vanaf US$ 99,00/maand.
Prijsmodellen
vraag een gratis proefversie aan
Over de leverancier
Atera
Gevestigd in Tel Aviv, Israël
Opgericht in 2011
Ondersteuning voor Atera
Telefonische ondersteuning
24/7 (contact met medewerker)
Chatten
Talen
Duits, Engels, Frans
Video's en afbeeldingen van Atera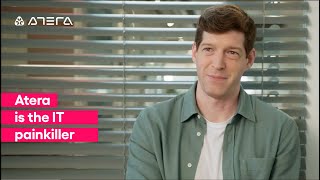 Functies van Atera
Aanpasbare rapporten
Activiteiten volgen
Activiteitendashboard
Assets volgen
Auditbeheer
Auditing van problemen
Automatische patchcommando's
Automatische scans
Back-up en herstel
Bandbreedtecontrole
Baselinemanager
Beheer van IT-assets
Beheer van Service Level Agreements (SLA's)
Beheer van problemen
Beheer van supporttickets
Beleidbeheer
Bestanden delen
CMDB
CPU-controle
CRM
Capaciteitsbeheer
Compliance bijhouden
Compliancebeheer
Configuratiebeheer
Contract- en licentiebeheer
Controle en beheer op afstand
Controle op internetgebruik
Dashboard
Diagnostische hulpmiddelen
Documentbeheer
Drempelwaarschuwingen
Factureren
Gebeurtenislogboeken
Helpdeskbeheer
IP-adressen controleren
IT-assets bijhouden
IT-reporting
Implementatiebeheer
Incidentenbeheer
Integraties van derden
Kennisbankbeheer
Kennisbeheer
Klantenondersteuning
Kosten bijhouden
Leveranciersbeheer
Live chatten
Maatwerk
Netwerkanalyse
Netwerkbreed beheer
Netwerkcontrole
Onbeheerde toegang
Onderhoudsplanning
Patchbeheer
Plannen
Prestatie bewaken
Prestatiemeetwaarden
Probleembeheer
Rapportage en analyse
Rapportage en statistieken
Realtime chatten
Realtime controle
Realtime meldingen
Realtime rapportage
Releasebeheer
Saneringsbeheer
Scannen op kwetsbaarheden
Scherm delen
Servercontrole
Servicecatalogus
Sessies opnemen
Simple Network Management Protocol (SNMP)
Taakbeheer
Ticketbeheer
Tijd en onkosten bijhouden
Toegang en controle op afstand
Toegangsopties/machtigingen
Uptimerapportage
Veranderingsbeheer
Voor MSP's
Voorraadbeheer
Waarschuwingen/Escalatie
Waarschuwingen/Meldingen
Workflowbeheer
Workflowconfiguratie
Zelfserviceportal
Carl
IT Manager
Geverifieerde LinkedIn-gebruiker
Magazijnen/opslag, 51-200 werknemers
Heeft de software gebruikt voor: 6-12 maanden
Bron van de reviewer
Possibility to be Great
Bijschriften in het Nederlands beschikbaar in de videospeler
John
Systems Administrator in VS
Geverifieerde LinkedIn-gebruiker
Automotive, 5.001-10.000 werknemers
Heeft de software gebruikt voor: 6-12 maanden
Bron van de reviewer
Perfect Fit for Many Scenarios
Opmerkingen: The learning curve for Atera makes it great for entry level IT personnel or non-IT users who need to support applications rather than PC issues. It is a perfect fit for application managers who need an easy to use, affordable tool to support a large or small flock of systems and associated applications and users. Tech Support is very good. Reporting is handy and functional. Integrated remote control is seamless one it is setup. Scripting is very useable.
Pluspunten:
The licensing model for Atera sets it apart from most other similar RMM tools. Each licensed technician can manage unlimited client systems. This alleviates the overhead of tracking your head count and makes Atera possibly the most cost effective RMM product on the market today. Tech Support from Atera is also outstanding providing timely live chat interaction. They have provided more than sufficient answers to what I perceived as complicated propositions. The Atera Support Technicians are polite and appear to have a fairly decent mastery of the product.
Minpunten:
Patch management is a little clunky and the Atera agent does not always restart on its own when the PC is restarted. There is a fix for this, but that fix should not be necessary for this type of product. Its a fairly manageable inconvenience. Client system naming can get off track, but is also not hard to fix.
Reactie Atera
9 maanden geleden
Thank you for your review and for being a loyal Ateran! Glad to see that you are getting the value for money with our all-in-one Remote Monitoring and Management (RMM) solution and that you found onboarding to be easy. We will definitely let our Support Team know that you've had a great experience - it will make their day
Graham
Owner, Computer Technician in Canada
Informatietechnologie en -diensten, Zelfstandig ondernemer
Heeft de software gebruikt voor: 2+ jaar
Bron van de reviewer
Atera, a Strong Contender for anyone starting up an MSP-based business.
Opmerkingen: This software allowed me to operate in a computer support business during the last couple of years where in person visits declined on some sites. Initial pricing was quite affordable even though a business with one technician doesn't require a full ticketing and PSA tool, but felt that if I did grow enough I'd make use of these features in time.
Pluspunten:
The best thing about Atera is that it is always improving features, even weekly but at least monthly. I had some experience with NABLE MSP support software, so was familiar with many of the aspects that Atera had to offer and simply needed to start deployment of agents at my customer sites, so felt very productive very soon after starting. There are many resources readily available to gain additional training in areas where I don't feel as confident. Although it didn't happen often, I was able to receive technical support for issues relating to the agents or dashboard in general in CHAT, so there was no waiting.
Minpunten:
Up until two weeks ago, I had no issues with Atera. There is many new features that are being developed monthly, but most of them are not available to the lowest subscription package, but it makes sense that people paying more money should have an increasing number of features available to them. Two weeks ago, I get a payment notification from Atera that is significantly higher. When I sent an inquiry email through Atera's Contact system, they suggested that they had sent out notification months before. My incoming messages from Atera are filtered into an ATERA INCOMING MAIL folder and I double checked and verified that I had never received it. The Atera Pro level subscription increased by 33% a month. I received a return email sent back suggesting that Atera hadn't raised it's pricing in the last 6 years. At a time where small business owners are trying to build back to pre-pandemic business levels, it's unfortunate that Atera didn't have our backs. The less than helpful response from Atera also suggested that if I prepaid for the full year, it would be less of an increase overall. I also moved many of my existing sites to make use of Emsisoft Business Software and a few to utilize Acronis Cyber Backups, my payments to Atera are more than double what the Pro subscription was originally set at and that obviously means nothing.
Overwogen alternatieven: NinjaOne
Redenen om over te stappen op Atera: I liked the pricing model per technician that allowed for unlimited agents. I believed that I'd be able to keep my one person business affordable despite growth of my computer support business.
Reactie Atera
5 maanden geleden
Hi Graham, Thanks for taking the time to leave this detailed review of the Atera platform. We are very glad that you were drawn in by the pricing model, and that you like how often we release new features. Regarding the price increase, we are very sorry that you did not receive prior notification of this. The email was sent out to the main contact on every account, and it is possible that it went to the wrong contact. Please reach out to support so that we can ensure that the correct email is listed, to avoid missing important communication in the future. We hope that Atera continues to be a vital part of your business, and that you are able to take full-advantage of the features.
Informatietechnologie en -diensten, 2-10 werknemers
Heeft de software gebruikt voor: 2+ jaar
Bron van de reviewer
Quality has gone downhill
Opmerkingen: We have been with Atera since 2015. We have seen a lot of changes, most for the better. But at the start of 2019 everything has gone down hill. The site is slow, remote support (Splashtop) frequently goes down, and the lack of true support. What I mean by lack of true support is that they know they have a problem on their end, yet you get a canned response from them to flush your cookies and history. We are a IT company! We know a problem when we see one, and flushing our browsers is not going to fix the issues they are having. It is quite embarrassing when a customer calls you and you are unable to help them remotely because your systems don't work. Time to move to another RMM!
Pluspunten:
The price point for this product is excellent, if it worked properly.
Minpunten:
Constant issues in the past few months. Cannot use remote frequently, it fails consistently since January 2019. Customer support is responsive in a canned response kind of way.
Reactie Atera
2 jaar geleden
Hey James, thank you for the honest feedback. As we continued on growing, and expanding our customers list, our old infrastructure was seriously tested, which could have caused performance issues, especially during peak hours. However, since 2019, we have added a new method of pinging agents, a back-up method as well, we have revamped the splashtop reliability and integrations, and we added many more features. In regards to the support experience, since Atera is a browser-based app, browser resets/cleaning the cache can help in several situations. This will obviously not fix performance issues, but it is a common troubleshooting procedure. We invite you to test Atera out again, and see the improvements made since 2019 for yourself, both in reliability, as well as in features.
Pratham
Mean Stack Developer in India
Werving en selectie, 11-50 werknemers
Heeft de software gebruikt voor: 1+ jaar
Bron van de reviewer
Great tool with lots of helpful features and ease of use
Opmerkingen: Via their remote access capabilities, they were able to resolve the issue of face-to-face consumer interactions during the Coronavirus. As a result of Atera's increased solutions and partner integration, my work was centralised and enabled for more dynamic administration. Connecting quickly allows you to install any needed software and drivers. Several customer visits are avoided thanks to Atera. Atera responds to bugs and problems and adds new features on a monthly basis.
Pluspunten:
Sincerity speaking, automation is what I value the most. It is simple to use the ticketing, install the agent, and connect the devices to the appropriate business. Quite steady, in fact. I get new features rather often because of continuous product development. It also offers me options for third-party integration. It significantly aided us in streamlining our system automation, system health monitoring, remote administration, and IT support. giving us insights that were previously only attainable when the computer was physically present within our network.
Minpunten:
Tickets cannot be given to customers at a specific time, such as a ticket that would become active tomorrow at a specific hour. Indeed, the blade has two edges. The price continues rising while they keep adding things. I wish the bottom tier were consistent. Device discovery via networks is an extra cost. My mid-tier subscription ought to contain this function. For accurate reporting, systems will occasionally need to have the Atera service re-enabled.
Computernetwerken, 2-10 werknemers
Heeft de software gebruikt voor: 1+ jaar
Bron van de reviewer
Impressive features.
Opmerkingen: Very well made product. Has a ton of features. Has allowed our MSP to grow and add more value to customers.
Pluspunten:
I like how it is a full feature MSP tool in one software. We can add more value to our customers and provide better service due to atera
Minpunten:
It is on the pricey side especially as we add technicians. The mobile app is glitchy. Tickets don't always display properly.
Overwogen alternatieven: N-central
Redenen om voor Atera te kiezen: Logmein was more expensive with less features. Logmein continued to raise the price significantly every year while stripping features
Redenen om over te stappen op Atera: Didn't have as many features and charged per node not user
Reactie Atera
5 maanden geleden
Hi Brian, Thanks for leaving a review for Atera's all-in-one platform! Happy to hear you like the long list of features we offer, and that using Atera has allowed your MSP to grow. Regarding any glitches or display issues, please reach out to our Support team about this. As for our pricing, we have a very unique model to price by technician instead of end-point, which ends up being very cost-effective for our customers.