Wat is brightwheel?
Versnel de groei van je kinderopvangbedrijf met Brightwheel - het populairste platform voor voorschools onderwijs. Brightwheel is een software-oplossing voor het beheer van kinderopvang, dagopvang en peuterspeelzalen die specifiek is ontworpen om de taken te stroomlijnen die worden uitgevoerd door directeuren/beheerders en medewerkers in middelgrote tot grote centra. Naast het besparen van uren per week aan inspanning voor elk personeelslid, is 100% van de ouders meer tevreden met hun schoolervaring nadat brightwheel is geïmplementeerd.
Wie gebruikt brightwheel?
ECE-leveranciers, onderwijzers en directeuren die kinderopvangcentra beheren met meer dan 25 studenten: peuterspeelzaal, kinderopvang, naschoolse opvang, zondagsschool, kampen, enz. Brightwheel werkt ook voor ouders en verzorgers.
Waar kan brightwheel worden geïmplementeerd?
Cloudgebaseerd
On-premise
---
Over de leverancier
brightwheel
Gevestigd in San Francisco, VS
Opgericht in 2014
Ondersteuning voor brightwheel
Telefonische ondersteuning
Chatten
Beschikbaar in deze landen
Canada, Verenigde Staten
Over de leverancier
brightwheel
Gevestigd in San Francisco, VS
Opgericht in 2014
Ondersteuning voor brightwheel
Telefonische ondersteuning
Chatten
Beschikbaar in deze landen
Canada, Verenigde Staten
Video's en afbeeldingen van brightwheel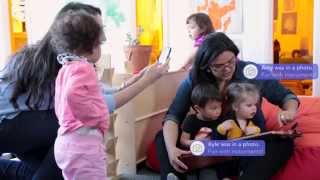 Vergelijk de kosten van brightwheel met soortgelijke producten
Functies van brightwheel
Aanwezigheid bijhouden
Betalingen verwerken
Communicatiemanagement
Factureren
Faculteits- en personeelsbeheer
Financieel beheer
Kalenderbeheer
Klasplanning
Ledendatabase
Maaltijden- en voedingsbeheer
Online kalender
Personeelsbeheer
Portal voor ouders
Portal voor ouders en studenten
Registratiebeheer
Self check-in/check-out
Studentenbeheer
Studenteninformatie/dossiers
Waarschuwingen/Meldingen
Alternatieven voor brightwheel
Ankush
Manager- Finance in India
Geverifieerde LinkedIn-gebruiker
Informatietechnologie en -diensten, 501-1.000 werknemers
Heeft de software gebruikt voor: 2+ jaar
brightwheel: Childcare management sorted!
Opmerkingen: Brightwheel is a value for money tool and have lots of features. Adds value to the organisation.
Pluspunten:
Brightwheel is a highly secure and reliable tool having following features: - Easy to record and maintain student attendance and check ins - Very easy to generate invoices and payment receipts - Helps in capturing and generating live feeds of the classroom
Minpunten:
Although brightwheel is a wonderful tool but app lags sometimes. Also, some features can be improved like privately sending messages to parents without other teachers knowledge.
Mary Beth
Early Head Start Manager in VS
Maatschappelijk werk, 201-500 werknemers
Heeft de software gebruikt voor: 1-5 maanden
Overwogen alternatieven:
Brightwheel Review
Opmerkingen: Overall Brightwheel has improved on communication, maintaining important documents, and ease of pulling reports for funding streams.
Pluspunten:
Brightwheel has helped improve daily communication from home to program. Families seem to engage/communicate more to us via messaging feature. Directors/Managers and Families are able to view in real time what activites are happening in the rooms, which not only provides the families informtion on thier child but managers are able to utilize this feature in a staff evaluation. Win Win
Minpunten:
The ability to upload fillable forms for familes to complete via the app. The families we work with do not have access to computer, they use thier smart phone as thier main computer, and when we have to have them update a form, we still have to do this by asking them to complete and turn back in, which is a struggle since most of them loose the document and/or do not have time to stop and fill out onsite. Love to see the ablity for staff/admin to upload our fillable forms verses a read only document. I am aware that we can customize documents in Brightwheel, however we have a short book for intake paperwork.
Karen
Business Manager in VS
Religieuze instellingen, 11-50 werknemers
Heeft de software gebruikt voor: 6-12 maanden
Brightwheel Review
Opmerkingen: We switched to Brightwheel as our previous software was no longer being supported. We liked moving to a cloud based product and the flexibility that gave our administrators and parents. We enjoy the ability for parents to see their billing and the ability to pay through the app. Customer support for the transition and set up was very good. Since launch, customer support is responsive (not always timely, since we are not in the same time zone as many of the customer support team) and they listen to our needs. There have been great changes in the short time we have been using the software. We are looking forward to the remainder of our concerns being addressed as we move forward. I would recommend this software over other cloud based software programs we looked at, but the consumer should be aware of the limitations of the software from a back office stand point.
Pluspunten:
What we like best is this is a cloud based software. The parent portal allowing parents better access to their child's day and classroom progress as been extremely well received by our parents. We like the check-in feature which allows us to know at any time how many children are in the facility. The ability for the teachers to post notes / pictures for parents allows the parents real time updates instead of waiting till the end of the day to receive a hand written note that is stuffed in the child's belongings and forgotten.
Minpunten:
The back office side of the software is lacking. The reporting capabilities of the software is very limited. For example, we are unable to run an accounts receivable report by family. We can run by child, but you have to run multiple reports for families with more than one child in the program. The software does not currently allow for prepayments or credits on account. Also, on the program side, no ability to run facility or even classroom wide reports - for example a parent directory for all classrooms; allergy report by classroom. All reporting (financial and program) is child driven without the option of classroom or facility driven. This makes extra back office work for our staff - for example creating an allergy list or parent directory in excel to share with teachers. Or tracking receivables in other software, creating double accounting needs.
Schoolleiding, 11-50 werknemers
Heeft de software gebruikt voor: 2+ jaar
Overwogen alternatieven:
We love Brightwheel
Opmerkingen: We have had great luck with BW.
Pluspunten:
We love the ease of communication with parents.
Minpunten:
Inputting new students' information can be redundant as you must add the same people twice for emergency contacts and approved pick-up. Also, parents complain about not being able to post pictures in their child's BW feed to show staff.
abdallah
Owner in Saoedi-Arabië
Schoolleiding, 2-10 werknemers
Heeft de software gebruikt voor: 1+ jaar
parent friendly app
Opmerkingen: more organized and professional daycare center.
Pluspunten:
how it helped taking the trust between the center and the parents to the next level, so friendly with a touch of professional services provided. thank you.
Minpunten:
the self check in/out i guess the nanny making the check in and out are more safe for the parents