Wat is Tidio?
Tidio is een krachtig, alles-in-één klantenserviceplatform dat je klantenondersteuning op een hoger niveau brengt en helpt meer omzet te genereren. Een gemakkelijk toegankelijke livechatwidget maakt je bedrijf 24/7 beschikbaar, terwijl door AI aangedreven chatbots je klanten in realtime betrokken maken, zodat je meer kunt verkopen.
Bovendien kun je Messenger, Instagram, livechat en e-mail verbinden met Tidio multichannel en alle berichten vanaf één plek beantwoorden, ook op mobiel. Makkelijk te integreren met alle websites en platforms.
Wie gebruikt Tidio?
Een communicator voor een breed scala van MKB-bedrijven over de hele wereld. Duizenden bedrijven gebruiken Tidio om te communiceren met hun klanten.
Waar kan Tidio worden geïmplementeerd?
Cloudgebaseerd
On-premise
---
Over de leverancier
Tidio
Gevestigd in London, VK
Opgericht in 2013
Ondersteuning voor Tidio
24/7 (contact met medewerker)
Chatten
prijzen van Tidio
Beginprijs:
US$ 15,83/maand
Ja, heeft een gratis proefversie
Ja, heeft een gratis versie
Tidio heeft een gratis versie en biedt een gratis proefperiode. Tidio heeft een betaalde versie vanaf US$ 15,83/maand.
Prijsmodellen
vraag een gratis proefversie aan
Over de leverancier
Tidio
Gevestigd in London, VK
Opgericht in 2013
Ondersteuning voor Tidio
24/7 (contact met medewerker)
Chatten
Video's en afbeeldingen van Tidio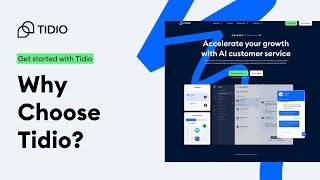 Functies van Tidio
AI/machine learning
Aanpasbare branding
Activiteitendashboard
Augmented analytics
Autoresponders
Beheer van enquêtes/peilingen
Beheer van klantervaringen
Beheer van supporttickets
CRM
Chatbot
Chatten/messaging
Codevrije ontwikkeling
Communicatie met klanten
Communicatie via meerdere kanalen
Consumentgericht chatten in realtime
E-mailbeheer
Een-op-een berichten
Feedbackbeheer
Geautomatiseerde antwoorden
Geautomatiseerde routing
Gegevensverzameling via meerdere kanalen
Geotargeting
Integraties van derden
Interactie bijhouden
Kennisbankbeheer
Klantendatabase
Klantenondersteuning
Leadkwalificatie
Live chatten
Offline formulier
Overdrachten en routering
Proactief chatten
Proces- en workflowautomatisering
Query-suggesties
Rapportage en analyse
Realtime gesprekken
Routering
Sentimentanalyse
Ticketbeheer
Toezicht houden op klachten
Transcripten/chatgeschiedenis
Verwerking van natuurlijke taal (NLP)
Virtuele assistent
Voor meerdere talen
Waarschuwingen/Escalatie
Waarschuwingen/Meldingen
Websitebezoekers bijhouden
Workflowbeheer
Zelfserviceportal
Design en ontwerp, Zelfstandig ondernemer
Heeft de software gebruikt voor: 1-5 maanden
Doet wat hij moet doen.
Opmerkingen: Het verkeer monitoren van de website.
Pluspunten:
De chatbot heeft mij leads bezorgt terwijl ik aan het slapen was.
Minpunten:
De keuze uit abonnementen is mij niet heel duidelijk geweest.
Marketing en reclame, Zelfstandig ondernemer
Heeft de software gebruikt voor: 1-5 maanden
Top programma
Pluspunten:
Het is makkelijk te implementeren, te gebruiken en de gratis versie is niet met vervelende reclames of overdreven limieten. De app die gewoon te downloaden is werkt perfect, de meldingen zorgen dat je altijd snel reageert op (potentiële) klanten.
Minpunten:
Eigenlijk niks, het heeft alles dat ik nodig heb!
Reactie Tidio
3 jaar geleden
Hi there, Thank you so much for the kind and motivating review! We appreciate it very much :)
Darien
Associate Pastor in Canada
Geverifieerde LinkedIn-gebruiker
Religieuze instellingen, 11-50 werknemers
Heeft de software gebruikt voor: 1-5 maanden
Tidio is the first chat platform I've found to be worth paying for
Opmerkingen: Tidio has helped address a gap in our communication system caused by extended use of multiple inferior chat bot platforms that limited our performance and responses. With Tidio, we have seen a dramatic increase in people connecting with our team via the chat, and have been able to help address people's questions/issues quicker than ever before.
Pluspunten:
Tidio offers a very simple, clean, robust and customizable interface both on their backend and on your website that helps facilitate live-chat support on a website. They offer numerous features (some I haven't used yet such as email inbox management), including a facebook messenger integration (that actually works unlike some other companies), a customizable chat window & icon, and perhaps the best feature of all - their powerful chatbot system. I cannot speak highly enough of the chatbots Tidio offers, as they give easy access to a visual builder interface to customize and build bots that can be triggered to do practically anything. Within an hour of looking at Tidio, I was hooked - and built a number of bots for our website - and within a day, saw a substantial increase in chat traffic compared to our previous platform. The beauty of the bots is that Tidio provides simple templates, that you can then customize to your needs - and the bots can be triggered on anything you want; a visit to a specific page, anytime a new person visits your site, anytime someone clicks the chat window, etc - and all of that can be accessed (in a limited fashion of course) for free. Plus as a bonus, Tidio offers native email responses to chats; so if you are like me and don't have people monitoring the chat 24/7, you can receive a notification about an incoming chat, and then respond via the chat window OR directly from Tidio via email - again, for free.
Minpunten:
Tidio has many features, but can be a bit daunting at first. I loved the visual builder of the chat bots, but at the same time I found it was still limited in certain areas. For example, it's all drag and drop - so the entire chatbot can start to form a jumbled mess if you're not careful. As well, they don't offer multiple triggers for one bot - for instance, if I want a bot to trigger on someone's first visit AND when someone types in a certain keyword, I can't do that. As well, their pricing structure is interesting - with three different "options" each starting at $18/month - making it so if you want to have decent chatbots, and multiple operators, and send emails, you are looking at a hefty price per month. That being said, it still is cheaper than most other offerings, and the different options help you customize your experience to tailor fit your needs
Reactie Tidio
2 jaar geleden
Hello there! It's Maciek from Tidio Support Thank you so much for such an extensive review! We really appreciate all the kind words but also the flaws you have pointed out. We strive to provide you with a product that we can really be proud of, and hearing about your positive experience, it seems like we are heading in the right direction. Thank you for taking the time to share your opinion and rate us so highly!
Marianela
Water Treatment and Environmental Management Consultant in Panama
Geverifieerde LinkedIn-gebruiker
Chemicaliën, 51-200 werknemers
Heeft de software gebruikt voor: 1+ jaar
Tidio, an interactive platform aimed at increasing the service process and increasing sales.
Opmerkingen: Tidio is an efficient and stable platform, it has analytical tools to understand the behavior of our customers and make constant improvements in our service processes, on the other hand, it integrates with third parties to increase the experience with customers and within our organization. It records visitor history and makes it easy for us to follow up to convert leads into customers, and in general, makes the job of customer service agents a lot easier.There is no doubt that TIDIO's live chat software empowers interaction effectively and offers the fastest and easiest way to help our website visitors.
Pluspunten:
The Tidio implementation process is simple and fast, and after a quick installation, we can start interacting in real-time with our leads and clients or offline. The widget to interact offline indicates to the user that there is no service agent at this time and the offline status is distinguished with a brief note so that our customers know that they can contact us with a form that will allow us to serve them as soon as possible. brevity.With Tidio, the offline email notification option is very useful as it allows us to receive queries from our website visitors directly in our email. And in the event that we are online, we can receive automatic notifications about new chats, new messages, and data about visitors who enter our website.
Minpunten:
Tidio is a very stable and efficient platform when it comes to registering and providing a service process in real-time or offline in a web environment, for small and medium-sized companies. In general, it provides all the mechanisms to monitor for continuous improvement. It also favors analytics-based tracking, which is really the biggest advantage of using this type of platform and as long as we're not talking about large corporations, Tidio will be able to cover all our needs.
Vrije tijd, reizen en toerisme, 11-50 werknemers
Heeft de software gebruikt voor: 1-5 maanden
Potential customers be aware of Tidio's no-refund policy before you purchase the product
Opmerkingen: Hey there,I just wanted to share my recent experience with Tidio's refund policy that I wish I had known before purchasing their product. Unfortunately, they do not offer refunds, even if you are not satisfied with their services.I recently requested a refund after realizing that Tidio wasn't the right fit for my needs, but I was informed that they have a strict no-refund policy. This was frustrating for me, and I don't want others to find themselves in the same situation.I understand that companies have policies in place, but I believe that customer satisfaction should be a top priority. If a product doesn't work out for a customer, they should have the option to receive a refund. It's just like when you buy something from a store, and it's not what you expected; you can return it and get a refund.So, if you're considering using Tidio, I recommend being aware of their refund policy before making a purchase. It's important to make an informed decision and choose a company that prioritizes customer satisfaction.Hope this helps!
Pluspunten:
The widget and chat console have a sleek and straightforward design.
Minpunten:
If you exceed the included 100 interactions, you'll need to pay an additional fee for the chat widget (bot) to continue automatically engaging with customers. Otherwise, your chat will simply serve as a decorative element on your website.