Wat is Iterable?
Iterable is het platform voor groeimarketing dat echte relevantie via meerdere kanalen op schaal mogelijk maakt. Iterable stelt de huidige marketeer in staat om de demografische, gedrags- en gebeurtenisgegevens van hun abonnees in realtime te gebruiken om relevante, gepersonaliseerde berichten te creëren via alle kanalen. Met Iterable kunnen marketeers met succes en zonder technische ondersteuning gebruikers segmenteren, werkstromen bouwen, touchpoints automatiseren en strategieën op schaal testen.
Wie gebruikt Iterable?
Gericht op groeimarketeers bij consumentenbedrijven binnen e-commerce/detailhandel, entertainment, bezorging, onderwijs en rekrutering.
Waar kan Iterable worden geïmplementeerd?
Cloud, SaaS, Web
Over de leverancier
Iterable
Gevestigd in San Francisco, VS
Opgericht in 2013
24/7 (contact met medewerker)
Chatten
prijzen van Iterable
Beginprijs:
Niet door leverancier verstrekt
Iterable heeft geen gratis versie.
Over de leverancier
Iterable
Gevestigd in San Francisco, VS
Opgericht in 2013
24/7 (contact met medewerker)
Chatten
Video's en afbeeldingen van Iterable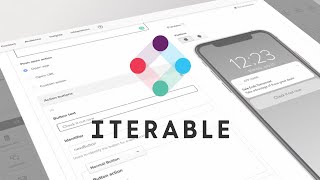 Functies van Iterable
A/B-tests
Aanpasbare sjablonen
Abonneebeheer
CAN SPAM-compliance
Campagneanalytics
Campagnebeheer
Communicatiebeheer
Contactenbeheer
Contactendatabase
Door gebeurtenissen geactiveerde acties
Drip -campagnes
Dynamische inhoud
E-mailmarketing
Engagement tracking
Kanaalbeheer
Klantensegmenten
Lijstbeheer
Marketing via meerdere kanalen
Marketingautomatisering
Meerdere campagnes
Multi-channel attribution
Push-meldingen
ROI-tracking
Rapportage en analyse
SMS-marketing
Segmentering
Sjabloonbeheer
Social marketing
WYSIWYG-editor
Websitebezoekers bijhouden
Alternatieven voor Iterable
Alan C.
Content Marketing Manager in VS
Geverifieerde LinkedIn-gebruiker
Computersoftware, 51-200 werknemers
Heeft de software gebruikt voor: 6-12 maanden
Fantastic email marketing software with great workflows
Opmerkingen: Overall we've had a very positive experience with Iterable that has given me autonomy over email marketing and have had not to rely too much on developers to help me achieve my email marketing goals.
Pluspunten:
The WYSIWYG editor for emails is really nice because I can build emails without any code and make them look on brand and functional. The workflow tool is also really powerful for building automatic campaigns that continually perform well.
Minpunten:
Iterable feels like it just slow sometimes. Loading campaigns, saving templates, navigating to different parts of the software. If the pages and elements loaded faster it would feel a lot more snappy.
Geverifieerde reviewer
Growth Consultant in VS
Geverifieerde LinkedIn-gebruiker
Marketing en reclame, Zelfstandig ondernemer
Heeft de software gebruikt voor: 2+ jaar
Leading the marketing automation pack
Pluspunten:
There is no one tool in marketing automation that is perfect, but Iterable checks the most boxes today out of any of them. Customer support is fantastic. Segmentation is fantastic. UI is improving. The tool's overall power for users with little technical background is superb.
Minpunten:
I think the reporting tools could be a bit better. Supports MMS through Twilio would also be a huge bonus.
Overwogen alternatieven: Braze en Customer.io
Overgestapt van: Klaviyo
Redenen om over te stappen op Iterable: Customer support and overall flexibility of the platform
Kim B.
Director of Engineering in VS
Consumentendiensten, 51-200 werknemers
Heeft de software gebruikt voor: 6-12 maanden
Rainbows and unicorns promised
Opmerkingen: Automatic blame deflection of any issues we've raised, canned responses and total failure to meet promised value
Pluspunten:
Cart abandoner targeting promised, non-engineer self-service of complex marketing and retargeting campaigns.
Minpunten:
Blaming Segment for failure to merge anonymous events with identified users, blaming Segment for integration failures that caused significant loss of data. Awful limitations of workflows. No ability of non-engineers to actually successfully self-service on pretty much any features. Zero interest on actually enabling us to leverage the service to create value
Volodymyr B.
Front End Developer in VS
E-learning, 501-1.000 werknemers
Heeft de software gebruikt voor: 6-12 maanden
Iterable Review
Opmerkingen: Super positive, I love the features Iterable provides. All in one package for Marketers
Pluspunten:
Ease of use, automations features, integrations with other platforms.
Minpunten:
I think, drag and drop editor can be a bit improved. Maybe ability to add custom build blocks to drag and drop editor (kinda like HubSpot dynamic templates)
Geverifieerde reviewer
Lifecycle Marketing Manager in VS
Geverifieerde LinkedIn-gebruiker
51-200 werknemers
Heeft de software gebruikt voor: 6-12 maanden
Easy to use with potential for powerful customization
Opmerkingen: Overall, I would definitely recommend Iterable. As much as SFMC and others have dominated the market, their data structures and backend setup are more archaic and not easily scalable without custom implementation (SFMC frequently has to shuffle databases around based on client volume since many share instances and the larger ones can take an entire instance down). Although I think Iterable has some catching up to do in terms of more robust customization capabilities, and certain platform capabilities, I still think it's an innovative new tool that has a promising future to bring more powerful function than the old school platforms can keep up with.
Pluspunten:
The interface is intuitive and easy to use. Having no prior experience, I was able to jump in quickly and navigate through setting up an email blast within a day. The object based data setup is also easy and intuitive to understand, despite coming from a traditional "relational tables" platform and background.
Minpunten:
There are certain key features of an Email Platform that I find lacking for Iterable. Nothing show stopping, but things that I would have thought would be intuitively built in: no auto-suppression can be applied based on send classification (transactional vs. marketing), basic date comparison logic is not available (should be easy for eng to build, given they just need to set additional functions), no re-usable global content blocks available (think of SFMCs Content Areas, where you can house snippets of code, or static html, and wherever needed pull that content in to multiple emails, without having to recreate the same code over and over again - universal footer, header, etc).