Statii
Wat is Statii?
Ontworpen voor de kleinere productiebedrijven – Het Statii-systeem is aantoonbaar een van de eenvoudigste ERP-/MRP-pakketten op de markt. Het hooggewaardeerde, cloudgebaseerde systeem is INCLUSIEF
Meer informatie
alle training en ondersteuning. Statii brengt geen risico met zich mee dankzij het goedkope maandelijkse abonnement en een eenvoudig contract van 30 dagen. Complete softwareoplossing inclusief kostprijsberekening/schatting, inkoop, voorraadbeheer, productie- en algemene planning, gegevensverzameling op de werkvloer, verzending en facturering. GRATIS PROEFVERSIE.
Minder informatie
Wie gebruikt Statii?
Kleine tot middelgrote productiebedrijven die hun bedrijfsvoering willen stroomlijnen en informatie willen organiseren.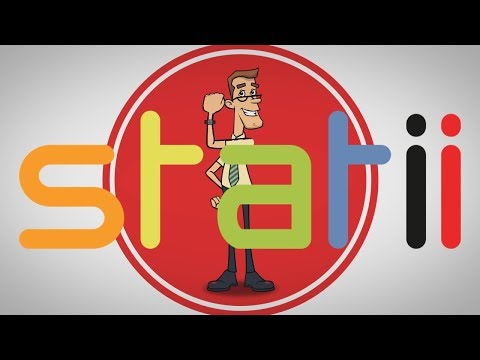 Twijfel je over Statii? Vergelijk met een populair alternatief
Niet beschikbaar in jouw land
Gratis versie
Gratis proefversie
Geen integraties gevonden
Geen prijsinformatie gevonden
Gratis versie
Gratis proefversie
Waarom krijg ik dit te zien?
Alternatieven voor Statii
Mark
Finance Director in VK
Geverifieerde LinkedIn-gebruiker
Bouw, 11-50 werknemers
Heeft de software gebruikt voor: 2+ jaar
Statii Review
Opmerkingen: We are introducing Statii into the business in stages and are approximately 75% of the way through the process with most departments now accessing the system. The Statii experience to date is very positive and the software has already enabled us to clear away many of the paper and spreadsheet systems that ran throughout our business, so that we are now all working from one platform.
Pluspunten:
The Statii software is generally easy to use with help readily available. Statii links together all the departments in the business and the Statii team are very open to the needs of our business for the ongoing development of the program. Once fully implemented we will begin to gain insights into our business that were never possible with our old systems.
Minpunten:
The scheduling side of the software isn't quite there yet, but I understand that the Statii Team are working on an update to improve this.
Reactie Statii
4 jaar geleden
Thanks for the update Mark. Took us a while to get to 75%, hopefully the last part for full implementation will be in sight.
George
Project Engineer in VK
Machine- en installatiebouw, 11-50 werknemers
Heeft de software gebruikt voor: 6-12 maanden
Overwogen alternatieven:
Highly recommended system
Opmerkingen: Overall is a high recommended system which improves all the processes in a small or medium businesses with very competitive cost.
Pluspunten:
The low price and how easiness to use even if you are not computer literate
Minpunten:
Some of the functionalities and slow response of the software
Merill
Production & Profiles Manager in VK
Bouw, 11-50 werknemers
Heeft de software gebruikt voor: 2+ jaar
An easy to use, entry level MRP/ERP software
Opmerkingen: We are starting to see a benefit with using Statii when processing the same items for customers as we are able to create them as inventory items which we can then adjust to suit their unique requirements.
Pluspunten:
Statii is a very simple laid out software, and easy to use. It's online based system allows for easy use in or out of office.
Minpunten:
It doesn't allow you to easily record downtime/non-profitable jobs ie. logistics, cleaning workshops, etc. I have been advised to create a works order for this and then the members of staff can clock on but not the best solution. You can't record rejections and reasons why, and issue paperwork to use in reports. Staff need to clock onto their breaks, as opposed to auto clock off/on based upon inputted working hours within the office. When creating delivery notes, no information pulls through onto the delivery note so has to be copied and pasted to show what has been made (information from the specification) There is no way to record health and safety issues (accident reports)
Reactie Statii
2 jaar geleden
Thanks for your useful insight into your Statii experience Merill. We are currently working on a 'TOP SECRET' revamp of the system with lots of brand new features. One of the features includes a Non Productive button on the shop floor tablets. The rejects is already a feature that we can show you if you wish to call our office at your convenience. Every client has different needs on their documents if you need something pulling onto the delivery note from somewhere, let me know and we can look at customising the document for a small bespoke work charge. Look forward to hearing back from you.
Greg
Production Director in VK
Fabricage van elektrische/elektronische producten, 2-10 werknemers
Heeft de software gebruikt voor: 1+ jaar
Statii for Manufacturers
Opmerkingen: A very user-friendly bit of kit at a very affordable price. The Statii team are more than helpful to assist, and the response times to queries is very quick.
Pluspunten:
The colour coded dashboard is easy to navigate, and it visually shows at a glance all late purchase orders or works orders to chase/prioritise.
Minpunten:
Having used other MRP products including SAP, Filemaker, and Orderwise, they all needs to be a better solution for processing items which are neither solely a BUY or MAKE item, but are a combination of both. For instance, a free issued part that goes out to a supplier as a raw turning but comes back anodised, painted or plated, or a part sent out to sub-contractor to have a process or assembly applied. A hybrid purchase/works order would resolve this.
Curtis
Administrator / Junior Design Technician in VK
Bouw, 2-10 werknemers
Heeft de software gebruikt voor: 6-12 maanden
Cheap and effective
Opmerkingen: Very straight forward to use and manage all business ops effectively. Support are very helpful and even implemented a feature upon our request.
Pluspunten:
I was not here when our business integrated this ERP System however I was told it was very straight forward. The Administrator before me logged everything in database files and somehow this data was integrated into Statii. Before, U-Roof used many spreadsheets to manage business operations and it was very fragmented and unorganised. This is why we decided to invest in an ERP.I like how functional the Software is and it was incredibly easy to start using the first time I touched it. From Purchase Orders to Invoicing - we use most features Statii offer at U-Roof. We plan on utilising the Inventory Management feature the Software offers in the near future. All in all - all the features you require to run a business are available with this Software and I highly recommend it.
Minpunten:
The User Interface is not the most attractive - I feel like I am using an application from the early 2000s. I do, however, LIKE the simplicity of the User Interface as it makes the Software easier to use and learn once I first started using it. Probably a + for people that aren't as Computer literate as others.