Wat is Lighthouse 360?
Lighthouse 360 provides automated patient communications that help dental practices save time and keep the schedule full. Designed specifically for dentistry, the award-winning software automates your most repetitive daily tasks including appointment confirmations, recall reminders, patient reviews and more. Lighthouse 360 is the winner of three consecutive Townie Choice Awards and is a Dental product Shopper "Best Product." Request a free demo at lh360.com
Wie gebruikt Lighthouse 360?
Designed for small to large businesses in the dental industry, it is a cloud-based solution that helps manage practice operations and patient communication.
Waar kan Lighthouse 360 worden geïmplementeerd?
Cloud, SaaS, Web, Mac (desktop), Windows (desktop), Linux (desktop), Android (mobiel), iPhone (mobiel)
Over de leverancier
door Lighthouse PMG
Opgericht in 2006
Telefonische ondersteuning
Beschikbaar in deze landen
Verenigde Staten
Over de leverancier
door Lighthouse PMG
Opgericht in 2006
Telefonische ondersteuning
Beschikbaar in deze landen
Verenigde Staten
Video's en afbeeldingen van Lighthouse 360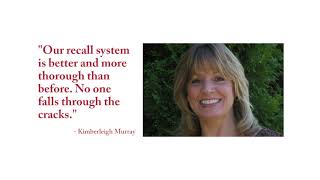 Vergelijk de kosten van Lighthouse 360 met soortgelijke producten
Vanaf
N.v.t
US$ 329,00/maand
N.v.t
N/A
Functies van Lighthouse 360
API
Aanpasbare rapporten
Aanpasbare sjablonen
Activiteiten volgen
Activiteitendashboard
Afsprakenbeheer
Beeldvorming en röntgenstraling
Behandelingsschema
Beheer van claims
Beheer van patiëntdossiers
Beschikbaarheidsbeheer
Bevestigingen/herinneringen
Communicatiebeheer
Documentbeheer
Documenten opslaan
Documentsjablonen
Dossierbeheer
E-mailherinneringen
Elektronische betalingen
Elektronische recepten
Factureren
Geautomatiseerde planning
Gegevenssynchronisatie
Grafieken maken
Herinneringen
Integraties van derden
Kalenderbeheer
Klantenbeheer
Klantendatabase
Klantenportal
Klantgeschiedenis
Live chatten
Medische facturering
Multilocatie
Naleving van HIPAA-richtlijnen
Plannen
Rapportage en statistieken
Referenties bijhouden
Registratiebeheer
Reserveringsbeheer
SSL-beveiliging
Slepen en neerzetten
Sms-berichten
Taakplanning
Toegangsopties/machtigingen
Voorraadbeheer
Waarschuwingen / Escalatie
Waarschuwingen/Meldingen
Webformulieren
Zelfserviceportal
Krista i. C.
Registered Dental Hygienist in VS
Geverifieerde LinkedIn-gebruiker
Medische praktijk, 11-50 werknemers
Heeft de software gebruikt voor: 2+ jaar
Easy and convenient
Pluspunten:
Lighthouse 360 has made it easy to communicate back and forth with patients via their appointments, new insurance information, updating address, etc. It is convenient because the whole team (both front desk and clinical) can use the system by confirming appointments and communicating back and forth.
Minpunten:
Although very convenient to use, there are still errors in regards to whether an appointment has been properly confirmed or not. (sometimes it says confirmed and it has not been). The monthly fee is a little more expensive than I would like to see but there are many resources involved in the service.
Amy T.
Office Manager in VS
Medische praktijk, 11-50 werknemers
Heeft de software gebruikt voor: 2+ jaar
Overwogen alternatieven:
Best program EVER
Opmerkingen: Absolutely loved everything about it. It was very easy to manage and navigate through. We noticed a decrease in no show appointments since the patients would receive last minute reminders of their appointments. Our office had Lighthouse360 for several years and never once had a problem. A little less than a year ago we switched to another program as they offered a little bit of a cheaper price. Biggest mistake we have ever made.
Pluspunten:
The program was so easy to use and manage. So many of our patients raved about the text messaging communication and the reminders. We could group patients and send a specific text or e-mail to them. Lighthouse provided a list of patients who were overdue for their routine cleanings and would also send them reminders. It was such a time savor and "patient pleaser".
Minpunten:
Honestly can not even think of one complaint.
Kelsey M.
Office Manager in VS
Geverifieerde LinkedIn-gebruiker
Gezondheid, wellness en fitness, 11-50 werknemers
Heeft de software gebruikt voor: 1+ jaar
Yikes
Pluspunten:
Consistency. Having no feature releases made the ease of training new employees effortless (literally)!
Minpunten:
We began using this software many many years ago. Since then, not a single feature update has been made. Very disappointing for the huge price tag.
Gezondheid, wellness en fitness, 2-10 werknemers
Heeft de software gebruikt voor: 2+ jaar
Failed to send critical email Blast during the MOST important time--Corona Virus
Opmerkingen: Over all mostly helpful at the time we started, then less effective in preventing cancellations. Too many limitations on wording of messages. Templates are too restrictive. The worst failure is when I needed them the most which is when I needed them to help me contact patients about important, life-saving messages about the Corona Virus. So many other email blast services worked for others, LightHouse FAILED big time. There were not even apologetic about it and did not provide responses to my concerns other than a generic we are aware of it and working on it. I has been a week and half and no response.
Pluspunten:
Texting capability to individual patients
Minpunten:
mail blast software is too cumbersome and does not have features to cancel an blast when it is not working. Customer service once I reported the problem was dismal, rude and uncaring.
Veronika W.
Office Manager in VS
Medische praktijk, 2-10 werknemers
Heeft de software gebruikt voor: 1+ jaar
Lighthouse for our dental office
Opmerkingen: Overall, Lighthouse has been a helpful addition to our practice and has made some aspects of patient communication easier for us. All the appointment reminders and confirmation texts, eliminated our need to manually call and confirm/remind patients which saved our office a lot of time.
Pluspunten:
The features that our office likes most about Lighthouse is the ability to send out last minute appointment availability when there is a cancellation in our schedule. We found a lot of people have difficulty scheduling too far in advanced due to their personal schedules so almost every time we send out a last minute appointment message, the appointment is filled. We also like that it lists out the responsibilities and tasks that need to be completed by both the front desk and the dentist for every day.
Minpunten:
The feature that our office liked the least about Lighthouse was that it did not integrate directly with our dental practice management software so we have to send some messages to patients manually and that when we delete a patient from our practice management software, Lighthouse would continue sending messages to the patient until we inactivated the patient.