Wat is Pure Chat?
Pure Chat helpt kleine en middelgrote organisaties om hun websitebezoekers te betrekken met krachtige, gebruiksvriendelijke live chatsoftware. Gebruik Pure Chat gedurende het gehele klanttraject om informatie met bezoekers te delen, leads te genereren en een uitzonderlijke klantenservice te leveren om de verkoop te verhogen en de tevredenheid te verbeteren.
Er is nu een 100% gratis abonnement beschikbaar met een onbeperkt aantal gebruikers en chats voor maximaal 3 websites.
Waar wacht je nog op? Meld je aan en begin vandaag nog met chatten.
Wie gebruikt Pure Chat?
Pure Chat is voor kleine tot middelgrote bedrijven en verkoop-/marketingteams in elke sector die meer leads en meer omzet willen genereren.
Waar kan Pure Chat worden geïmplementeerd?
Cloud, SaaS, Web, Android (mobiel), iPhone (mobiel), iPad (mobiel)
Over de leverancier
Pure Chat
Opgericht in 2012
Chatten
Over de leverancier
Pure Chat
Opgericht in 2012
Chatten
Video's en afbeeldingen van Pure Chat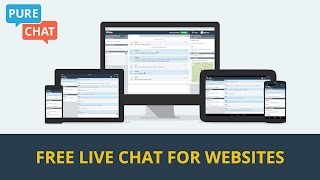 Vergelijk de kosten van Pure Chat met soortgelijke producten
Functies van Pure Chat
Aanpasbare branding
Consumentgericht chatten in realtime
Integraties van derden
Mobiele toegang
Offline formulier
Overdrachten en routering
Proactief chatten
Rapportage en analyse
Transcripten/chatgeschiedenis
Websitebezoekers bijhouden
Alternatieven voor Pure Chat
Abid
Manager Operations in Pakistan
Geverifieerde LinkedIn-gebruiker
Bankwezen, 5.001-10.000 werknemers
Heeft de software gebruikt voor: 1+ jaar
Pure Chat is the Best Website Visitor Tracking & Online Chat Software
Opmerkingen: I am using pure chat software from last 2 years for my website and always found it very useful and helpful in terms of managing online traffic and chat. The software is full of amazing features and tools that can create a very healthy impact on your website.
Pluspunten:
Pure Chat is absolutely free of cost software with exciting features like offline chat, website visitor tracking, proactive chat and many more. Pure chat is useful for small and mid sized organizations to manage their website visitors and customer experiences. The software is fully secured and their plugins are readily available in wordpress that can takes few seconds to download and install.
Minpunten:
Pure chat has all the necessary features the only cons which i observed is that sometime i received the chat notification with little delay other than that everything works very well for me.
George Rex
Co-Founder & CAO in Nigeria
Geverifieerde LinkedIn-gebruiker
Informatietechnologie en -diensten, 2-10 werknemers
Heeft de software gebruikt voor: 1+ jaar
Its a wonderful solution comparable to tawk
Opmerkingen: Our clients needed a way to allow users communicate with them from their websites in real-time to help these leads make quicker buyer decisions. And while we used tawk earlier, we needed something modern and all-inclusive; and we believe PureChat gave us that.
Pluspunten:
The service has a WordPress plugin we could integrate with our website, and the set up was really easy and straightforward. I even love the function where you can add an address and phone number to the chat widget that appears on your website.
Minpunten:
The fact that an agent has to be on a third-party website (i.e. PureChat website), outside your WordPress admin dashboard to respond to chats from clients' website was really an irregular procedure for a WordPress user.
Leticia
Customer Service in VS
Detailhandel, 2-10 werknemers
Heeft de software gebruikt voor: 6-12 maanden
Why offer an app when it doesn't work?
Opmerkingen: I am away from my desk a lot, so I use the app so that I am still available to chat with on my website. This app does NOT work. Every time I open it it says it's reconnecting or it kicks me off. The other day I went to open a different app and pure chat kept popping up and kept saying that it was trying to reconnect to the server. So I started using my desktop more often because I am so frustrated with the app and it keeps doing the same thing! Keeps saying that it is trying to reconnect. I've had my internet provider come out and do tests, so that is no the issue. Everything else I have works perfectly fine except this. I am looking at different options because this just doesn't work out for our company.
Pluspunten:
I like the idea that this software has to offer. Available to chat through the website because not everyone likes talking on the phone or just has a quick question.
Minpunten:
EVERYTHING.... This software doesn't work. Looking at a different provider because of this software's inability to do what it says it's going to do.
Stefany
Co-Founder in VS
Geverifieerde LinkedIn-gebruiker
Vastgoed, 11-50 werknemers
Heeft de software gebruikt voor: 2+ jaar
One of the best out there!
Opmerkingen: Higher client response rates and better retention. Waiting for them to find eh email link isn't enough anymore. Pure Chat means my "about us" page is on every page.
Pluspunten:
So Easy! I use it on a Wordpress site. The plug-in takes a second and you are up and running. I was able to match it to my company color and feel to keep the flow of my homepage. I found we gained much higher engagement with our clients than with email or even texting. The back end is well tailored for control freaks like myself who wants to keep an eye on the team activity and responses. The list of respondents makes it easy to add to email campaigns and keep up with newly interested clients. An Android phone app! Icing on the cake for us. From PC to mobile, it's seamless. I am always connected to a customer in need. It's security that I am on top of my business and I won't miss a question that could result in a sale. Did I mention this is free? You can upgrade for even more functionality but once you start using it, you will wonder what more they have to give. Reports. That's what. Get granular on the amount of traffic on your site, and see it live, you and your teams response rate, and team activity. I cannot say enough good things about this software. I do test other options from time to time but I tend to come back to Pure Chat.
Minpunten:
I wish I had one. They give you excellent functionality for free and even more if you upgrade. Pricing in inline with other services. I'll update this review should a con present itself.
Adelaynes
Analista de Acompañamiento y Gestion Comunitaria in Venezuela
Geverifieerde LinkedIn-gebruiker
Heeft de software gebruikt voor: 6-12 maanden
Purechat is an excellent chat software for citizen attention in our office
Opmerkingen: Purechat is a very interesting software, with a warm interface, and moldable according to the user's requirements. Personalization of chats, availability schedules, can be used in blogs and web pages, are many of the options that make Purechat an excellent option for communication with other people.
Pluspunten:
Since using the PureChat application in my work space, we have been able to perceive immediate benefits, which have facilitated contact between the communities and our work team, receiving in real time all the recommendations, suggestions and requests from these communities. Through Purechat we have been able to systematize the ideas expressed in our chat session and turn them into work plans and community approaches. This attention by chat is enriched with tools such as personalization of chats to be able to track person to person of each of the ideas, availability schedules to serve the largest number of people and can be used in tablets, adroids and IOS
Minpunten:
I have no outstanding complaints about this software. Since we used it in the office and in my wordpress, we have exploited all its potential and it seems to us to be quite functional software.