Wat is RedTeam?
RedTeam is een robuuste beheeroplossing voor commerciële bouwprojecten. De cloudtoepassing is ontwikkeld door aannemers om alles, van voorbereiding tot het afsluiten van projecten, effectief te beheren, en het legt verbinding tussen teamleden met behulp van elk willekeurig apparaat. Naast sterke veldrapportage biedt RedTeam oplossingen voor alle stappen van het projectmanagementproces, van het genereren van nieuwe contracten tot voorbereiding, aanbesteding, prestatiebeheer en financiële controles.
Wie gebruikt RedTeam?
RedTeam is ontworpen voor commerciële algemene aannemers. Het platform helpt alle projectpartners om efficiënt samen te werken in alle fasen van de projecten. RedTeam biedt robuuste financiën voor de bouw.
Waar kan RedTeam worden geïmplementeerd?
Cloud, SaaS, Web, Mac (desktop), Windows (desktop), Linux (desktop), Chromebook (desktop), Android (mobiel), iPhone (mobiel), iPad (mobiel)
Over de leverancier
RedTeam Software
Gevestigd in Orlando, VS
Opgericht in 2006
Telefonische ondersteuning
Chatten
Beschikbaar in deze landen
Canada, Verenigde Staten
prijzen van RedTeam
Beginprijs:
Niet door leverancier verstrekt
RedTeam heeft geen gratis versie.
Over de leverancier
RedTeam Software
Gevestigd in Orlando, VS
Opgericht in 2006
Telefonische ondersteuning
Chatten
Beschikbaar in deze landen
Canada, Verenigde Staten
Video's en afbeeldingen van RedTeam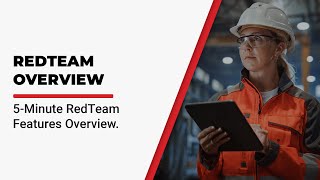 Vergelijk de kosten van RedTeam met soortgelijke producten
Functies van RedTeam
Aanpasbare sjablonen
Aansturing van onderaannemers
Apparatuur bijhouden
Beheer van offerteaanvragen
Beheer van onderaannemers
Beheer van verkooppipeline
Beheer van wijzigingsorders
Biedingsbeheer
Budget volgen / taakuitgaven
Budgettering/prognoses
CRM
Compliancebeheer
Contactenbeheer
Contract- en licentiebeheer
Crediteuren
Database met onderaannemers
Debiteuren
Documentbeheer
Informatieverzoeken en aanvragen
Inkooporderbeheer
Integratie in de administratie
Kalender-/herinneringssysteem
Kalenderbeheer
Klanten volgen
Kostenschatting
Kwalificatie bijhouden
Leads beheren
Mobiele toegang
Offertes
Plannen
Productiekosten
Projectbeheer
Projecten bijhouden
Projectplanning
Rapportage en analyse
Rapportage en statistieken
Realtime updates
Roosterbeheer
Samenwerkingstools
Schattingen
Taakbeheer
Taakplanning
Tijd bijhouden
Veiligheidsbeheer
Vergunningenbeheer
Voorraadbeheer
Voorstellen genereren
Voortgangsrapporten
Wat-als-analyse
Alternatieven voor RedTeam
Phil R.
Project Manager in VS
Geverifieerde LinkedIn-gebruiker
Bouw, 11-50 werknemers
Heeft de software gebruikt voor: 1+ jaar
Project Manager
Opmerkingen: The main reason we have purchased RedTeam was to free up my time. We need a program that helps eliminate time-consuming processes and redundancies. While at the same time track time-sensitive communications. Estimates, budgets, buyouts, and billings can bog you down in tedious detail. But have a system that tracks it from day one thru the full life of the project is a great benefit. Also, having the ability to link with QuickBooks makes our office manager grateful she doesn't have to learn a new system.
Pluspunten:
Systematic process. The program is well tuned to help eliminate the pitfalls of being so busy and missing a step or piece of information. The process forces you to not shoot from the hip, as we all have done and been bitten by it. The customer support can't be beat. The techs know their stuff and help you get going quickly, even when you ask the software to do something it was not designed to do, they still help you figure it out.
Minpunten:
Implementation, with any robust complete software program converting completely over to it takes time. The transition is challenging if you are busy. You will be tempted to stick with what you have always done due to being comfortable with it. However, that said the RedTeam support has helped me time and time again as I use the software more and more.
Paul P.
Business Development and Operations in VS
Bouw, 11-50 werknemers
Heeft de software gebruikt voor: 6-12 maanden
Overwogen alternatieven:
One Stop Shop
Opmerkingen: I am fortunate that after the software had been originally abandoned in our company, we have decided to give it another try with direct assistance from the Red Team Success team. They have been great! I am realizing now that the software really can be the main platform we use statewide with all functionalities that it encompasses. The key is correct onboarding and training at the beginning. I would advise this software to anyone who has the financial capital to go ahead and purchase it.
Pluspunten:
The software is a One-Stop-Shop. It encompasses features from project planning to project fulfillment. In our case, we deal with scheduling (Gantt charts), accounting, document retention, and tracking, inventory, multiple projects in different locations varying from single-family housing to multi-family housing all under construction simultaneously. The software allows access and provides learning tools for the novice person starting out in construction and has great tools for the experienced person in construction. It is also compatible with other programs.
Minpunten:
1. Some of the features, starting out with passwords seem to be elementary. For example, you cannot use characters in your password. 2. Without clear onboarding from the support staff, the software can be cumbersome and confusing to implement company-wide 3. It would be nice to have more features accessible on the mobile app. 4. It's very pricey if you're not going to use all the features
Kim L.
Staff Accountant in VS
Bouw, 51-200 werknemers
Heeft de software gebruikt voor: 2+ jaar
Review
Pluspunten:
Ability to search jobs/commitments through the vendor screen.
Minpunten:
System is cumbersome. You cannot easily move from job commitment to invoices, you must change from the commitment screen to the vendor screen then search for the invoice. Reports are too wide for landscape view and cut off data. When updates are made not all the bugs are worked out before going live.
Reactie RedTeam Software
3 jaar geleden
Kim, I am sorry to read that you have had some frustration with some of the functionality in RedTeam. Using the home button you can travel to the invoice tab with two clicks or if you are in the commitment section you can open the commitment audit to access the corresponding invoices as well. We have added a lot of functionalities to RedTeam in the past few months, we always invite you to chat with our team (available from 8 am to 8 pm EST daily) if something is not working for you. We appreciate your business and appreciate you taking the time to review RedTeam.
Valerie B.
Contacts & Billing in VS
Bouw, 11-50 werknemers
Heeft de software gebruikt voor: 1+ jaar
Excellent Project Management Software
Pluspunten:
One of the things that I like about RedTeam is the job cost reports. I can provide reports to PM's in seconds, instead of having to go to different softwares to pull numbers. I also like the interface between RedTeam and DocuSign with sending POs and subcontracts. It makes it easy to track if a contract was signed by our vendor. Before RedTeam, we didn't have a way to track the status of contracts. The lien tracker is very helpful to keep track of our preliminary liens. Before we used Excel to keep track of them.
Minpunten:
The WIP Reports need a little work. Once a project is closed, it is dropped off our WIP report. Currently, we are using Excel. The billing needs a little help. We would like to be able to enter in the current amount that we want to bill instead of using a percentage or having to add the number to the previous amount billed.
Justin N.
President in VS
Bouw, 2-10 werknemers
Heeft de software gebruikt voor: 1-5 maanden
Overwogen alternatieven:
Red Team Review
Pluspunten:
Ease of use. We like the project labeling, ability to sort by WIP and Bids.
Minpunten:
We really like everything, just want to see some modifications. Things such as WIP tab does not remove "closed" projects from it, so our WIP list just keeps getting larger. If we revise an estimate, we would like to be able to keep the original estimate, number, etc and open a revision with the new information. We would like to rename in the schedule of values "fee" and "overhead" to whatever we see fit. Lots of other small changes that we can hopefully keep suggesting and get implemented in the future.