PracticePanther Legal Software
Wat is PracticePanther Legal Software?
Maak gebruik van deze juridische software, uitstekend beoordeeld op Capterra. Tienduizenden advocatenkantoren in meer dan 170 landen gebruiken PracticePanther om hun kantoren te automatiseren en meer
Meer informatie
gedaan te krijgen in minder tijd. Mis nooit deadlines, word sneller betaald met facturering met één klik, en hou factureerbare tijd en uitgaven bij. Met de mobiele apps werk je vanaf elke plek, op elk apparaat. Het is gemakkelijk, gebruiksvriendelijk en intuïtief. Je kunt nu minder tijd besteden aan het beheren van je bedrijf en meer tijd aan het verdienen van geld. Probeer het gratis, geen creditcard vereist.
Minder informatie
Wie gebruikt PracticePanther Legal Software?
Tienduizenden eenmanspraktijken, kleine en middelgrote bedrijven, en grote ondernemingen die overal zijn gevestigd en geen urenlange webinars willen doorlopen. Eenvoudige software voor de moderne advocaat.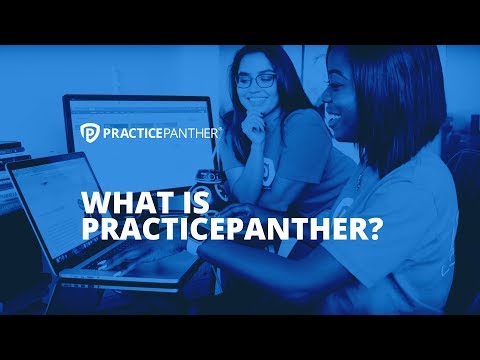 Twijfel je over PracticePanther Legal Software? Vergelijk met een populair alternatief
PracticePanther Legal Software
Niet beschikbaar in jouw land
Gratis versie
Gratis proefversie
Geen prijsinformatie gevonden
Gratis versie
Gratis proefversie
Waarom krijg ik dit te zien?
Alternatieven voor PracticePanther Legal Software
Reviews over PracticePanther Legal Software
Allison
administration
Geverifieerde LinkedIn-gebruiker
Computersoftware, 11-50 werknemers
Heeft de software gebruikt voor: 1+ jaar
fun and easy - lacking accounting and trust capabilities
Bijschriften in het Nederlands beschikbaar in de videospeler
Scott M.
Lawyer in VS
Geverifieerde LinkedIn-gebruiker
Rechtspraktijk, Zelfstandig ondernemer
Heeft de software gebruikt voor: 2+ jaar
Amazing program!
Opmerkingen: I bought this program when I first opened my practice about 2.5 years ago. I knew going into my own firm that I wanted a comprehensive client management tool. After spending hours online reviewing various programs, I decided to give the 30-day free trial a shot. I think I purchased the monthly subscription immediately after starting to use the program. Since that time, I have built on my knowledge, incorporating the MailChimp and QBO features first, then started learning how to streamline my document preparation through the template feature. What would have previously taken me multiple hours a week to manage, now takes minutes.
Pluspunten:
PracticePanther is intuitive and very user friendly. It has a ton of features that expedite minuscule tasks and free up admin time. It syncs with all my favorite resources, like QBO, MailChimp, and Box, making communication with clients a lot easier and keeps routine mailings operational. If you use a lot of form templates, the template builder is a major time saver and cuts down on user error and oversights. I use this program every day in my law office and am very grateful for how easy it is. Even better, the customer support team is phenomenal. I rarely have any issues with the program (it is easy to use), but when I run into something I need help with, a quick message to the PP team is responded to within minutes and the problem is solved or at a minimum I am given an update and expected time of completion. I couldn't recommend this program more to a solo or small legal practice.
Minpunten:
Nothing, the team is constantly updating its software and programs that it connects to. They provide online videos to help and I frequently learn of new ways to use the program from regular updates by the team.
Reactie PracticePanther Legal Software
4 jaar geleden
Thank you so much Scott for the extra kind feedback!
Rechtspraktijk, 2-10 werknemers
Heeft de software gebruikt voor: Gratis proef
Overwogen alternatieven:
Great practice management software. The only short-fall is that it doesn't allow auto future billing
Opmerkingen: PracticePanther is a great platform and you should definitely give it a good try during a free trial period.
It also has Rules of Court deadline figuring if you're a Civil firm.
PP has great integration with QuickBooks on-line.
You can print checks directly from PP, or QB online to pay other legal vendors (Chiros, etc.)
Pluspunten:
Price - either $59/mo or $49/mo if paid the year in full. Fee to bill clients on-line: $.20 per transaction plus 1.95% Workflow customizable - Yes, you can customize the workflow on different case-types. Activity Log - easy access history. Create Contact on the fly as creating matter - easy to create a Contact during the process of creating a matter. Intake form for new clients - Yes, can put a link on your website so new clients can fill-out a new client form, and that info will auto fill into the client's PP account. Time tracking timers - you can have multiple different timers open and running at the same time and assign them. Mobile App - there is no mobile App, but the site is mobile optimized. E-file integration - there is No e-file integration. Color assignments - there are up to 6 colors that you can assign to parties & roles. Task customizable - Yes, you can customize task flows. Easy to create and merge documents - Yes, it's very easy to create and merge documents with the program. PDF-auto convert - No, it cannot auto PDF convert a document. Create documents that can merged - Yes. This program makes it easy to create documents that can be merged. Support - Yes, support seems to be free. Notify client when upload a document - Yes, you can notify a client a document gets uploaded that you want them to review or be aware of. Email syncing - very good syncing with Gmail and Outlook. Emails linked to a matter - Yes. Easy to link emails to a matter. Client Portal - Yes.
Minpunten:
The only thing that kept me from staying with PracticePanther, is that MyCase allows you to be able to set future billing to go out to a client(s) and forget it. PracticePanther has a bit of a 'workaround' if you get the client's Visa/Debit card on file, but many times clients are uneasy giving you their card number. With Criminal Defense clients that need to make monthly (or future) payments on a retainer amount, MyCase allows you to set-up future dates where a client will be emailed a bill, which they can tap on a button and pay on-line. This is the main thing that made me go with MyCase. But if not for that, I would have stayed with either PracticePanther or Smokeball. Smokeball had/has the slickest software for being able to send emails from (either) Outlook or Gmail, and a small window at the bottom allows you to connect that email to a matter. Smokeball's software also made/makes it very easy to sync a Word document with a Client/Matter.
Rechtspraktijk, 2-10 werknemers
Heeft de software gebruikt voor: 2+ jaar
Love it
Opmerkingen: I used to spend HOURS every month doing my billing, and invoicing. I absolutely hated billing. Now it takes me a few minutes and a few clicks of a button and its finished, and the invoices are on their way to my clients, with an easy way to pay online.
Pluspunten:
I really love every aspect of this operating software. It saves me time, and frustration. It is also accessible from anywhere, and extremely easy to use.
Minpunten:
There is nothing that I do not like. When I find something that can be "improved" such as adding sound to reminders... they added it into the software.
Michael
Managing Attorney in VS
Rechtspraktijk, 2-10 werknemers
Heeft de software gebruikt voor: 2+ jaar
After years of begging them for real fixed price billing, I'm giving up.
Opmerkingen: It was a good start to law firm management, now I need something that works like a law firm needs to work, not force my law firm to work like the software wants me to.
Pluspunten:
It's easy to learn the basics. The calendar is good, it's helpful that they show tasks there. Searching is great. It's totally adequate if all you do is bill for time and integrate with Quickbooks.
Minpunten:
Panther has no report on Items (e.g. how much of your revenue is from Document Drafting vs Litigation). To get such a report, you MUST integrate with Quickbooks. But the biggest problem is that Fixed Price billing (what they call "Flat Fee") is worthless. Fixed Price billing was clearly an afterthought, and their implementation has not changed at all since the early days when I started using it: 1) It does not let you assign an Item as you can with time entries, so you can't easily tell Quickbooks that a Fixed Price invoice was for a trademark application, not doc review; 2) You can't assign a lawyer to a Fixed Price billing, so you cannot get a report to help you pay everyone proportionally to their Fixed Price billings; 3) Fixed Price matters become immediately billable even if no work has been done, so you must manually keep track of when it's time to invoice for a Fixed Price matter, and there's no report on billable Fixed Price matters; 4) When entering time on a Fixed Price matter, there's way no way to check whether you are about to exceed the budget, and no way anywhere to compare budgeted vs actual. If you're a modern firm moving to fixed price as much as possible, you'll spend a LOT of time looking for work-arounds, and you'll find that implementing your work-arounds will chew up any time saving you might have gotten from using the rest of the software. I can't wait to change to software that does Fixed Price right.
Reactie PracticePanther Legal Software
4 jaar geleden
Hey Michael, thank you so much for you feedback. I just wanted to let you know that based on the feedback of our users, yourself included, we have implemented a NEW FLAT FEE pricing option. We are the ONLY ones in the market to offer this function! We understand that the needs of our firms are constantly evolving and we value the suggestions and feedback of all of our users. You can check out the guide published by our training department here: https://support.practicepanther.com/contacts-and-matters/getting-started/flat-fees-tutorial Furthermore, visit our updates page for past and future releases. https://www.practicepanther.com/law-firm-practice-management-software/ Thanks for being a valued customer from the beginning!
Juridische dienstverlening, 2-10 werknemers
Heeft de software gebruikt voor: 2+ jaar
Track income, billings and increases collections
Opmerkingen: Top flight.
Pluspunten:
The billing and payment functions are easy to use
Minpunten:
I am not really certain. I am converting entire practice into Practice Panther. My problems have been either user error or I forgot some instruction from customer service.