Wat is SimplyBook.me?
SimplyBook.me biedt het meest uitgebreide online boekingssysteem op de markt, een systeem dat ervoor zorgt dat je professioneel overkomt en dat al je online zaken oplost. Je krijgt een volledige website waarop je je bedrijf kunt presenteren, afspraken kunt aannemen en producten, lidmaatschappen, pakketten en service-uitbreidingen kunt verkopen. Synchroniseer afspraken met populaire online agenda's en ontvang gedetailleerde statistieken over je bedrijf. Ga naar SimplyBook.me om alle functies te zien!
Wie gebruikt SimplyBook.me?
SimplyBook.me is geschikt voor alle servicebedrijven die tijdig boekingen accepteren, zoals kapsalons, spa's, scholen, evenementenbeheer, sportscholen, privétrainers, consultants, financiële adviseurs enzovoort.
Waar kan SimplyBook.me worden geïmplementeerd?
Cloudgebaseerd
On-premise
---
Over de leverancier
SimplyBook.me
Gevestigd in Limassol, Cyprus
Opgericht in 2008
Ondersteuning voor SimplyBook.me
24/7 (contact met medewerker)
Chatten
Beschikbaar in deze landen
Albanië, Amerikaans-Samoa, Amerikaanse Maagdeneilanden, Andorra, Anguilla en nog 159 andere
prijzen van SimplyBook.me
Beginprijs:
€ 6,70/maand
Ja, heeft een gratis proefversie
Ja, heeft een gratis versie
SimplyBook.me heeft een gratis versie en biedt een gratis proefperiode. SimplyBook.me heeft een betaalde versie vanaf € 6,70/maand.
Prijsmodellen
vraag een gratis proefversie aan
Over de leverancier
SimplyBook.me
Gevestigd in Limassol, Cyprus
Opgericht in 2008
Ondersteuning voor SimplyBook.me
24/7 (contact met medewerker)
Chatten
Beschikbaar in deze landen
Albanië, Amerikaans-Samoa, Amerikaanse Maagdeneilanden, Andorra, Anguilla en nog 159 andere
Video's en afbeeldingen van SimplyBook.me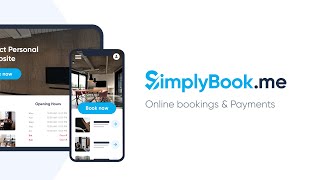 Functies van SimplyBook.me
Aanpasbare branding
Aanpasbare formulieren
Activiteitendashboard
Afspraakplanning
Afsprakenbeheer
Artsenbeheer
Beheer van cadeaubonnen
Beheer van patiëntdossiers
Beschikbaarheidsbeheer
Betalingen verwerken
Bevestigingen/herinneringen
CRM
Communicatie met leden
Communicatiebeheer
Contactendatabase
E-mailherinneringen
E-mailmarketing
Elektronische betalingen
Evenementenbeheer
Factureren
Faculteits- en personeelsbeheer
Geautomatiseerde planning
Groepsplanning
Groepsreserveringen
Herinneringen
Herinneringen om terug te bellen
Intake van patiënten
Integratie van sociale media
Integraties van derden
Kalender-/herinneringssysteem
Kalenderbeheer
Kalendersynchronisatie
Klantenbeheer
Klantendatabase
Klantenondersteuning
Klantenportal
Klantprofielen
Klasplanning
Klassenbeheer
Lidmaatschapsbeheer
Marketingautomatisering
Mobiele toegang
Multilocatie
Naleving van HIPAA-richtlijnen
Notities bij reserveringen
Online betalingen
Online onderwijs
Online registratie
Online reserveren
Opnieuw plannen
Personeelsbeheer
Plannen
Portal voor ouders en studenten
Rapportage en analyse
Rapportage en statistieken
Realtime planning
Realtime updates
Registratiebeheer
Reserveringsbeheer
SMS-herinneringen
SOAP-notities
Servicecatalogus
Sms-berichten
Studentenbeheer
Terugkerende afspraken
Tweerichtingscommunicatie
Verkooppunt
Voor kappers
Voor medische spa's
Voor schoonheidsinstituten en wellnesscenters
Voor vechtsporten
Voor yoga-/pilatesstudio's
Waarschuwingen/Meldingen
Website-integratie
Zelfserviceportal
Alternatieven voor SimplyBook.me
Reviews over SimplyBook.me
Cynthia
Founder
Geverifieerde LinkedIn-gebruiker
E-learning, Zelfstandig ondernemer
Heeft de software gebruikt voor: 1-5 maanden
different pricing structure
Bijschriften in het Nederlands beschikbaar in de videospeler
Steven
Owner in VS
Geverifieerde LinkedIn-gebruiker
Design en ontwerp, Zelfstandig ondernemer
Heeft de software gebruikt voor: 1-5 maanden
Amazing software at an amazing price, FREE!
Opmerkingen: I don't use their booking page but I do embed the calendar into my website so everything stays on my site. I personally like how some other calendars look but overall, I can't complain. I was able to customize it to my liking and it sends austomatic email reminders to myself and the people who booked the time. It was very straightforward and it has been used and tested a lot lately and I am very impressed.
Pluspunten:
Being able to customize the product to match my branding was the biggest challenge while I was trying different online booking softwares. SimplyBook.me was the only one that allowed color customization on the free plan. So, I figured the rest would not be good. Boy, was I wrong! This software has gone above and beyond what I expected for a free online booking calendar.
Minpunten:
The only thing that I am not 100% satisfied with is the look. If I could change the layout of the calendar that would be amazing but for the price, I can't compain and everything works as it is supposed to or better than I expected which is wonderful!
Overwogen alternatieven: YouCanBook.me, Calendly en Fresha
Redenen om voor SimplyBook.me te kiezen: I was paying monthly for something that I wasn't really utalizing and I wanted to find a cheaper option. I am still trying to grow my business, so I don't have too many online bookings yet, so I felt like I was just trowing away money each month. I liked the look and functionality of YouCanBook.me better however, I love the customization and price of SimplyBook.me and that is why I made the switch.
Overgestapt van: YouCanBook.me
Redenen om over te stappen op SimplyBook.me: The ability to make some many customization in order to match my brand colors and it was free. In my opinion, there is nothing out there better.
Geverifieerde reviewer
CEO in Thailand
Geverifieerde LinkedIn-gebruiker
E-learning, 2-10 werknemers
Heeft de software gebruikt voor: 1-5 maanden
Bron: GetApp
The BEST booking system out there. Please keep updating & improving this epic/pioneering software.
Opmerkingen: App = incredibly good. iFrame embeds a bit sketchy looking! Wish there was a way for employees to simply update/add to their schedules directly within our website or an app (not simply a homepage shortcut to a website that poses as an app).
Pluspunten:
Incredible tool. So many features. Build epic booking systems.
Minpunten:
It seems to be something that they do not actively work on, which seems crazy to me. Customer support ([SENSITIVE CONTENT]!) is dire. She sits on her little throne of customer support power/possession and then acts as a mindless, droning, and passive-aggressive gatekeeper for SimplyBook. It makes working with the company a chore, and I would seriously not want to pay money every month with her as our Account Manager. She makes the process of this (incredible!) application, seem hopeless, limited, and dire. You need your first point of contact to laude the company, and care about it deeply! To inspire its customers, and to show them how much of an incredible booking system can be built with SimplyBook.
Overwogen alternatieven: Setmore, Acuity Scheduling, Booknetic, Bookly en Amelia
Redenen om voor SimplyBook.me te kiezen: SimplyBook has so much more genuinely deep and powerful potential. Incredibly well-coded. User friendly for the service providers (as well as the customers). A truly epic and well-thought-out product, held back by shoddy customer service and a lack of passion at the front gate.
Overgestapt van: Calendly, Setmore en Amelia
Redenen om over te stappen op SimplyBook.me: Fantastic UI and endless potential with all of the addons. The perfect options for entrepreneurs and business owners looking to "build" a booking system for their business, that suits them and their specific business model. They are endless ways to build a business model that works using their system. PLEASE keep updating, and marketing your product. It is amazing, and far far better than Calendly/Setmore/Acuity and all the big boys, who have absolutely no potential, and incredibly limited coding for serious businesses and booking systems. SimplyBook has it all worked out when it comes to Team Members Scheduling (although this could be better with a simple frontend panel), Classes, Recurring Meetings, Timeslot booking simplicity, Coupons, etc.!
Donna
Owner/Lead Therapist in VS
Gezondheid, wellness en fitness, 2-10 werknemers
Heeft de software gebruikt voor: 2+ jaar
Wish the app developers would listen to feedback.
Opmerkingen: I feel like Simply Book Me developers are severely uninterested in making their product greater and I would not recommend it until they begin to respond to my many years's requests for improvement.
Pluspunten:
I love the look of Simply Book Me. While it's annoying to have to pick and choose from Custom Features and in many cases forego functionality for looks, I like the look.
Minpunten:
I have contacted SimplyBook.Me a million times in my many years as a user with feedback for improvement. Most of the improvement required has to do with the app. Also, when I set my account up a billion years ago, I set it up with 5 minute increments but as my business has changed, that has changed. I now need 15 minute increments for scheduling but the developers are either incapable of conceiving a different possibility else they are under trained or under funded. As a long time user, I feel they ought to listen to my needs and FIGURE IT OUT.
Entertainment, 2-10 werknemers
Heeft de software gebruikt voor: 1+ jaar
Great product that I have used for over a year
Opmerkingen: I tell people about simplybook.me a lot because it just works. It works for about 90% of the things I need it to do, so to have one package, for such a great price, that includes so much, is really invaluable to me and my business.
Pluspunten:
I like the adaptability. Even though it has a learning curve, once I understand how to do something, it does it well. It does most things that I need it to do. Clients can book easily, the reminders go out without me checking on them, the product is definitely well priced, and it just works. I think I have a semi-complicated set up, but was able to make it all work (with some help from their excellent live chat agents). The widget codes work on my website, payments integrate with it, it's all just one great package for my needs.
Minpunten:
There are still some things that I would like it to do that it doesn't do. The example would be too long, but I have worked around it. It has to do with the ability to book kids/adults/how many at a time of each, for a certain time frame. I also don't like that once I make a change, it is retroactive...I would really like the ability to change something for the future, and have it set up to go on a certain date, without the changes going live right away.
Overwogen alternatieven: Trello, Checkfront, Xola, Bookeo en FareHarbor
Redenen om over te stappen op SimplyBook.me: Price mostly, but also because it does everything I need it to do FOR that price.
Stacy
Program Director in VS
Juridische dienstverlening, 11-50 werknemers
Heeft de software gebruikt voor: 1+ jaar
A game-changer!
Opmerkingen: When COVID-19 hit, my legal services nonprofit had to figure out a way to pivot from walk-in, in-person weekly consultations with new potential clients, to a completely virtual model of service. When we eventually began using SimplyBook, multiple staff called it a "game-changer" - it took so much time and stress out of scheduling consultation appointments and accepting payments in advance! It is pretty user-friendly, and tech support has always been incredibly helpful when we've contacted them via live chat. We also love how customizable the system is. Overall we've had a great experience for the past 1.5 years!
Pluspunten:
I love how customizable SimplyBook is - it took me a long time to get everything set up the way we wanted it at the beginning, but that was just because of how many different features I was able to customize to our exacts specifications. We also like the payments feature so that we can require clients to prepay for their appointments.
Minpunten:
I wish there was a way to create certain types of appointments that are only available to certain people (for example, people with a certain password); I have suggested this feature to SimplyBook in the past and hope they develop it soon! We want to be able to, for example, only allow clients who have been prescreened to register for certain events, but we don't see a way to do that in the current system and so end up using a different (much less user-friendly) software program for those events instead of SimplyBook. I also wish we could see which clients have used which coupon codes in a single report.
Overwogen alternatieven: Acuity Scheduling
Redenen om over te stappen op SimplyBook.me: Integration with Authorize.net payment processor (preferred by our Finance department)
Reactie SimplyBook.me
2 weken geleden
Dear Stacy, thank you so much for taking the time to leave us your fantastic feedback, we truly appreciate it! Have you tried as a workaround to setup hidden categories, have your services appear there too and then you can prepare separate links for clients that you have already approved of. You can also contact our Live Chat if you want to know more about that. All the best The SimplyBook.me team