Wat is Paymo?
Paymo is een moderne en intuïtieve applicatie voor projectmanagement, geschikt voor projectgebaseerde bedrijven en freelancers die geavanceerd taakbeheer, planning, tijdregistratie, samenwerking en facturering willen bundelen. Dit betekent dat je de volledige levensduur van een project kunt volgen - vanaf de creatie tot het moment waarop je betaald krijgt - zonder te hoeven betalen voor verschillende apps.
Wie gebruikt Paymo?
Voor kleine en middelgrote projectgerichte bedrijven (reclame- en marketingbureaus, webontwikkeling en ontwerpbureaus, non-profits, universiteiten, virtuele assistenten, enz.) en freelancers.
Waar kan Paymo worden geïmplementeerd?
Cloud, SaaS, Web, Mac (desktop), Windows (desktop), Linux (desktop), Android (mobiel), iPhone (mobiel), iPad (mobiel)
Over de leverancier
Paymo
Opgericht in 2008
Chatten
prijzen van Paymo
Beginprijs:
US$ 4,95/maand
Ja, heeft een gratis proefversie
Ja, heeft een gratis versie
Paymo heeft een gratis versie en biedt een gratis proefperiode. Paymo heeft een betaalde versie vanaf US$ 4,95/maand.
Prijsmodellen
vraag een gratis proefversie aan
Over de leverancier
Paymo
Opgericht in 2008
Chatten
Video's en afbeeldingen van Paymo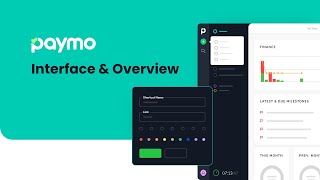 Functies van Paymo
Aanpasbare sjablonen
Activiteiten volgen
Activiteitendashboard
Bestanden delen
Budgetbeheer
Capaciteitsbeheer
Contactendatabase
Core Accounting
Documentbeheer
Externe ondersteuning
Facturen opstellen
Factureren
Factuurgeschiedenis
Gantt-/tijdlijnweergave
Kalenderbeheer
Kanban-bord
Klantenportal
Kleurcodes en -pictogrammen
Meerdere valuta's
Mijlpalen bijhouden
Mobiele app
Mobiele toegang
Onkosten bijhouden
Online facturering
Opmerkingen/notities
Percentage-voltooid bijhouden
Portefeuillebeheer
Projectbeheer
Projecten bijhouden
Projectplanning
Rapportage en analyse
Rapportage en statistieken
Rapportage/projecten volgen
Realtime gegevens
Resourcebeheer
Resources plannen
Roosterbeheer
Samenwerkingstools
Slepen en neerzetten
Staafdiagram
Status bijhouden
Taakbeheer
Taakplanning
Taakvoortgang bijhouden
Taken bewerken en bijwerken
Taken labelen
Tijd bijhouden
Tijd en onkosten bijhouden
Toegang en controle op afstand
Voortgang bijhouden
Waarschuwingen/Meldingen
Workflowbeheer
Jelena
Founder in Servië
Geverifieerde LinkedIn-gebruiker
Informatietechnologie en -diensten, Zelfstandig ondernemer
Heeft de software gebruikt voor: 2+ jaar
My time and sanity saver!
Opmerkingen: I've increased my productivity with Paymo's Kanban board view, combined with Table view, and saved TONS of hours on admin, invoicing, timesheets, client and project management. Just this time saving alone pays off the monthly subscription. Sanity and nerves saving is the bonus! :) Why? Because Paymo helped me maintain good client relationships, timesheet transparency and great records&data representation for a client. So when a client comes up with a random question about a specific task, Paymo's records make finding (and presenting) a specific information or record so much easier, transparent and more reliable.
Pluspunten:
Paymo has been a lifesaver in many business management areas: project management, client management, time tracking, accounting. With built-in budgeting, time tracking, expense tracking, estimate calculations, professional invoicing and getting paid online (and on time!), different project 'views' (list, table, board for kanban, gantt), extensive filters, dashboard and insights, resource scheduling, live time reports, client portal - and all that in one app - it's a sanity saver! One of the things I also personally quite appreciate is the professional and clean look of the invoices (and how easy it is for clients to pay them online). With a click of a button, you can add the unbilled time/fees for a specific time period and/or projects to an invoice. Paymo does all that heavy admin stuff for you and it has saved me a lot of time! Cherry on the top: all invoice items are presented so neatly and professionally, so that my clients can see exactly everything I've worked on for them and what I'm billing them for, as well as how much time is tracked for each project and task. And Payoneer, in addition to PayPal/Stripe/Authorize.Net payment gateways is a big plus! It's brilliant. The moment I first tried it, I could immediately feel that Paymo is the tool designed for actual freelancers in mind, whether you work on a project basis, or a pay-as-you-go basis. It's not complex, and all the features it has are just *right*. Exactly what I need. And it's getting even better!
Minpunten:
I wish the app was just a little bit faster, but I read somewhere that they already have this improvement on their roadmap. Still, if you ask me, it's totally worth the wait for every new feature and improvement their team is cooking for us :)
Reactie Paymo
2 jaar geleden
Thank you, Jelena <3 Speed improvements are already something that we're addressing. Stay tuned for more goodies such as a task calendar view, improved mobile app with team collaboration features and guest access. Cheers, Marcel
Krystle Chanel
Owner in VS
Geverifieerde LinkedIn-gebruiker
Marketing en reclame, Zelfstandig ondernemer
Heeft de software gebruikt voor: 6-12 maanden
I finally found the one!
Opmerkingen: It is important to note that Paymo isn't idle in enhancing its software. Not only that, but new features are thoughtful and integrated seamlessly with the tool. I appreciate this because I have used other software that seem to have their priorities mixed up when releasing enhancements; adding things that don't move the needle ahead of things that do.
Pluspunten:
After years of using project management software for both myself and companies I've worked for, I found the right tool for the job for my personal, small business as a marketing coach and online entrepreneur. Until I build a team, I'm using Paymo for myself, and other tools are not always price-sensitive for a solo user. I appreciate that Paymo provides an option to pay for one user until I'm ready to grow. A particular feature I was looking for was the option to view all projects on a single Kanban board. In the rare case that I found this option, it was a significant upgrade to acquire. But Paymo offers this and it's super easy to use! Other features I love: - Time-tracking/timesheet: Visual representation of where my time goes. I use the in-app timer every day. - Flexible viewing options: I can easily switch between list, table, board, and Gantt views, with easy to use filters that allow me to see exactly what I want. No custom reports or views need created - which can be time-consuming and inflexible (enterprise tools). - Note: The user experience of the Gantt chart was also what I was looking for. It is drag and drop and allows you to adjust your timeline from within the view. There's so much to love about Paymo! And that is saying a lot coming from someone who has researched and used as many tools as I have - including enterprise solution, Workfront. Paymo is definitely worth giving a try!
Minpunten:
I wish there was a way to invite collaborators/reviewers like there is in Asana. If I want a coaching client to be able to collaborate, there is no way to do this without paying for another user. This is superficial, but, the name! When I tell people about Paymo, they immediately think it's a financial tool, not a project management tool, based on the name. I would hate for this to hold Paymo back in the market.
Overwogen alternatieven: Teamwork, Airtable, Trello, Microsoft Project, monday.com, Adobe Workfront, Asana en Things
Redenen om voor Paymo te kiezen: I switched from Asana, Teamwork, and Things. I was looking for a tool with a kanban board option that allowed me to view tasks across all of my projects and I needed a cost-effective tool for someone who is currently solo but building a business. Asana was cost-prohibitive in that I could not pay for a single user, but had to pay for 5 minimum. Also, the kanban board option I was looking for was an additional upgrade for Asana and Teamwork, making these options even more expensive. Additionally, user experience was a factor. Asana generally has a good UI but I just like Paymo better. Teamwork has some work to do in this regard.
Overgestapt van: Asana
Reactie Paymo
2 jaar geleden
You sure did your researh, Krystle, thank you for the review :) Actually, we're working on an improved client portal with in-app access to guest users, so they can collaborate with you on the same page. This is our #1 priority atm, so stay tuned! As for our name, this goes back more than 10 years when we started out as a time tracking and billing tool. The purpose was to use the app and GET PAID MORE, hence Paymo :) Hope this helps, thank you again!
Geverifieerde reviewer
Executive Assistant in Canada
Geverifieerde LinkedIn-gebruiker
Vastgoed, 2-10 werknemers
Heeft de software gebruikt voor: 1+ jaar
Nice Project & Task Management Software
Pluspunten:
Easy to create new projects and add certain employees. Its nice that you can add only the employees the task pertains to so that the whole team is not notified, only the ones who need to see it.
Minpunten:
It feels a little busy in the UI. But once you get used to it it is okay.
Luciano
ChatBot and Automation developer in Italië
Geverifieerde LinkedIn-gebruiker
Informatietechnologie en -diensten, Zelfstandig ondernemer
Heeft de software gebruikt voor: 1-5 maanden
Project and task management without surprises
Opmerkingen: overall sufficient experience. It does not create particular problems for you, nor does it give you particular satisfaction. to work in a group it's fine, as long as you don't have high customization requirements
Pluspunten:
Paymo's ease of use is disarming: it allows you to configure your project and your tasks in an instinctive, fast and reliable way
Minpunten:
Working in Paymo I often feel the need to represent my projects in alternative ways, such as a mind map, or generally a graphic board .. but this is not possible in Paymo
Katherine
Digital Media Coordinator in Canada
Marketing en reclame, 2-10 werknemers
Heeft de software gebruikt voor: 6-12 maanden
Great for time tracking and task assignment
Opmerkingen: It's overall been quite a useful product. I really like that we can upload images and files to each specific task, making for a simplified workflow.
Pluspunten:
Assigning tasks with due dates is extremely easy - the comment flow on each task makes it easy to provide feedback or ask for edits. Easy to find tasks assigned to me, and to track how much time I spend on each client.
Minpunten:
When they implemented the new filter system it was a little irritating to see all of the closed tasks pop up on my feed again. With the help of their helpful customer service I was able to set my filters to remove the issue (but I still think the removal of finished tasks should be an automatic filter)