Wat is Pardot?
Maak kennis met Salesforce Pardot: B2B marketing automation op alom gewaardeerde CRM. Met Pardot kunnen marketing- en verkoopteams samenwerken om kopers te betrekken, deals te sluiten en relaties te laten groeien. Het leadbeheer van Pardot biedt CRM-integratie, e-mailmarketing, lead nurturing, lead scoring en rendementrapportage om marketing- en verkoopteams te helpen samenwerken om verkoopleads te genereren en te kwalificeren, verkoopcycli te verkorten en marketingrendement te volgen.
Wie gebruikt Pardot?
Als je organisatie online marketing gebruikt voor het genereren van leads, ben je waarschijnlijk een goede kandidaat voor marketing automation.
Waar kan Pardot worden geïmplementeerd?
Cloud, SaaS, Web, Mac (desktop), Windows (desktop), Linux (desktop), Android (mobiel)
Over de leverancier
Salesforce
Gevestigd in San Francisco, VS
Opgericht in 2003
Telefonische ondersteuning
Chatten
prijzen van Pardot
Beginprijs:
US$ 1.250,00/maand
Ja, heeft een gratis proefversie
Geen gratis versie
Pardot heeft geen gratis versie maar biedt wel een gratis proefperiode. Pardot heeft een betaalde versie vanaf US$ 1.250,00/maand.
Over de leverancier
Salesforce
Gevestigd in San Francisco, VS
Opgericht in 2003
Telefonische ondersteuning
Chatten
Video's en afbeeldingen van Pardot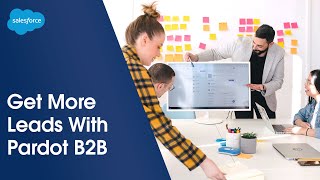 Vergelijk de kosten van Pardot met soortgelijke producten
Functies van Pardot
A/B-tests
Aanpasbare velden
Abonneebeheer
Antwoordbeheer
Autoresponders
Beheer van e-mailcampagnes
Beheer van salesactiviteit
Bestandsopslag
Bestemmingspagina's en webformulieren
CAN SPAM-compliance
CRM
Campagneanalytics
Campagnebeheer
Campagneplanning
Campaign tracking
Contactenbeheer
Contactendatabase
Dashboard
Door gebeurtenissen geactiveerde acties
Drip -campagnes
E-mailmarketing
Engagement tracking
Formulieren maken en ontwerpen
Gegevens importeren en exporteren
Gegevensverzameling via meerdere kanalen
Gegevensvisualisatie
Integraties van derden
Interactie bijhouden
Kanaalbeheer
Leadkwalificatie
Leadmeldingen
Leads beheren
Leads vastleggen
Leadsegmentering
Lijstbeheer
Marketing via meerdere kanalen
Marketingautomatisering
Meerdere campagnes
Multi-channel attribution
Online formulieren
Prestatiemeetwaarden
Proces- en workflowautomatisering
ROI-tracking
Rapportage en analyse
Samenwerkingstools
Segmentering
Sjabloonbeheer
Slepen en neerzetten
Social marketing
Toegangsopties/machtigingen
Tools voor exploratie
Voor mkb-bedrijven
Voor mobiel geoptimaliseerde e-mails
WYSIWYG-editor
Waarschuwingen/Meldingen
Websitebezoekers bijhouden
Zoeken/filteren
Alternatieven voor Pardot
Jhara M.
Marketing Director in VS
Geverifieerde LinkedIn-gebruiker
Informatietechnologie en -diensten, 10.000+ werknemers
Heeft de software gebruikt voor: 1+ jaar
The best marketing automation tool if you use Salesforce CRM
Opmerkingen: On the whole, my experience with Pardot has been a pleasant one, and I'd suggest it to others. A fantastic tool for us, it has helped us create new leads, move prospects through the sales funnel in an automated method, and so on and so forth It's been fantastic for us, and I enjoy the creative aspect of automating processes. Make sure you know that it's not all rainbows and butterflies. We overestimated how long each project would take to complete.
Pluspunten:
The lead deck feature provides us with real-time information on the activities of our prospects. Customer service is excellent. It's simple to use, and it's quite customizable. As a Salesforce product, it's really easy to integrate with the CRM.
Minpunten:
Pardot does not have a very educational welcome to learn how to use the program and you have to see tutorials and training on other platforms to learn how to use it. Once you learn it is excellent Pardot
Shan A.
Sales and Marketing Manager in VK
Farmaceutica, 51-200 werknemers
Heeft de software gebruikt voor: 6-12 maanden
Overwogen alternatieven:
Fantastic all in one marketing platform helping converting leads
Opmerkingen: The product has no doubt helped us in generating new leads and keeping us maintain our relationship with our existing customers and partners. I love the email marketing and marketing side of Pardot as it has been simplified in a way that non-technical users can also use the platform.
Pluspunten:
The product is great at automation, every single thing within the automation of email marketing and forms is customisable. The product helps us in tracking all the activities of our leads and allows us to target them with personalized messaging and products of their interest from our offerings. The platform is good at lead generation, nurturing and drip campaigns. The user interface is very friendly too
Minpunten:
The implementation of the product at the beginning is a painful process and cannot be simplified at all. There are many limitations on the reporting side and Salesforce lacks reporting capabilities in the way we want. The existing templates available to use are also limited.
Geverifieerde reviewer
Marketing Manager in VS
Geverifieerde LinkedIn-gebruiker
Informatiediensten, 201-500 werknemers
Heeft de software gebruikt voor: 2+ jaar
Expensive and UI left much to be desired
Opmerkingen: The only reason we've stayed with Pardot this long is because of its connectivity with Salesforce. It helps to have visibility into a prospect's engagement from both platforms. It plays a critical role in our email marketing initiatives and capturing and managing MQLs that come through our website forms. Building and segmenting our audience lists.
Pluspunten:
Creating customized email templates and nurture campaigns. Easily setup A/B testing for any email send. The ability to slice and dice your segments so you can get more granular with contact lists. Integrated well with many of the other platforms (GoToWebinar) and social media accounts (Twitter, Facebook, LinkedIn) we used. Obviously with Salesforce too.
Minpunten:
Compared to other email management tools, Pardot is expensive and the UI feels outdated. Unless you spend a lot of time reading their resources and tutorials, it isn't intuitive. The Pardot forms is also confusing. They have forms and form handlers and there should be a better way of combining the two to make things simple.
Joshua J.
Manager of Web Communications in VS
Schoolleiding, 201-500 werknemers
Heeft de software gebruikt voor: 1+ jaar
Integrates well with Salesforce but lacks features of competitors
Pluspunten:
The fact that it integrates natively with Salesforce is Pardot's best feature. The engagement studio automation product is great as well, making it really easy to create drip campaigns and other conditional flows.
Minpunten:
The email builder is 10 years behind competitor's builders. To get things to behave, you have to code emails in html. The WYSIWG builder is poor, but asset management of images and files is even worse. Competitors like MailChimp and ActiveCampaign have much better platforms for designing beautiful, responsive emails.
Tiju T.
Director Marketing Ops in India
Informatietechnologie en -diensten, 51-200 werknemers
Heeft de software gebruikt voor: 6-12 maanden
Overwogen alternatieven:
Strong Marketing Automation Tool! Highly recommended for SME and Mid Range Businesses
Opmerkingen: Overall I loved it. It's easier to use and the LIGHTNING EXPERIENCE IS AMAZING!!! It has the modern look and feel. I am going to stay with Pardot for a long time. Truly recommend it!
Pluspunten:
In-house integration with SFDC. Easier to manage. Not complicated. It has similar functionality as the other major peers like Hubspot and Marketo and it was easier to learn and start working on it.
Minpunten:
Lead routing is not available. I am looking for in-built round-robin routing functionality.