Wat is MRPeasy?
Eenvoudige maar krachtige self-service ERP voor productie. Naadloos beheer van productie, voorraad, klanten, aankopen, financiën en het team.
MRPeasy helpt fabrikanten om georganiseerd te blijven met nauwkeurige productieplanning en rapportage, realtime voorraadoverzicht, exacte en tijdige leveringen en een volledig overzicht van je bedrijf.
Geen spreadsheets meer, beloof altijd een nauwkeurige doorlooptijd bij offertes, voorkom voorraadtekorten, verlaag de voorraadniveaus, verbeter de klanttevredenheid en nog veel meer.
Wie gebruikt MRPeasy?
MRPeasy bedient alle productiesectoren en biedt kleine fabrikanten (10-200 werknemers) een geavanceerd maar gebruiksvriendelijk MRP-systeem.
Waar kan MRPeasy worden geïmplementeerd?
Cloud, SaaS, Web, Android (mobiel), iPhone (mobiel), iPad (mobiel)
Over de leverancier
MRPeasy
Gevestigd in Tallinn, Estland
Opgericht in 2014
Chatten
Beschikbaar in deze landen
Australië, Canada, Estland, Verenigd Koninkrijk, Verenigde Staten
prijzen van MRPeasy
Beginprijs:
US$ 49,00/maand
Ja, heeft een gratis proefversie
Geen gratis versie
MRPeasy heeft geen gratis versie maar biedt wel een gratis proefperiode. MRPeasy heeft een betaalde versie vanaf US$ 49,00/maand.
Prijsmodellen
vraag een gratis proefversie aan
Over de leverancier
MRPeasy
Gevestigd in Tallinn, Estland
Opgericht in 2014
Chatten
Beschikbaar in deze landen
Australië, Canada, Estland, Verenigd Koninkrijk, Verenigde Staten
Video's en afbeeldingen van MRPeasy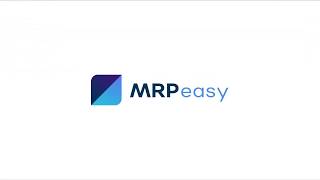 Functies van MRPeasy
Bestellingen bijhouden
CRM
Capaciteitsbeheer
Capaciteitsplanning
Documentbeheer
ERP
Financieel beheer
Geautomatiseerde planning
Geïntegreerde bedrijfsvoering
Geïntegreerde boekhouding
HR-beheer
Inkoop en ontvangst
Inkoopbeheer
Inkooporderbeheer
Integratie in de administratie
Inventarisatie
Itembeheer
Kitting
Kosten bijhouden
Kwaliteitsbeheer
Leveranciersbeheer
Magazijnbeheer
Materiaallijsten
Mobiele toegang
Nabestellingbeheer
Offertes
Orderbeheer
Orderinvoer
Plannen
Planning voor materiaalvereisten
Productidentificatie
Productiekosten
Productieplanning
Productplanning
Prognose
Rapportage en analyse
Retourbeheer
Serienummers volgen
Streepjescodes en tickets scannen
Streepjescodes/RFID
Supply-chainbeheer
Traceerbaarheid
Veranderingsbeheer
Vervoersbeheer
Voorraad bijhouden
Voorraadbeheer
Voorraadoptimalisatie
Waarschuwingen/Meldingen
Zoeken/filteren
Alternatieven voor MRPeasy
Stefano B.
Plant Manager in Mexico
Geverifieerde LinkedIn-gebruiker
Bouwmaterialen, 11-50 werknemers
Heeft de software gebruikt voor: 2+ jaar
A most dependable platform for your organization.
Opmerkingen: For the past 7 years I've been an active user of MRPEasy through different organizations and it comes to no surprise that MRPEasy has always been up to the task. From metalworking to composite extrusion, this tool has been able to adapt to our very specific factory needs. Definitely a great aid in growing a small business to a medium size company!
Pluspunten:
It's ease of use and friendly interface makes it easy to train and quick to migrate to. We have had very little to no resistance from personnel when migrating them to use the system.
Minpunten:
Limited customization on the dashboards and reports are also a bit simple.
Reactie MRPeasy
5 maanden geleden
Thank you for the review!
Daniela R.
Business Administrator in VS
Luchtvaart(maatschappijen), 2-10 werknemers
Heeft de software gebruikt voor: 1-5 maanden
Fantastic!
Opmerkingen: My experience with MRPeasy is fantastic! The transition has been seamless, my team really likes the new upgrade.
Pluspunten:
Our Company had been using the same software for 17 years. This software is night and day compared to what we had. I have all the information I could need if I have any questions. I did not have that with our previous software. It's very user friendly and self explanatory, I can definitely figure out what I need with all the help they provide.
Minpunten:
The only thing I feel could be improved upon, is the quoting process. I don't like having to create an item to quote a product I might not receive. If it's possible to quote a job with out creating an item that would be amazing. Once I have the PO, then the system should prompt me to create the items.
Overwogen alternatieven: Personica
Redenen om voor MRPeasy te kiezen: I did not have videos, tutorial, information I could look up. Every time I needed something I had to call a representative that has all of Texas to cater too. I would be weeks before he could get to me or I would just have to figure it out.
Overgestapt van: Pilot ERP
Redenen om over te stappen op MRPeasy: I felt it was the best option for our needs, after trying out all the systems and looking at multiple reviews, videos. I felt more comfortable with MRPeasy.
Reactie MRPeasy
2 jaar geleden
Thank you for the review. For quoting without stock item use Invoice mode, not Customer order mode.
Sue G.
Production Manager in VS
Consumentengoederen, 11-50 werknemers
Heeft de software gebruikt voor: 1-5 maanden
MRPEasy software - almost great
Opmerkingen: I needed an affordable cloud based MRP that was easy to set up and use with a manufacturing focus. It was easy to set up, but onerous to update. The initial training and set up support was very helpful, but once I bought in and really needed assistance, my helpful support person was replaced with the anonymous support team that took 24 hours to answer any questions and the answer was almost always either a. no the software doesn't do that, b. thats a good idea, we may decide to do that later, or c. you can pay us to make that change to our software. For the price, it's ok, a lot of potential, but not great.
Pluspunten:
the ease of use, wide range of potential ability, accessibility, focus on manufacturing. there is the potential to customize the software for an extra fee.
Minpunten:
technical support is rather lacking. There's a lot of potential in the software capability but every aspect of use is limited. There's a lot of features that are "almost there", but to fix them costs extra. Entering inventory manually is a basic thing and should be simple, but because it creates automatic write offs, adjusting inventory manually can create annoying issues. When I reported this and asked support about it, I was told to stop manually entering inventory and to trust the system - not an easy thing to hear.
Reactie MRPEasy
6 jaar geleden
Thank you. Your "Advice for Buyers" is great. We're happy to answer your questions. You won't always have the same staff member to work with because when you purchase the software and have questions regarding functionality and terms, a sales rep helps you. One you purchase the software, and have questions about the technology and customizations, our technical support team is there to help. We make new releases of the software 2-3 times a quarter. We always encourage our customers to send us feature requests, and we analyze and consider each of them. We can customize the software, however, in some cases those customizations do require some cost. We have a large support team available to answer questions. Since they work in shifts, and each work for all of our customers, you'll notice they don't personalize their responses. However, each customer's tech support request is answered within 24 hours to ensure that our team can collaborate on a solution that works best for the user.
Masha S.
Finance Manager in VS
Ziekenhuis- en gezondheidszorgbranche, 51-200 werknemers
Heeft de software gebruikt voor: 2+ jaar
MRPeasy review
Opmerkingen: Overall MRPeasy has been easy to use and integrate with our system.
Pluspunten:
This product is easy to use, searching via customer, invoice number or order number is helpful.
Minpunten:
You can't all the details you need from the home screen and sometimes it can be time consuming to search through entries.
Reactie MRPeasy
4 maanden geleden
Thank you for the review!
Entertainment, 2-10 werknemers
Heeft de software gebruikt voor: 1+ jaar
Bron: SoftwareAdvice
Don't discount MRPeasy - it's feature rich, but easier on the user
Opmerkingen: I have had a great experience with MRPeasy. The software is the most straightforward solution for MRP I've ever found. The team there is very responsive and the newsletter always has interesting information, tips, and case studies. A+ experience.
Pluspunten:
I thought I needed feature-rich software to run my manufacturing process. I tried three other softwares. Two were Excel based. One was Odoo. What I actually needed was for someone to come along and make an efficient, easy-to-use solution. The MRPeasy team did just that.
Minpunten:
There wasn't much I didn't like about this software. The only thing I can say is that a few of the workflows felt redundant for very small companies (ones with only a few employees handling all of the tasks). At my company, we can pick the order, box it, label it all it one step. The folks at MRPeasy could probably customize that for me though, so difficult to say it's something I didn't like about the software.
Reactie MRPeasy
2 jaar geleden
Thank you for the feedback.