Wat is Brilliant Directories?
Brilliant Directories biedt een betaalbare, alles-in-één oplossing voor ledenbeheer om alle aspecten van je lidmaatschapswebsite of vereniging te stroomlijnen. Een complete kant-en-klare oplossing met snelle installatie en gratis, onbeperkte ondersteuning door echte mensen. Inclusief website-ontwerp, online betalingsverwerking, lidmaatschappen op meerdere niveaus, monitoring van achterstallige betalingen, exclusieve content voor premium-leden en meer. Probeer een gratis demo en zie hoe Brilliant Directories jou tijd en geld kan besparen.
Wie gebruikt Brilliant Directories?
Dit platform ondersteunt online lidmaatschapsgemeenschappen die op zoek zijn naar een gestroomlijnde oplossing om hun website, leden, betalingen en meer moeiteloos te beheren.
Brilliant Directories - Details
Brilliant Directories
Opgericht in 2008
Brilliant Directories - Details
Brilliant Directories
Opgericht in 2008
Video's en afbeeldingen van Brilliant Directories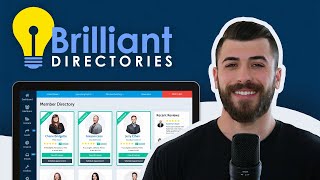 Vergelijk de kosten van Brilliant Directories met soortgelijke producten
Vanaf
US$ 145,00/eenmalig
US$ 99,00/maand
US$ 4,00/maand
US$ 48,00/maand
Brilliant Directories - implementatie en ondersteuning
Ondersteuning
E-mail/helpdesk
Veelgestelde vragen/forum
Kennisbank
Telefonische ondersteuning
Chatten
Implementatie
Cloud, SaaS, Web
Android (mobiel)
iPhone (mobiel)
iPad (mobiel)
Training
Persoonlijk
Live online
Webinars
Documentatie
Video's
Functies van Brilliant Directories
Alexander A.
Online Marketing in Duitsland
Geverifieerde LinkedIn-gebruiker
Vervoer/over de weg/per spoor, 11-50 werknemers
Heeft de software gebruikt voor: 6-12 maanden
After long research I found this perfect solution to build a moving platform
Pluspunten:
It is very easy to create a platform. It is like a modular system. The support is perfect. That is why you don't need IT staff. Also, price-performance is outstanding. You can use it as a directory and also as a lead generating system. Also, as a classified website. The dashboard is very well structured. I can write a book about the pros.
Minpunten:
There are no real cons. I have now 6 websites with Brilliant Directory.
Marketing en reclame, 2-10 werknemers
Heeft de software gebruikt voor: 1-5 maanden
Overwogen alternatieven:
The Membership Directory Builder "On Red Bull & Steroids"
Opmerkingen: Brilliant Directories was recommended to us & after reading many positive reviews we decided to give it a trial & very pleased we did. We found the scale of the software a little overwhelming at first, but after digging in we carved out a way for BD to give us the functionality our business idea required. (Developer Licence Advised) Depending on your needs BD may not do exactly what you want right out of the gate, but should you have a clear vision of what you aim to build & wish to achieve then BD is the best platform we have came across on our travels.
Pluspunten:
The sheer number of possibilities offered within the BD platform is quite mind boggling, in fact, mind blowing when choosing the VIP"Add Ons". BD has the flexibility to build either a vertical exact match, broad base or local directory. Support is "on the ball" & your questions are answered swiftly. Fortnightly webinars (often recorded) & an active FB Group also help to provide a comprehensive all round support package for members. Most features you would expect to see in a modern online directory are either already baked in or available as modular addons.
Minpunten:
As new users to Brilliant Directories we felt that a short onboarding call could have been offered to help guide us through the maze of features. Although lots of video, webinar & responsive helpdesk support is available, nothing really beats being able to ask an expert directly. (FYI Paid coaching is available.) There is a fairly steep learning curve if you want to maximise your BD install. At the time of writing this review BD does not support any of the popular integration hubs, but Zapier is due to come online soon & hopefully this will pave the way for many others too. (Pably, Integromat, Konnectzit, Sync Spider etc)
Annelie R.
Project Manager in Zuid-Afrika
Managementconsulting, 2-10 werknemers
Heeft de software gebruikt voor: Gratis proef
Customer support on the free software, very early stage.
Opmerkingen: In this early stage, I scheduled a meeting with [SENSITIVE CONTENT]. He was really brilliant and very effective in his support. It was such a pleasure to work with him. That has convinced me to buy the software for my personal business as well.
Pluspunten:
It is early days and I would like to give a review on this a little later when using the software for a longer period.
Minpunten:
I am concerned about the fact that there is a recommendation not to use emails set up by go daddy. Still need to contact support before I set up the product I bought for myself personally - simplexitysa.co.za
Joey G.
SEO Consultant in VS
Marketing en reclame, Zelfstandig ondernemer
Heeft de software gebruikt voor: 2+ jaar
Bait & Switch Tactics
Opmerkingen: I have been trying to do business and have faith in this company for around 4 years and they continue to over promise and under deliver. I somewhat blame myself for allowing myself to be sucked in over and over again. I have put my best foot forward and have purchased 3 full license plans as well as Executive Coaching and the other "Never Offered Before" services over the years and always end up frustrated. I have focused my efforts on trying to build out one directly properly before trying another. My first full license plan was purchased at a significantly higher price than today's prices. I'm amazed how often they run "Last Chance Offer" specials and again I partially blame myself for allowing to be sucked into it. I recently paid for a platform upgrade because I was told for my site to be fully mobile responsive (even though it was advertised as such), that I needed to spend money which I agreed to. One of my stipulations and actually the main reason for the upgrade is that local businesses would have click to call functionality from the directory. It seems to me that would be a no-brainer functionality. After the migration, I tested the click to call functionality and it was working fine. I have dated emails with them where I discuss the feature working and not working before. Everything was working fine until I noticed about a week ago that it wasn't working again. I notified their customer service and I am being told it is an added feature and I can contract someone from their marketplace. After several back and forth emails, I have had enough of their tactics. This company has a model of sell an out of the box directory and start your online directory tomorrow. They leave out that you will require additional things and they are perfectly willing to sell it to you. They don't stand behind their product and I have sent an email requesting a full refund of every dime I have paid them unless they make it right. I have only asked for what I have paid for and nothing more. I am certain I am not alone in my treatment. I have tried to work it out with them to no avail. All I asked was for a feature that was working, was the reason for my upgrade in the first place is restored.
Pluspunten:
It's a great idea
Minpunten:
The customer service is atrocious
Reactie Brilliant Directories
5 jaar geleden
Hi Joey, I'd first like to thank you for your feedback. We take all of our reviews to heart and use them to help us improve our services. I'm so sorry you feel misled - that was never our intention. All of us here at Brilliant Directories strive to provide the best customer support possible and we want all of our users to succeed. This is why we guarantee 1 business day response times, provide an educational community marketing group on LinkedIn, actively participate in our community forums, and host weekly webinars to allow users seeking help to call in live with questions. While we do offer premium add-ons in addition to our flagship software, they are not necessary to get a profitable directory website up and running. Additionally, because Brilliant Directories websites are built on the Bootstrap framework, all websites are mobile responsive immediately from launch. We are deeply sorry for any inconvenience. We have reached out to you in the hopes of remedying this situation.
Martyn B.
Business Owner in VK
Marketing en reclame, Zelfstandig ondernemer
Heeft de software gebruikt voor: 1-5 maanden
Overwogen alternatieven:
I Didn't Think It Could Be Done – How Wrong I Was
Opmerkingen: Some of my previous directory software had some features but were either not very well supported, were not reliable or were out of date. Brilliant Directories look after and update every single feature-packed section of their platform which is very encouraging. Support is very fast and knowledable.
Pluspunten:
I've been 'looking' at running a directory for some time now. Using Wordpress, JVZoo and Warrior Plus products and services but NONE have given a satisfactory result. My local community enjoyed my local website for a number of years but it never really turned into something I was planning to do with it. Other directories I've managed suffered from lack of support or even the vendors going out of business. So, I needed a format from a vendor I could trust that had first class support in place, a reliable website with an engine that was updated regularly and, also, had to be easy to use. I didn't think it could be done but, how wrong I was … enter Brilliant Directories. Absolutely everything one could wish for seemed to be included in their offering. Getting started was a breeze as everything is laid out in a sensible order with help every step of the way via text documents with images and or short training videos. I needed to contact support on occasions and they got back to me in a timely manner which did impress me. I now have a clear roadmap to how I can monetise all the features that Brilliant Directories brings to the table. Yes, it's a big deal to get from starting to the finished article and it won't be done overnight but, the way everything is presented inside each directory makes it so straightforward and intuitive that any of the usual roadblocks are simply not there. I'm pleased that I came across this software (and the vendor as their track record has b
Minpunten:
Some features are niggly to set up but not because of Brilliant Directories but places like the Google developers section and Facebook Apps which are very complex for a non-techie person. However Brilliant Directories had text and image help files and videos on each step so softened the frustration. Also, support were able to step in to help very quickly.