Wat is Cin7?
Cin7 is het geautomatiseerde platform voor voorraadbeheer voor merken die hun omzet verhogen tot meer dan $ 1 miljoen. Cin7 synchroniseert hun voorraad met verkoop en bestellingen op elk fysiek en online verkoopkanaal en automatiseert de bestelprocessen voor grotere efficiëntie. Merken die producten verkopen of distribueren, gebruiken Cin7 om de kosten laag te houden, de marges en cashflow hoog te houden en de voorraad op het juiste niveau te houden. Opmerking: Cin7 is niet geschikt voor vermogensbeheer.
Wie gebruikt Cin7?
Omnichannel-groothandels, detailhandelaren, importeurs en lichtfabrikanten wenden zich tot Cin7 wanneer ze een platform nodig hebben waarmee ze de kosten kunnen beheersen terwijl ze uitbreiden naar nieuwe markten en verkoopkanalen toevoegen.
Waar kan Cin7 worden geïmplementeerd?
Cloud, SaaS, Web, Mac (desktop), Windows (desktop), Android (mobiel), iPhone (mobiel), iPad (mobiel)
Over de leverancier
Cin7
Gevestigd in Auckland, Nieuw-Zeeland
Opgericht in 2011
Telefonische ondersteuning
24/7 (contact met medewerker)
Chatten
Over de leverancier
Cin7
Gevestigd in Auckland, Nieuw-Zeeland
Opgericht in 2011
Telefonische ondersteuning
24/7 (contact met medewerker)
Chatten
Video's en afbeeldingen van Cin7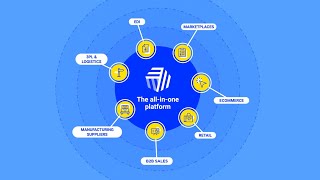 Vergelijk de kosten van Cin7 met soortgelijke producten
Functies van Cin7
3PL-beheer
API
AS2-protocol
Activiteitendashboard
Archiveren en retentie
Backorderbeheer
Beheer van meerdere kanalen
Beheer van retailvoorraad
Bestellingen bijhouden
Betalingen verwerken
CRM
Catalogiseren/categoriseren
Contactendatabase
Databaseondersteuning
E-mailmarketing
Elektronische betalingen
Factureren
Factuurbeheer
Gegevens importeren en exporteren
Gegevensbeveiliging
Gegevenstransformatie
Geïntegreerde bedrijfsvoering
Import- en exportbeheer
In- en uitchecken
Inkoop en ontvangst
Inkoopbeheer
Inkooporderbeheer
Integratie in de administratie
Integraties van derden
Inventarisatie
Itembeheer
Kanaalbeheer
Kitting
Klantenaccounts
Kortingsbeheer
Kosten bijhouden
Kwaliteitsbeheer
Leveranciersbeheer
Maatwerk
Magazijnbeheer
Marktplaatsintegratie
Meerdere valuta's
Mobiele toegang
Multilocatie
Nabestellingbeheer
Ondersteuning voor meerdere indelingen
Ontvangst- en wegzetbeheer
Orderbeheer
Orderinvoer
Orders afhandelen
Productidentificatie
Prognose
Promotiebeheer
Rapportage en analyse
Rapportage en statistieken
Retourbeheer
SEO-beheer
Sales- en operationsplanning
Serienummers volgen
Streepjescodes en tickets scannen
Streepjescodes/RFID
Supply-chainbeheer
Terugkerende orders
Uitzonderingenbeheer
Verkoopprognose
Verkooppunt
Verkooprapporten
Vervoersbeheer
Verwerking van creditcards
Verzendetiketten
Voor de detailhandel
Voorraad bijhouden
Voorraadauditing
Voorraadbeheer
Voorraadoptimalisatie
Voorspellen van de vraag
Waarschuwingen/Meldingen
Websitebeheer
Winkelwagen
Zoeken/filteren
David J.
Geverifieerde LinkedIn-gebruiker
Heeft de software gebruikt voor: 6-12 maanden
Bron: GetApp
Great Cloud based Software - Easy to use and lots of features
Opmerkingen: We were a loyal system based inventory software user for almost 3 years (Inflow), everything with our previous software (Inflow) was good. As we have grown, we wanted multiple users and we looked at other options and decided we have to upgrade to a cloud based software. I personally did not want to go on the path of server, VPN etc.. We were very nearly about to sign in for another cloud based system and at the last minute we realised that it is not a special software for fashion industry.. We wanted a software that can cope with Size, Colour, Fabric, Style and Fit variations.. Thank God the other software people actually recommended Cin7 which is a Fashion Industry special software. We are so glad we made the move.. It makes our business day to day operation a breeze and our sales agents in multiple locations (Some offshore as well) entering orders directly into the system.. This cut down or data entry time dramatically.. also we are now able to see or "Out of stock items" by size.. Also the Web portal B2B is a God Send... Our customers love this feature.. I also have to say that the customer service experience I had is double 2 x 5 STAR... On Boarder Jeff made the whole operation so smooth that I never felt I was all alone in this journey... This is genuinely a good product backed by good people.. I recommend this to any business who are looking to upgrade from system based software to cloud based programme.. Thank you guys.. we are still a long way to go with implementing this software in our business, but I am confident that we will get through this..
Pluspunten:
Software specially designed for Fashion Industry.. Multiple Size, Style, Fit, Fabric etc.. No problem... Many advanced features like B2B webportal, Xero Integration, Email Integration etc at no extra cost. On-Board support is worth $$$$ of dollars.. They do this so well.. Thank you Jeff... Pivot table reports - We were used to excel reports.. But this Pivot table stuff is out of this world..
Minpunten:
At times Crashes during log-ins.. I assume a bug... It is understandable considering cloud based system.. Not a major, but it will be great if they can rectify this soon. Automatic email reports.. for example a weekly email to our customers on stock or sales report etc would be a great feature. Simplified data entry short cuts (like Control + D - for entering same data for all lines) would be a great feature to add. Rather than Xero or QuickBooks, a simplified inbuilt payment system in Cin7 will be beneficial for small businesses who don't want to use accounting packages. Single user low cost (under $ 100 per month) version would benefit some small operators..
Reactie Cin7
6 jaar geleden
Hi David, thank you for the overall 5 star review! It's great to hear you think the product is awesome and the staff at Cin7 have been helpful. Thank you for the great feedback especially about Jeff your on-boarder. Thank you for the honest feedback we're always looking to improve for our customers and this has been passed onto support. We look forward to the continued support and value you as a customer.
Sean S.
Owner & IT Manager in Nieuw-Zeeland
Geverifieerde LinkedIn-gebruiker
Levensmiddelen- en drankenindustrie, 2-10 werknemers
Heeft de software gebruikt voor: 6-12 maanden
Overwogen alternatieven:
Extremely powerful inventory and order processing and logistic package
Opmerkingen: While challenging to learn and deploy, it's unique feature set and capabilities mean they don't have any one direct competitor and you'd have to piece together multiple platform and cloud services to get the same level of features and functionality.
Pluspunten:
Cin7 has allowed us to integrate and resolve most of our order processing, logistics, inventory and accounting functions into one platform. The API integration into Xero is critical for our business. The reporting capabilities are very powerful and can be used to resolve a number of sales, inventory and regulatory reporting requirements. There really isn't any product on the market that rolls all these features into one package.
Minpunten:
The price is very expensive and the learning curve is quite steep. The CRM functions are pretty light and need fleshing out. Of most concern were the surprisingly large number of bugs and errors in the reports. Support has been responsive and fixed most issues we have discovered in a timely fashion, but it has been surprising how many bugs we have identified and had to report. This left us feeling like we were paying to be a beta tester. As time goes on and the product matures, this should become less of an issue and I don't consider it a deal breaker, but Cin7 could really improve in this area.
Reactie Cin7
3 jaar geleden
Hi Sean, Thank you for your review. We are glad to hear that you found value in our software system and support team. We will share your feedback with the product team, as we are always looking for improvements.
Geverifieerde reviewer
Director in Australië
Geverifieerde LinkedIn-gebruiker
Design en ontwerp, 2-10 werknemers
Heeft de software gebruikt voor: 1-5 maanden
Overwogen alternatieven:
Great Product but could be imporved with more user testing
Opmerkingen: Service with onboarding has been great. Questions have been aswered in a prompt manner. Everyone we have spoken to has been very nice and determined to provide an aswer to questions.
Pluspunten:
It's early days for us. Cin7 seems like a powerful tool that we look forward to using to it's full potential. We are loving the degree of customisation. Reporting is a step up from other systems. Smart buyer tool is great.
Minpunten:
There are some features that seem quite unintuitive. A great feature is often let down by poor UX and UI. Hopefully things will improve. No mobile app.
Scott P.
Head of Development and Integrations in VK
Luxeartikelen en sieraden, 51-200 werknemers
Heeft de software gebruikt voor: 1-5 maanden
Bron: SoftwareAdvice
Overwogen alternatieven:
Be very careful as the sales team are misleading
Opmerkingen: Absolutely terrible. Stay well away from this company. It's the worst company I have dealt with in 10 years of ecom. They very blatantly mis-sold their product just to get their sale. We would not have went any further with them if they had told the truth in the first place and now they have wasted our time and money.
Pluspunten:
There isn't much. There were issues with everything really.
Minpunten:
The fact we were lied to by the sales team. We were told syncing between Shopify sites was 1 minute. Then while going through the onboarding process we found out it can take up to 2 hours. We now need to scrap all the work we have done with the onboarding and find a replacement. The support during the onboarding was also terrible. They would take days to respond then try and put pressure on us to get it. They just wanted the money and us out of the way.
Skye M.
General Manager in Australië
Detailhandel, 2-10 werknemers
Heeft de software gebruikt voor: 1-5 maanden
Excellent onboarding service & thorough inventory system
Opmerkingen: While a challenging step up from our previous inventory system, the Cin7 team were very helpful & attentive throughout the onboarding process and guiding us through familiarising ourselves with all its capabilities. The Cin7 Academy is a thorough resource and our dedicated specialist gave us confidence in the product with his quick & regular communication during the weeks of set up.
Pluspunten:
Allows us to integrate with our B2C Shopify store, B2B online store and 3PL order fulfilment, as well as managing our stock imports from external suppliers both domestically and globally.
Minpunten:
We'd love more ability to tailor the look of our B2B store, however functionally it still meets all our needs