Wat is Cin7?
Cin7 is het geautomatiseerde platform voor voorraadbeheer voor merken die hun omzet verhogen tot meer dan $ 1 miljoen. Cin7 synchroniseert hun voorraad met verkoop en bestellingen op elk fysiek en
Meer informatie
online verkoopkanaal en automatiseert de bestelprocessen voor grotere efficiëntie. Merken die producten verkopen of distribueren, gebruiken Cin7 om de kosten laag te houden, de marges en cashflow hoog te houden en de voorraad op het juiste niveau te houden. Opmerking: Cin7 is niet geschikt voor vermogensbeheer.
Minder informatie
Wie gebruikt Cin7?
Omnichannel-groothandels, detailhandelaren, importeurs en lichtfabrikanten wenden zich tot Cin7 wanneer ze een platform nodig hebben waarmee ze de kosten kunnen beheersen terwijl ze uitbreiden naar nieuwe markten en verkoopkanalen toevoegen.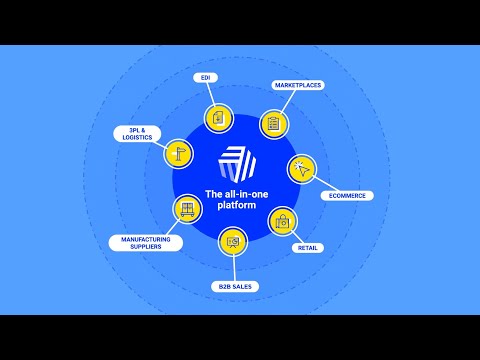 Twijfel je over Cin7? Vergelijk met een populair alternatief
Niet beschikbaar in jouw land
Gratis versie
Gratis proefversie
Geen prijsinformatie gevonden
Gratis versie
Gratis proefversie
Waarom krijg ik dit te zien?
Sean
Owner
Geverifieerde LinkedIn-gebruiker
Levensmiddelen- en drankenindustrie, 2-10 werknemers
Heeft de software gebruikt voor: 6-12 maanden
Extremely powerful inventory and order processing and logistic package
Bijschriften in het Nederlands beschikbaar in de videospeler
karl
change manager in VK
Detailhandel, 11-50 werknemers
Heeft de software gebruikt voor: 2+ jaar
Great software for SMB
Opmerkingen: Cin7 has helped our business grow massively in the 4 years that we have been working with it, and we have seen it continuously develop its features and functionality, further improving our processes and data accuracy.
Reporting and documents are customisable but do have limitations.
I would still recommend CIN7 as the price is reasonable for the service. The onboarding should be used to the fullest as this is where you will get the best support.
They are in the process of expanding their customer support so this should get back to the standard that it once was.
Pluspunten:
Easy to use and some great tools to make your processes a lot less manual I have onboarded multiple entities and [SENSITIVE CONTENT] as an honourable mention is great, very responsive and knowledgable. Costing features with multiple currencies and BOMs are easy to use and following a strict process for the staff means that this is accurate and can be reconciled with Xero.
Minpunten:
Customer support is very slow. takes weeks to start looking into a ticket and can take a long time to resolve issues. but on the flap side, can be very quick when adding small features to your account. Product information that should be pretty standard isn't in the system by default, like commodity codes and commercial invoices. but work around are easy to achieve with cin7 support
Detailhandel, 2-10 werknemers
Heeft de software gebruikt voor: 6-12 maanden
Overwogen alternatieven:
Cin7 or the others.
Pluspunten:
Inventory management in Cin7 gives a very clear and precise overview of our business. Managing inventory by using Cin7 is super easy and clear. We always had issues with gaining a bird eye view of our inventory with other past inventory softwares, but Cin7 gives a complete snapshot and details for our inventory, as we are a product-based company, inventory asset is the most valuable asset to us. Inventory tracking with Cin7 is very detailed! We can trace the sales order back to its source, which stock we used for a particular sales order. If there's quality issues or any other issues arise with a sales order, we know which batch or purchase order the stock comes from and we could perform quality inspections to the entire batch or purchase to prevent the same issue arising again, which ensures customer satisfaction. Inventory tracking at each location is also extremely detailed, it may not be the most user friendly (even though it's already very user friendly), but it gives a very detailed information of tracking every single unit we have on every single location, including Amazon FBA. Cin7 has some reports or functionalities for replenishment and re-ordering, but these features are a bit simpler than I though it would be. Improvements could be made on to these functionalities for sales demand forecasting, reordering based on lead time and safety stock. Currently, we use Inventory Planner to predict, forecast, and reorder our inventory.
Minpunten:
The software integrates with ShipStation for label printing, there're multiple extra steps for our warehouse team to print the shipping label from ShipStation, rather than directly in Cin7. ShipStation only expose carrier packages, instead of custom package types via API, which we couldn't select the custom package types in Cin7's WMS app for direct label printing. And the workflow for packing and shipping in WMS could be improved, a lot to be improved. Custom product label needed to write CSS code. We print product or purchase order label on different label size and that took me 6 hours to write, since my major in university is not computer science.
Marcos
Director of E-Commerce in VS
Geverifieerde LinkedIn-gebruiker
Verpakkingen en verpakkingsmaterialen, 11-50 werknemers
Heeft de software gebruikt voor: 1+ jaar
Overwogen alternatieven:
CIN7 is Great for the Middle Tier company looking to move from small business
Opmerkingen: CIN7 was easy to implement into our Techstack, When placing orders on CIN7 it was made with ease. But CIN7 only works with small to mid-level businesses. If your company continues to grow, You will grow out of CIN7.
Pluspunten:
CIN7 works excellently as a Sales Tool, CRM, and Order Management software when connecting your eCommerce platform. it is excellent for Small businesses looking to get a grip on a more enterprise-level Inventory Management system.
Minpunten:
CIN7 works great for a company not focused on manufacturing and just distribution. Due to CIN7 not being able to Commit stock for Backorders. Also not being able to have a Barcode System is a negative aspect.
Peter
Past General Manager/ Board Member in Australië
Fabricage van elektrische/elektronische producten, 11-50 werknemers
Heeft de software gebruikt voor: 2+ jaar
Maxlight Cin7 Integration
Opmerkingen: Cin7 meets the needs of our Business, we have used this platform across 5 different businesses.
Our knowledge will continue to grow on how to best operate Cin7.
We signed up for premium support to assist with API integration for another part of the business group which was very successful
Pluspunten:
As a project based business we have found Cin7 simple to setup and run while providing us the tools to manage the business, it has direct integration with Xero our accounting software. We can track and import product, warehouse locally and remotely, control purchase orders, sales order and invoices. We also use Cin7 to assist with local manufacturing , production jobs are key to this, we can also buy components overseas and ship to and overseas manufacturer and control all components and roll up landed costs
Minpunten:
Some of Cin7 warehouse functions are not as sophisticated as other software, namely cycle counting and and total location bin transfers.( only be component) Also a planning and scheduling module would be a welcome addition. We have had problems with the imbedded exchange rates on purchase orders causing stock valuation errors
Meagan
Sales and Operations in Australië
Groothandel, 2-10 werknemers
Heeft de software gebruikt voor: 1-5 maanden
Overwogen alternatieven:
Great inventory management system
Pluspunten:
- The onboarding for the software was great. We had access to the Cin7 Academy which walked through most steps and our dedicated onboarding specialist [SENSITIVE CONTENT] helped us weekly with any other issues that required more knowledge. No pressure was given to speed up this process and onboarding was overall a very good experience. - Cin7 has a lot of features that are helpful for a growing business such as contact logs and templates, linking orders to PO's and credit limits.
Minpunten:
- The software is somewhat 'clunky', not as intuitive as other softwares. An update in the overall users interface could help. - Onboarding is expensive but if you have a great onboarding specialist it is worth it. - Can be laggy - Some features could be more fleshed out, especially in the B2B but they are working on that.