Wat is Freshservice?
Freshservice is een online ITSM-oplossing met een unieke aanpak. Het biedt een verfrissende gebruikerservaring bovenop krachtige mogelijkheden voor ticketing- en middelenbeheer en is de meest gebruiksvriendelijke app op dit gebied. Naast kernfuncties zoals beheer van incidenten, problemen, veranderingen, vrijgave en bedrijfsmiddelen, kun je met Freshservice ook je kennisbank in de cloud zetten.
Wie gebruikt Freshservice?
De klanten van Freshservice zijn onder meer MSP's, financiële organisaties, onderwijsinstellingen en verschillende overheidsorganisaties.
Waar kan Freshservice worden geïmplementeerd?
Cloud, SaaS, Web, Android (mobiel), iPhone (mobiel), iPad (mobiel)
Over de leverancier
Freshworks
Gevestigd in San Mateo, VS
Opgericht in 2011
Telefonische ondersteuning
24/7 (contact met medewerker)
Chatten
prijzen van Freshservice
Beginprijs:
US$ 19,00/maand
Ja, heeft een gratis proefversie
Geen gratis versie
Freshservice heeft geen gratis versie maar biedt wel een gratis proefperiode. Freshservice heeft een betaalde versie vanaf US$ 19,00/maand.
Prijsmodellen
vraag een gratis proefversie aan
Over de leverancier
Freshworks
Gevestigd in San Mateo, VS
Opgericht in 2011
Telefonische ondersteuning
24/7 (contact met medewerker)
Chatten
Video's en afbeeldingen van Freshservice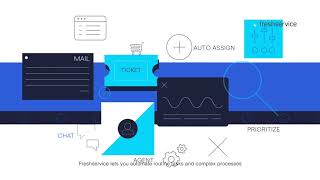 Functies van Freshservice
Aanpasbare branding
Aanpasbare rapporten
Aanpasbare sjablonen
Activiteiten volgen
Activiteitendashboard
Assets volgen
Auditbeheer
Auditing van problemen
Audittrail
Automatische apparaatherkenning
Back-up en herstel
Beheer van IT-assets
Beheer van Service Level Agreements (SLA's)
Beheer van problemen
Bijhouden van klachten van klanten
CMDB
Catalogiseren/categoriseren
Communicatie via meerdere kanalen
Compliance bijhouden
Compliancebeheer
Configuratiebeheer
Contentbeheer
Contract- en licentiebeheer
Contracten opstellen
Controle en beheer op afstand
Corrigerende en preventieve maatregelen (CAPA)
Dashboard
E-mailbeheer
Elektronische handtekening
Feedbackbeheer
Helpdeskbeheer
In kaart brengen van relaties
Incidentenbeheer
Integraties van derden
Kennisbeheer
Kosten bijhouden
Levensduurbeheer van assets
Levensduurbeheer van contracten
Leveranciersbeheer
Licentiebeheer
Live chatten
Mobiele toegang
Onderhoudsbeheer
Onderhoudsplanning
Onderzoeksbeheer
Opdrachtenbeheer
Prestatiemeetwaarden
Priorisering
Probleembeheer
Problemen bijhouden
Rapportage en analyse
Rapportage van incidenten
Realtime chatten
Realtime controle
Releasebeheer
Routering
Samenwerkingstools
Servicecatalogus
Slepen en neerzetten
Streepjescodes/RFID
Taakbeheer
Ticketbeheer
Toegang en controle op afstand
Toegangsopties/machtigingen
Veranderingsbeheer
Voltooiing bijhouden
Voor IT-project management
Voor meerdere talen
Voorraadbeheer
Waarschuwingen / Escalatie
Waarschuwingen/Meldingen
Widgets
Workflowbeheer
Workflowconfiguratie
Zelfserviceportal
Zoeken in gehele tekst
Zoeken/filteren
Alternatieven voor Freshservice
Reviews over Freshservice
Amar Y.
IT Administrator in India
Geverifieerde LinkedIn-gebruiker
Detailhandel, 5.001-10.000 werknemers
Heeft de software gebruikt voor: 2+ jaar
Best product for ITSM
5
2 maanden geleden
Nieuw
Opmerkingen: Great experience
Pluspunten:
Easy to use for complaints, issues track, asset management, inventory purposes
Minpunten:
Nothing to dislike for this product from my end
Tom L.
IT Support & Operations Manager in VS
Schoolleiding, 1.001-5.000 werknemers
Heeft de software gebruikt voor: 2+ jaar
Freshservice Review
Opmerkingen: I've really enjoyed having Frehservice in our organization. It has made my job as a manager much easier in that I can easily review team performance, post announcements for the organization, and identify trends in issues or requests.
Pluspunten:
Freshservice has been a game-changer for our organization. The service catalog and user-friendly interface has allowed our employees to improve their productivity over the past 2+ years we have had the system implemented. The customizable forms and workflow has allowed our IT department to streamline processes and improve efficiency.
Minpunten:
I wish the reporting capabilities were more customizable. There have been a few situations where I reached out to Frehservice for support on reports I needed but found the reports were not possible. The freshservice support team told me my reporting needs would be added to the list of potential "future enhancements'.
Overwogen alternatieven: ServiceNow Customer Service Management, ManageEngine ServiceDesk Plus en Zendesk
Redenen om voor Freshservice te kiezen: Our previous product did not have a customizable system and did not provide our employees with a way to track their tickets once created. It also lacked any type of reporting capabilities.
Overgestapt van: Cerb
Redenen om over te stappen op Freshservice: Cost and ease of customization
Geverifieerde reviewer
Account Manager SEM/PPC in Spanje
Geverifieerde LinkedIn-gebruiker
Marketing en reclame, 51-200 werknemers
Heeft de software gebruikt voor: 1-5 maanden
La calidad es excelente
Opmerkingen: Nuestro producto anterior no contaba con un sistema personalizable y no proporcionaba a nuestros empleados una forma de seguir sus tickets una vez creados. También carecía de cualquier tipo de capacidad de elaboración de informes.
Pluspunten:
Me ha gustado mucho tener Frehservice en nuestra organización. Ha facilitado mucho mi trabajo como gerente, ya que puedo revisar fácilmente el rendimiento del equipo, publicar anuncios para la organización e identificar las tendencias de los problemas o las solicitudes.
Minpunten:
Desearía que las capacidades de informe fueran más personalizables. Ha habido algunas situaciones en las que me he puesto en contacto con Frehservice para pedir ayuda sobre los informes que necesitaba, pero me he encontrado con que los informes no eran posibles. El equipo de soporte de freshservice me dijo que mis necesidades de informes se añadirían a la lista de posibles "mejoras futuras".
Geverifieerde reviewer
Head of Application Services (System Administrator & Controlling Function) in Zwitserland
Geverifieerde LinkedIn-gebruiker
Managementconsulting, 201-500 werknemers
Heeft de software gebruikt voor: 6-12 maanden
Bron: GetApp
No bang for the buck, an overpriced form submission tool that disappoints in reporting and integration
Pluspunten:
Friendly user interface. Copy screenshots directly into the form (although there's a bug for the last 3 months that screenshots are displayed double in edit mode.) Plenty of fields to configure for more complex workflows.
Minpunten:
Default categories and labels with awkward naming (synonymous use of "Tickets" and "Incidents" for "Issues", "Change" for "Change Request", "Problem" for "Bugs") No possibility to convert issues to change requests. Agent needs to recreate the entire case in the back resulting in significant adminstrative overhead. Reporting is practically inexistent. REST API not covering many functions and object attributes. (You cannot substitute reporting externally.) HTML editor limited and bugged. (CSS code in support articles not supported, Bootstrap not supported, code gets changed or reformatted upon saving articles) No access to the file and image repository. Frankly, with every new cosmetic change and "functionality no can do" message from the Team, I am growing more and more wary of this application. At this point, I am thinking of it as an overpriced form tool with practically no reporting, a gimped Knowledge Management base, and an asset list functionality that quickly drains your wallet. I am spending significant time rewriting issues as change requests in order to subsequently manually attach them to the original issue ticket and explain to the user why I would want to close his ticket after all. Writing knowledge articles is best done in a separate HTML editor. The Text Editor lacks basic functionality, removes formatting and images in unpredictable ways with undoing, and stores images and files in a central repository you have no access to. You might as well do that with a forms tool readily available on the internet.
Mel W.
Operations Support Specialist in VS
Vastgoed, 501-1.000 werknemers
Heeft de software gebruikt voor: 1-5 maanden
Implementation and Management
Opmerkingen: I had used FreshService in the past at different places of employment and had enjoyed it. This was the first time I was tasked with picking a ticketing system for a company. The fact that you get a trial based on the level you want to pay for, can basically have it customized during the trial to see if it's the right fit, extremely helpful and responsive customer service, and its easy to use for all levels of tech comfortability were the big reasons we chose FreshService. Every time I check in with our team of Agents, everyone is extremely happy with the switch and, overall, I am looking forward to the positive changes this is bringing our teams.
Pluspunten:
There are several reasons I pushed to choose FreshService over other products. The value of the features I was getting with the ease of set up. Within the trial period, I had most of the set up done before I presented to my department head. The ease of switching from the previous (and archaic) system to FS for our end users was, overall, seamless. The ability to customize the product with minimal knowledge makes it easy to manage and make changes. After reviewing a dozen other ticketing systems, FreshService provided the ease of implementation and change that we were looking for.
Minpunten:
I love Freddy and want to use it however it's limited features over the traditional portal are frustrating. I understand it's a new feature and it's in a state of constant improvement but I wanted to launch with it and was unable to because key features that we needed specifically for our company would not show up. The reports aren't quite what I thought they would be either and I will probably have to do some work with powershell to get the information I really need.
Overwogen alternatieven: HappyFox Help Desk, Jitbit Helpdesk, Zoho Desk, JIRA Service Management, ServiceNow, Kayako en Zendesk
Redenen om voor Freshservice te kiezen: The system we had was a basic portal for entering the request and then it would email it out to everyone. There was no way to properly manage, track, or pull reports on the work being done and tickets were falling through the cracks. It was making everyone's job harder than it needed to be.
Redenen om over te stappen op Freshservice: This list is only a partial list of all the systems I looked at but I had issues with identifying what features each level had, lack of trials, unresponsive or slow customer service were some of the few issues I ran into.