Wat is Survicate?
Survicate is krachtige software voor het beheer van enquêtes, NPS en feedback waarmee je meer klantfeedback kunt vastleggen en een betere klantervaring kunt bieden.
Survicate biedt:
- website;
- web-app en in-product (in-app) enquêtes;
- enquêtes via e-mail en links; en
- mobiele app-enquêtes voor Android en iOS.
Wie gebruikt Survicate?
Customer feedback surveys for scaling companies
Waar kan Survicate worden geïmplementeerd?
Cloud, SaaS, Web, Android (mobiel), iPhone (mobiel), iPad (mobiel)
Over de leverancier
Survicate
Gevestigd in Warsaw, Polen
Opgericht in 2013
Telefonische ondersteuning
Chatten
prijzen van Survicate
Beginprijs:
US$ 65,00/maand
Ja, heeft een gratis proefversie
Ja, heeft een gratis versie
Survicate heeft een gratis versie en biedt een gratis proefperiode. Survicate heeft een betaalde versie vanaf US$ 65,00/maand.
Prijsmodellen
vraag een gratis proefversie aan
Over de leverancier
Survicate
Gevestigd in Warsaw, Polen
Opgericht in 2013
Telefonische ondersteuning
Chatten
Video's en afbeeldingen van Survicate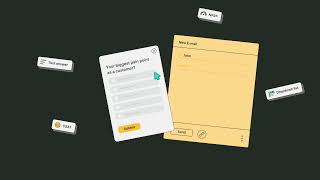 Functies van Survicate
A/B-tests
API
Aanpasbare branding
Aanpasbare sjablonen
Aanpasbare velden
Aanpasbare vragen
Anonieme feedback
Aselecte indeling
Beheer van enquêtes/peilingen
Beheer van klantervaringen
Beheer van negatieve feedback
CSAT-enquêtestructuur
Communicatie via meerdere kanalen
Dashboard
Distributie via meerdere kanalen
Enquêtes en feedback
Enquêtes opstellen
Feedbackbeheer
Gegevens importeren en exporteren
Gegevensverzameling via meerdere kanalen
Gegevensvisualisatie
Integraties van derden
Interactie bijhouden
Klantensegmenten
Leads beheren
Leads vastleggen
Leadsegmentering
Logica voor overslaan
Marketingautomatisering
Mobiele enquête
NPS-enquêtestructuur
Online enquêtes
Proces- en workflowautomatisering
Pulse surveys
Rapportage en analyse
Rapportage en statistieken
Realtime analyse
Realtime gegevens
Realtime rapportage
Segmentering
Sjabloonbeheer
Slepen en neerzetten
Toegangsopties/machtigingen
Tools voor gegevensanalyse
URL's aanpassen
Visuele analyse
Voor meerdere talen
Voorwaardelijke logica
Vraagstructuren
Vragenbibliotheek
Waarschuwingen/Meldingen
Widgets
Alternatieven voor Survicate
Jordan L.
Geverifieerde LinkedIn-gebruiker
Omroepen
Heeft de software gebruikt voor: Niet verstrekt
Bron: GetApp
Great app for a great price
Opmerkingen: I was looking for an affordable on-site survey tool and Survivate was far and away the cheapest will offering the same feature set as the old players in the game. Their interface is easy to use, and the widget design is very nice. I use it to ask users if anything is stopping them from buying something, and then giving them different responses depending on their answer.
Pluspunten:
- Cheap (compared to competitors) - Sexy widget - Super configurable - Responsive support team
Minpunten:
- Backend is slow at times
Geverifieerde reviewer
Web Content Specialist in VS
Geverifieerde LinkedIn-gebruiker
Bouwmaterialen, 1.001-5.000 werknemers
Heeft de software gebruikt voor: 1-5 maanden
satisfactory survey software
Opmerkingen: I had to get my user id transferred from a previous employee. In the meantime i had to use his account log in. Upon logging into his account, there was no data. I reached out to Survicate team for help, and they were able to help within an hour. They said it was because they had removed previous employees access to the company info.
Why not just delete him from the user base? Otherwise, overall software works fine. It doesn't have as many bell and whistles as it's compettitors, but the functionality is there and pretty user friendly.
Pluspunten:
You can integrate contact forms directly onto your website with this software.
Minpunten:
From an admin perspective, when you have a lot of continuous responses, the responses are hard to navigate on-screen. I wish there was a "view all" where i could filter responses by date range. From a user perspective, pop up surveys are irritating to the user and a dated feature.
Reactie Survicate
vorig jaar
Hello, thanks for the largely positive feedback! We're happy to address some of your concerns and comments: 1. We've added the date range filter. Feel free to give it a try. 2. We're currently rebuilding the 'Survey analysis' part in Survicate. After we've done it, it will be easier to navigate multiple responses on-screen. 3. We're also planning to add in-line website surveys in addition to the widget website surveys we offer today. 4. Happy to hear we've managed to resolve your issue quickly! Just for the record, we're not allowed to remove user accounts without permission. When it comes to that particular user, we only removed their access to the account at their explicit request. Please let us know if we can help you in any other way!
Geverifieerde reviewer
Chef de Produit Marketing Relationnel in Frankrijk
Geverifieerde LinkedIn-gebruiker
Voedselproductie, 501-1.000 werknemers
Heeft de software gebruikt voor: 6-12 maanden
Feedback one year later
Pluspunten:
Reactivity of support Design to build survey > easy
Minpunten:
No synchronisation with our CRM at the begining Some small bugs
Reactie Survicate
vorig jaar
Hi, thanks for the feedback and your kind words about our support and how easy it is to make surveys with Survicate. Survicate integrates natively with 19 tools, including CRM and Martech tools, as well as 3000+ other platforms via Zapier. Would you let us know the name of your CRM so we can look into the possibility of integrating it with Survicate? Please contact us at [email protected] And as always, feel free to let us know if we can help you in any other way!
Brant E.
Head of Marketing in VK
Automotive, 11-50 werknemers
Heeft de software gebruikt voor: 1-5 maanden
Beware - They freeze surveys to respondents!
Opmerkingen: See above.
Pluspunten:
In the middle of a survey they just froze the survey access to respondents demanding we upgrade. By the time we did of course, we now have to re-send the survey. Awful and completely illogical way of running a survey service. It is tremendously expensive if you are regularly surveying people. 1,000 responses a month (for all surveys) is 1500 a year base. It gets very pricey, very quickly. Do not recommend them.
Minpunten:
Pricing freezes - complete shut-down of active surveys.
Jennifer L.
Insight Manager in VK
Verzekeringen, 51-200 werknemers
Heeft de software gebruikt voor: 1-5 maanden
Easy to use, customisable
Opmerkingen: It's great to be able to launch website intercept surveys so quickly and easily, user-friendly interface. There are lots of customisation options in terms of who the surveys are displayed to, where and when on the website. The outputs and exports of data are also great, user friendly and detailed. Customer service has been very quick and helpful, functions that are not yet included in the software seem to be taken on board for consideration.
Pluspunten:
User friendly set up of surveys Can easily preview surveys before launch Customisation options for survey visualisation and when/ where surveys appear
Minpunten:
Delay between launching or editing a survey and it appearing on the website - makes it difficult to test and change
Reactie Survicate
vorig jaar
Hi Jennifer, thanks for your positive feedback. It means the world to us! We're happy to let you know we've fixed the delay between launching/editing a survey and it appearing on the website. It has been reduced to an absolute minimum and normally takes about 30 seconds to a minute. Feel free to give it a go, and please let us know if we can help in any other way.