Wat is Thinkific?
Thinkific is een alles-in-één online cursusplatform dat iedereen in staat stelt om snel geweldige cursussen te creëren en te leveren op hun eigen merkspecifieke site. Of je nu je klanten wilt informeren, cursussen wilt verkopen om inkomsten te genereren of gewoon je merk wilt laten groeien en je publiek wilt betrekken, Thinkific maakt het je gemakkelijk.
Doe net als duizenden consultants, experts, auteurs, sprekers, trainers, leraren, coaches, professionele verenigingen en bedrijven, en begin vandaag nog met het verkopen van cursussen op Thinkific.
Wie gebruikt Thinkific?
Iedereen, van consultants, experts, auteurs, sprekers en trainers tot professionele verenigingen, ledenorganisaties, ondernemingen en universiteiten, gebruikt tegenwoordig Thinkific.
Waar kan Thinkific worden geïmplementeerd?
Cloud, SaaS, Web
Over de leverancier
Thinkific
Gevestigd in Vancouver, Canada
Opgericht in 2012
Telefonische ondersteuning
Chatten
prijzen van Thinkific
Beginprijs:
US$ 49,00/maand
Ja, heeft een gratis proefversie
Ja, heeft een gratis versie
Thinkific heeft een gratis versie en biedt een gratis proefperiode. Thinkific heeft een betaalde versie vanaf US$ 49,00/maand.
Prijsmodellen
vraag een gratis proefversie aan
Over de leverancier
Thinkific
Gevestigd in Vancouver, Canada
Opgericht in 2012
Telefonische ondersteuning
Chatten
Video's en afbeeldingen van Thinkific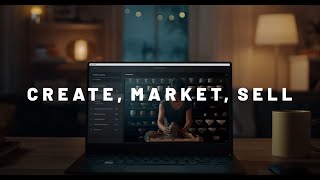 Functies van Thinkific
API
Aanpasbare branding
Aanpasbare sjablonen
Activiteitendashboard
Asynchroon leren
Audio-/video-opname
Beoordelingsbeheer
Certificering en licentieverlening
Certificeringsbeheer
Cijferlijst
Contentbeheer
Contentbibliotheek
Cursusbeheer
Cursussen bijhouden
Cursussen opstellen
Cursussen publiceren
Feedbackbeheer
Gamification
Gegevens importeren en exporteren
Gemengd leren
Geïntegreerd systeem voor maken van cursussen
Integraties van derden
Interactief leren
Interactieve inhoud
Klasplanning
Leermanagement
Leerpaden en -trajecten
Media-import
Mentorschap
Mobiel leren
Opdrachtenbeheer
Portal voor leerlingen
Quizen en toetsen
Rapportage en analyse
Rapportage en statistieken
Realtime uitzending
Scherm delen
Self-service content curation
Sjabloonbeheer
Sociaal leren
Storyboards
Studenteninformatie/dossiers
Synchroon leren
Tests en beoordelingen
Trainingbeheer
Trainingsbeheer
Videobeheer
Virtueel klaslokaal
Voor meerdere talen
Voortgang bijhouden
Voortgangsrapporten
Waarschuwingen/Meldingen
Werknemersbetrokkenheid
Zelf leren
eCommerce-beheer
Alternatieven voor Thinkific
Pamela K.
President in VS
Geverifieerde LinkedIn-gebruiker
Entertainment, Zelfstandig ondernemer
Heeft de software gebruikt voor: 1+ jaar
This is where I have my courses
Opmerkingen: Anytime I have a problem their tech support is great. And I haven't had any tech problems with the platform - my students are happy and use it easily.
Pluspunten:
When I was researching all the different software for course hosting, I liked that this had a place to upload documents in the discussions. That might be really important for people teaching code or other products. Then I'm glad I choose this one because others take a % of income AND you have to wait longer for money.
Minpunten:
The layout isn't as clean and modern as others - I'm hoping that will be updated at some point. It's a little ugly.
Overwogen alternatieven: Teachable
Redenen om over te stappen op Thinkific: Thinkific had the ability to upload docs in the discussion area of courses. And doesn't charge a transaction fee.
Geverifieerde reviewer
Client Services Director in VS
Geverifieerde LinkedIn-gebruiker
Informatietechnologie en -diensten, 11-50 werknemers
Heeft de software gebruikt voor: 1-5 maanden
Fills a gap in this space with enthusiasm!
Opmerkingen: Blackboard Course sites, Moodle, and Instructure Canvas are great products, but you have to invest in additional solutions to collect payments, etc. for selling the online courses. Thinkific does all this in 1 system with more options for site design than the big education players do. Some of the features could be more well-thought-out, but for a non-LMS company, it is incredibly easy to set up and allows you to design instructional sound materials.
Pluspunten:
I liked that you could design the access portal, the courses, and the payment methods all in 1 interface without any needs for additional products. I particularly enjoy how easy it is to set the courses up if you have your curriculum designed.
Minpunten:
I wish there was an option to be able to have access to all the course features without fees. We are a startup and just are not in a position to charge for courses yet, meaning this would be a huge investment for us that we are not willing to make. It would be great if you could get a 6month burn-in period to test and market before going live.
Overwogen alternatieven: Moodle, Blackboard Learn en BRIDGE
Redenen om voor Thinkific te kiezen: Easier to configure and set up and did not require additional setup or management.
Overgestapt van: Moodle
Redenen om over te stappen op Thinkific: Payment portal and customization features.
Lucky O.
Founder/CEO/Content creator in Nigeria
E-learning, 2-10 werknemers
Heeft de software gebruikt voor: 6-12 maanden
Thinkific LMS platform. An honest review
5
2 maanden geleden
Nieuw
Opmerkingen: Thinkific is a great LMS with many inbuilt integrations. Even though most of the integrations are not free, they help in building a better LMS all round.
Pluspunten:
Other than being a good Learning management platform, students could upload video contents and gifs in the communities of a thinkific school. This isn't possible with other LMS I've used. I think this is a great advantage in my opinion as videos drives conversations better.
Minpunten:
If I could upload SCORM/HTML5 contents it'll be a better product for me. Also, the course builder layouts are not as sleek as I expected in comparison to other products.
Overwogen alternatieven: LearnDash
Redenen om over te stappen op Thinkific: I didn't want to get involved in the technical stuffs involved in building an LMS from scratch. I preferred using a SAAS platform (in this case Thinkific) that would cater for the technical aspects of the platform while I cared about creating contents for my students.
Farah A.
Business Owner in VS
E-learning, Zelfstandig ondernemer
Heeft de software gebruikt voor: 1-5 maanden
Good overall with critical limitations for teaching online live
Opmerkingen: Good. They have excellent customer support and they responded to me quickly even during busy times. I actually recommended them for a company that has recorded videos and could benefit from using a modern LMS to share their recorded lessons.
Pluspunten:
I think I like the idea of the software. There are alternatives. I think I picked Thinkific first because they have clear description about their software, seemed reputable and seemed like they have good customer service and responsiveness. Their website is nicely responsive for different screen sizes. Although the theme itself is limited, and you are on your own to customize it, I felt that the drag and drop choices for the editor covered everything I need.
Minpunten:
There were critical limitations that I felt decreased the value of the software for my business. The first thing that made me feel uncomfortable is that the website you build for your business through their LMS software would publish to the public immediately as you save the changes. I look thoroughly through the website theme settings, but there was no way to keep the website as "password protected" or "private" before it is published. As a result, I felt I should hold on about sharing important details until I write the entire content of the website, then drag and drop the content for the layout, and then put the content. After that first issue, I felt less excited. There were other limitations that resulted in me losing interest. I didn't feel like I want to pay to customize my website with HTML and CSS. importing your own website website was not a convenient option. My courses were live online but their website had no way of sharing the time on the website based on the user local or system time. I would have to pay for their Pro plan and do it myself with javascript. I could look up and learn how to do it, but I didn't want to. I felt like the software was good for only recorded content. The price they were asking for was not convincing anymore. Slowly and slowly I lost interest. Finally, I saw that they charge a flat fee for each student plus their monthly fee, for any student after the 100th student. I decided not to move forward with them.
Overwogen alternatieven: Teachable, TutorBird en Kajabi
Redenen om over te stappen op Thinkific: I ended up not choosing Thinkific and went with an alternative.
Danielle N.
Video Editor and Social Media Content Creator in VS
Geverifieerde LinkedIn-gebruiker
Design en ontwerp, Zelfstandig ondernemer
Heeft de software gebruikt voor: 1-5 maanden
So Far So Good
Opmerkingen: I was brought on board to help manage my client's Thinkific site. I did not have previous experience with Thinkific. So far, I've been satisfied with my overall experience.
Pluspunten:
I had no experience with Thinkific prior to jumping in to help my client with her account. However, I had some experience with other landing-page builders, and it was not too difficult to get the hang of using the Thinkific Site Builder. Also, I quickly found some YouTube videos that helped me out as well. My client already had a published Thinkific site. Thinkific has the option to create an offline copy so we can experiment with a new design and not worry about messing up the live site or causing disruptions for students. As a newbie, I was relieved not to have to worry about messing anything up. The Theme Library has a decent selection of templates - just enough to find a good starting point but not too many to be overwhelming. The sample landing pages are great inspiration as well. I love the "smart" blocks that pull content from elsewhere in your account. For example, the instructor's bio or course curriculum or student reviews.
Minpunten:
I encountered a few limitations: - The Site Builder includes about a dozen or so recognized fonts, but I did not see a way to add custom fonts. Maybe this is comes with a higher plan. - For the instructor's bio, I didn't like the default design of the "Instructors" block, so I just used a "Text & Media" block. That would have seemed fine, except the text and photo are too close together. I couldn't see a way to increase the space. - You can get a pretty good preview of the page using Fullscreen mode inside the Site Builder - but the links and buttons are not clickable. I didn't find a way to preview the course landing page with live links/buttons so I can make sure they are working properly. If I'm working with an offline copy, I would like to be able to check links and buttons BEFORE publishing and overriding our existing live page.