Wat is BigCommerce?
BigCommerce is een toonaangevend cloudgebaseerd e-commerceplatform voor zowel gevestigde als snelgroeiende bedrijven. BigCommerce combineert bedrijfsbrede functionaliteit, een open architectuur en app-systeem met toonaangevende prestaties, en stelt bedrijven in staat om hun online verkoop te laten groeien met 80% minder kosten, tijd en complexiteit dan lokaal geïmplementeerde software. BigCommerce ondersteunt e-commerce voor B2B en B2C voor meer dan 60.000 merken, meer dan 2000 middelgrote bedrijven, 30 Fortune 1000-bedrijven en toonaangevende merken.
Wie gebruikt BigCommerce?
Startups, het MKB- en grote ondernemingen die goederen online willen verkopen
Waar kan BigCommerce worden geïmplementeerd?
Cloudgebaseerd
On-premise
---
Over de leverancier
BigCommerce
Gevestigd in austin, VS
Opgericht in 2009
Ondersteuning voor BigCommerce
Telefonische ondersteuning
24/7 (contact met medewerker)
Chatten
Beschikbaar in deze landen
Australië, Canada, Duitsland, Frankrijk, Hongkong SAR van China en nog 10 andere
prijzen van BigCommerce
Beginprijs:
US$ 29,95/maand
Ja, heeft een gratis proefversie
Geen gratis versie
BigCommerce heeft geen gratis versie maar biedt wel een gratis proefperiode. BigCommerce heeft een betaalde versie vanaf US$ 29,95/maand.
Over de leverancier
BigCommerce
Gevestigd in austin, VS
Opgericht in 2009
Ondersteuning voor BigCommerce
Telefonische ondersteuning
24/7 (contact met medewerker)
Chatten
Beschikbaar in deze landen
Australië, Canada, Duitsland, Frankrijk, Hongkong SAR van China en nog 10 andere
Video's en afbeeldingen van BigCommerce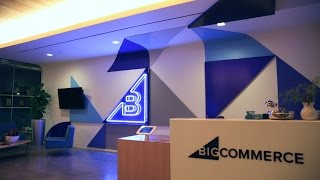 Functies van BigCommerce
API
Activiteitendashboard
Afgebroken verkoopproces herstellen
Beheer van meerdere kanalen
Belastingbeheer
Betalingsopties
CRM
Catalogiseren/categoriseren
Contentbeheer
Decoupled front- en back-ends
Documentbeheer
E-mailmarketing
Elektronische betalingen
Gegevens importeren en exporteren
Gegevensbeveiliging
Integraties van derden
Inventarisatie
Kanaalbeheer
Klantcontactmomenten
Klantenaccounts
Klantenbeheer
Kortingsbeheer
Marketing via meerdere kanalen
Marktplaatsintegratie
Meerdere valuta's
Mobiele toegang
Nabestellen
Online winkelontwerp
Ontwerpbeheer
Opties voor contentpublishing
Orderbeheer
Previewfunctionaliteit
Promotiebeheer
Publicatieopties
Rapportage en analyse
Rapportage en statistieken
Realtime bewerken
SEO-beheer
SSL-beveiliging
Sjabloonbeheer
Vervoersbeheer
Voor B2B
Voor kleine bedrijven
Voorgedefinieerde sjablonen
Voorraad bijhouden
Voorraadbeheer
Voorraadoptimalisatie
Websitebeheer
Winkelwagen
eCommerce-beheer
Alternatieven voor BigCommerce
Michael J.
ceo
Geverifieerde LinkedIn-gebruiker
Design en ontwerp, 2-10 werknemers
Heeft de software gebruikt voor: 1+ jaar
Bron van de reviewer
Strong but could use a few improvements. WordPress integration!
Bijschriften in het Nederlands beschikbaar in de videospeler
Nathan
Marketing Manager in VS
Geverifieerde LinkedIn-gebruiker
Sportartikelen, 11-50 werknemers
Heeft de software gebruikt voor: 1+ jaar
Bron van de reviewer
Among the best ecommerce solutions for growing businesses
Opmerkingen: We initially transitioned from Lightspeed eCom over to Bigcommerce because their platform offered greater scalability and entry-level features than what Lightspeed offered. Because we use Lightspeed POS, however, integrating product data between the systems was a challenge and a lengthy process. It also takes some effort to maintain the connection (via a third-party service using their API).
Pluspunten:
Bigcommerce offers some of the most inclusive features in their entry-level product options, making them excellent for small businesses. Their level of customer support and transparency about service issues and new features in development are excellent and perhaps one of the main reasons why we've kept using Bigcommerce instead of switching to a platform that meets other essential features that we are still awaiting from Bigcommerce. The availability of third-party apps (including shipping and logistics integrations) has been great to work with so far.
Minpunten:
Storefront development is currently very lackluster and it can be difficult to get a truly customized website without hiring a developer or investing in web development skills of your own. This is also true of their e-mail features. If you don't have more than a basic understanding of HTML, it will be next to impossible to customize their system e-mails without a third-party solution. Also, while their entry-level features are among the most plentiful in the industry, a few features (such as Google Reviews integrations and Abandoned Cart Recovery) are reserved only for higher-tier plans, which doesn't make sense from a financial standpoint as their costs to support these features should be minimal.
Overwogen alternatieven: Adobe Commerce, WooCommerce en Shopify
Redenen om voor BigCommerce te kiezen: Note: We switched from Lightspeed's integrated e-commerce offering but still utilize their cloud POS and inventory management software (connected to Bigcommerce via API). We switched because Bigcommerce offered greater scalability than Lightspeed's own solution, especially concerning the ease of managing our inventory across multiple marketplace channels.
Overgestapt van: Lightspeed Retail
Redenen om over te stappen op BigCommerce: Bigcommerce ultimately offered the greatest financial value in terms of entry-level features and marketplace functionality that were available to us as a growing small business.
Justin
Director of E-commerce & Marketing in VS
Geverifieerde LinkedIn-gebruiker
Detailhandel, 201-500 werknemers
Heeft de software gebruikt voor: 2+ jaar
Bron van de reviewer
TYLER'S x BigCommerce
Opmerkingen: BigCommerce has been absolutely phenomenal. We're glad to be based in Austin, Texas alongside some of the BigCommerce team. Their support staff has been instrumental in our ability to adjust when a problem arises, and find a long term solution to ensure our ongoing success.
Pluspunten:
BigCommerce has developed a simplistic software that's allowing small and mid size companies to maneuver at scale. We've been able to learn and adapt new strategies as their team continues to open new capabilities to developers and as they push development in their app market. Fast and reliable apps will be key to building and maintaining the next evolution of ecommerce businesses and having that infrastructure in place will be pivotal in the years to come.
Minpunten:
When we teamed up with BigCommerce, they were a newer competitor in the market. Some similar companies were able to offer functionalities that were limiting to our initial growth through ecommerce. Being a brick and mortar based business since 1978, we had a multitude of functionalities needed to keep up with our physical locations. Although they couldn't offer these features out of the gate, they were quick to get them implemented and worked closely with us to resolve our issues.
Marketing en reclame, 11-50 werknemers
Heeft de software gebruikt voor: 6-12 maanden
Bron van de reviewer
Bigcommerce: E-commerce website builder for fast-growing companies.
Opmerkingen: BigCommerce's robust, scalable sales tools make it suitable for growing companies. If you are new to e-commerce, you can use other platforms such as Shopify, Commerce Tools, Salesforce, or WooCommerce.
Pluspunten:
Bigcommerce has a plethora of features; in fact, I believe they have the most comprehensive e-commerce features on the market.Bigcommerce provides a drag-and-drop website builder, templates, marketing tools, analytical tracking, abandoned cart recovery tools, and excellent SEO features.Bigcommerce allows you to sell an unlimited number of products, integrate with numerous email marketing tools, and accept payments through PayPal, Stripe, Apple Pay, and Square.The most important feature of Bigcommerce is the ability to do omni selling, which allows you to sell on marketplaces such as Amazon, eBay, and social media platforms.All BigCommerce plans include unlimited staff accounts and there are no transaction fees.They also offer a free 15-day trial and 24/7 customer service.
Minpunten:
Bigcommerce lacks a good user interface, so new users may face a somewhat steep learning curve.The biggest disadvantage of BigCommerce is that it is difficult to migrate your site to another e-commerce platform. Your entire website is built on Bigcommerce, and if you want to migrate, you will have to pay exorbitant fees.In addition, they have a limited number of free design templates.
Max
Director of Systems Operations in VS
E-learning, 51-200 werknemers
Heeft de software gebruikt voor: 2+ jaar
Bron van de reviewer
Terrific admin UI and purchaser experience - BigCommerce will not fix bugs customers find
Opmerkingen: The software has been solid for our customers and the administration UI is very easy to use. We have outstanding technical issues that have been open for more than a year and are still not resolved (HTTP status 500 errors that intermittently are returned from their backend APIs) - they say they cannot see the errors in their backend logs and we must send them examples even though we have this happen 10-12 times a day, continually, for over a year. Their Stripe integration does not include the email address field when they send payment requests to Stripe, so customers do not get a credit card receipt from Stripe. Requesting this be changed resulted in them telling us only 1 other customer wanted this feature and that we should switch to Authorize or Brain Tree because it works with those processors) - this felt like a move to downplay the use of Stripe and push us towards vendors that BigCommerce perhaps prefers? It is hard to believe we are the only customer that would want Stripe to send CC receipts to customers - their built-in receipt mechanism does not allow a store to include the last 4 digits of the credit card in the receipt the store sends, which means customers have to call in to customer support when they are organizational customers to figure out which CC is used - a very poor experience for our customers and for our customer support team.
Pluspunten:
It is highly customizable, has most of the features you'd expect in an e-commerce solution, and the APIs are well-documented.
Minpunten:
* Seemingly easy solutions to known issues get stuck in their support bureaucracy and disappear * Their logging does not allow software engineers nor CSRs to see the specifics of errors - customers must provide client-side stack traces to help them find errors on their backend (for example, API calls that return HTTP status 500)
Stephanie
System Administrator in VS
Geverifieerde LinkedIn-gebruiker
Informatietechnologie en -diensten, 10.000+ werknemers
Heeft de software gebruikt voor: 2+ jaar
Bron van de reviewer
I prefer BigCommerce for its simplicity and ease of use
Opmerkingen: BigCommerce has been the answer to all of the problems that have plagued my online store. Adding and managing products has never been simpler than it is on this site. With just a few clicks, I can make simple, customizable, and downloadable products.
Pluspunten:
In every way, BigCommerce is the ideal platform for my company. This platform's dashboard is fantastic, and I appreciate how simple it makes managing and uploading stock. The quickness and dexterity that has been put into protecting and expanding my product sales has met with my complete satisfaction. To run my online store without any restrictions and in a professional manner is a dream come true.
Minpunten:
Although there are times when certain features do not function properly, such as when I am unable to access the applications within the back end or when newly updated features are not compatible with my configuration since I am still using an earlier version of BigCommerce, I have been using the platform for years.