Wat is Creatio CRM?
Bpm'online CRM is een unieke synergie van een geïntegreerd CRM en intelligent BPM-platform, dat de onderlinge lijnen tussen marketing, verkoop en klantenservice verbindt. Middelgrote en grote organisaties kunnen nu op een efficiënte manier het volledige klantentraject beheren, van lead naar bestelling tot het doorlopend onderhoud van accounts. Bpm'online is alom erkend door belangrijke industrieanalisten, waaronder Gartner, Forrester, Nucleus Research, Ovum, ISM en heeft meerdere prestigieuze prijzen ontvangen.
Wie gebruikt Creatio CRM?
De toepassingen van bpm'online zijn sterk aanpasbaar en gebruiksvriendelijk, en ze kunnen bedrijven van elke omvang en uit elke sector helpen om klantgerichte processen te beheren en een geweldige klantervaring te leveren.
Waar kan Creatio CRM worden geïmplementeerd?
Cloudgebaseerd
On-premise
---
Over de leverancier
Creatio
Gevestigd in Boston, VS
Opgericht in 2002
Ondersteuning voor Creatio CRM
Telefonische ondersteuning
24/7 (contact met medewerker)
Chatten
Beschikbaar in deze landen
Argentinië, Armenië, Australië, Azerbeidzjan, Bangladesh en nog 69 andere
prijzen van Creatio CRM
Beginprijs:
US$ 25,00/maand
Ja, heeft een gratis proefversie
Geen gratis versie
Creatio CRM heeft geen gratis versie maar biedt wel een gratis proefperiode. Creatio CRM heeft een betaalde versie vanaf US$ 25,00/maand.
vraag een gratis proefversie aan
Over de leverancier
Creatio
Gevestigd in Boston, VS
Opgericht in 2002
Ondersteuning voor Creatio CRM
Telefonische ondersteuning
24/7 (contact met medewerker)
Chatten
Beschikbaar in deze landen
Argentinië, Armenië, Australië, Azerbeidzjan, Bangladesh en nog 69 andere
Video's en afbeeldingen van Creatio CRM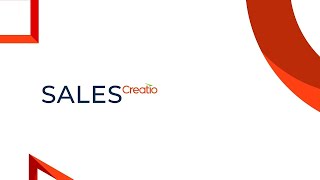 Functies van Creatio CRM
Aanpasbare branding
Aanpasbare rapporten
Aanpasbare sjablonen
Aanpasbare velden
Activiteiten volgen
Activiteitendashboard
Beheer van salesactiviteit
Beheer van verkooppipeline
Bestemmingspagina's en webformulieren
CRM
Campagneanalytics
Campagnebeheer
Catalogiseren/categoriseren
Communicatie via meerdere kanalen
Contactenbeheer
Contactendatabase
Conversies bijhouden
Documentbeheer
Documenten opslaan
Drip -campagnes
E-mailbeheer
E-mailmarketing
E-mailsjablonen
Gegevens importeren en exporteren
Gegevensvisualisatie
Herinneringen
Inboxbeheer
Integratie van sociale media
Integraties van derden
Interactie bijhouden
Kalender-/herinneringssysteem
Kalenderbeheer
Kansenbehee
Kennisbankbeheer
Kennisbeheer
Klantendatabase
Klantgeschiedenis
Lead nurturing
Leaddistributie
Leadkwalificatie
Leads beheren
Leads genereren
Leads vastleggen
Leadsegmentering
Marketing via meerdere kanalen
Marketingautomatisering
Mobiele toegang
Offertes
Oproepen opnemen
Pipelinebeheer
Prestatiemeetwaarden
Prognose
Provisiebeheer
ROI-tracking
Rapportage en analyse
Rapportage en statistieken
Realtime gegevens
Realtime meldingen
Samenwerkingstools
Segmentering
Sjabloonbeheer
Social marketing
Taakbeheer
Territoriumbeheer
Verkooprapporten
Voor de verzekeringsbranche
Voor meerdere talen
Waarschuwingen/Meldingen
Websitebezoekers bijhouden
Workflowbeheer
Alternatieven voor Creatio CRM
Rommel
Costa Rica
Geverifieerde LinkedIn-gebruiker
Informatietechnologie en -diensten
Heeft de software gebruikt voor: Niet verstrekt
Bron van de reviewer
Bron: GetApp
Great CRM running over a nice business process tool
Opmerkingen: BPMOnline, like most of the commercial tools out there, is a CRM build over a customizable framework. The main different with other tools, is what this framework offers, and the knowledge required to work on it. First, the business process tool is easy to use yet powerful and robust. It can be used to automate business tasks, implement rules and also, to develop integrations with third party tools. The framework was build in .NET, so certain customizations and scripts are build either in c# (server side code) or javascript (client side code). If you know those languages, your learning curve in BPMOnline (which is normally shorter than others) will be even shorter than the rest of users. On the user side, the system is very friendly and intuitive, so you normally don't get lost in tons of options. Most of then are hidden and reserved for administrators.
Pluspunten:
Main advantages for BPMOnline: 1) Marketing, Sales and Services is fully integrated and normally don't require external or additional tools to work. 2) No hidden costs. The cost model and licenses are quite simple. Your contract normally provides all (and more) of what you need. It's really weird to find unexpected restrictions in the licenses you buy. 3) Learning curve for users, administrators and technicians is very short. With good guidance during implementation, you can take control very fast.
Minpunten:
Some areas that requires improvements: 1) Integration to third party tools. There are certain integrations that come with the tool like email and phone systems. But others like legacy system or very particular solutions, requires development that can be difficult (not impossible). The lack of existing solutions in the market (free or paid) force you to develop those integrations. 2) Changes are easy to do, but they normally requires compilation. This can take some time, and if it's executed incorrectly, you can affect your instance. 3) The security is very detailed and can be aligned to every model. But, some changes applies just to new records, not to historical information. This can require customizations to work properly. 4) Analytics tool is simple to use and powerful, but it still require some additional features, like calculated variables and export.
Alexander
Business & sales analyst in Oekraïne
Olie en energie, 1.001-5.000 werknemers
Heeft de software gebruikt voor: 1+ jaar
Bron van de reviewer
Cutting-edge agile software solution, designed to optimize your conversion rates and drive business
Opmerkingen: We recognize that implementing Studio Creatio earlier would have been a strategic move. The platform has proven to be a game-changer for our operations, significantly improving our business processes and increasing our overall resilience, which is paramount in today's rapidly evolving business landscape.
Pluspunten:
Sales Creatio stands out as an exceptional product for automating sales and distribution workflows. As a midsize player in the competitive manufacturing industry, our ability to compete with larger players has been significantly enhanced through our transformational approach and unwavering commitment to continuous innovation. Incorporating no-code tools into our sales/business analytics toolkit has proven to be a valuable addition. These tools have empowered our team to streamline processes and achieve greater efficiency, ultimately contributing to our success in the market. Notably, our conversion rates have experienced a significant increase, and our sales team is thrilled with the results.
Minpunten:
While we have overall been highly satisfied with the platform, we have encountered occasional technical issues. Nevertheless, the support provided by Creatio has been instrumental in swiftly resolving these minor issues, ensuring that our overall experience with the platform has remained uninterrupted.
Overwogen alternatieven: Salesforce Sales Cloud en HubSpot CRM
Redenen om over te stappen op Creatio CRM: The availability of no-code tools and a wide array of pre-built workflow solutions were pivotal factors in our decision-making process. These resources offered by Creatio have provided our team with the agility and flexibility to design and implement customized workflows without the need for extensive coding expertise. This comprehensive suite of no-code tools and workflow solutions has been instrumental in driving our decision to choose Creatio CRM as our preferred platform comparing to alternatives.
Geverifieerde reviewer
Geverifieerde LinkedIn-gebruiker
Rechtspraktijk, 11-50 werknemers
Heeft de software gebruikt voor: 1+ jaar
Bron van de reviewer
Excellent technological execution of the buggy product
Opmerkingen: Customer service was great and the team dedication to find suitable solution was beyond reproach. Having said that, I felt that I joined their QA team and kept running into bugs that made use of the product impossible until the bug was fixed. Ultimately, I never truly got to use the product and just gave in.
Pluspunten:
Easily customizable. Excellent support from technical side.
Minpunten:
lots of bugs. new updates would override the fixes and render software useless until new patches would be applied.
Informatietechnologie en -diensten, 201-500 werknemers
Heeft de software gebruikt voor: 6-12 maanden
Bron van de reviewer
This is a highly scalable and customizable solution, must-have for businesses seeking a CRM
Opmerkingen: This is a highly scalable and customizable solution that offers a comprehensive suite of tools to design workflows that align with your organization's unique business processes. Its adaptability to cater to the diverse needs of various departments and companies is unmatched, making it a must-have for businesses seeking a CRM solution. The ability to manage workflows and business processes is essential for any organization, and this software delivers on that front, providing a robust platform to integrate all corporate solutions into a single IT environment. Effective data visualization is critical to making informed decisions, and this software ensures that the visualization of data is accurate and precise. With virtually limitless customization options, businesses can tailor the software to their specific requirements. Furthermore, built-in reporting and analytics offer valuable customer insights, making it easier for businesses to stay on top of their game. The software is user-friendly, cost-effective, and has gained significant popularity in the market.
Pluspunten:
Creatio offers great agility, enabling us to quickly adapt and make changes as necessary. We often refrain from altering anything that is already functioning well and instead utilize the out-of-the-box modules for tasks such as sales forecasting, opportunity management, marketing autometion and more
Minpunten:
Overall everything is good, any question and inconvenience can be solved promptly
Mitch
CRM Administrator in VS
Computersoftware, 51-200 werknemers
Heeft de software gebruikt voor: 2+ jaar
Bron van de reviewer
Completely satisfied and loyal to Creatio solutions
Opmerkingen: We opted for Creatio because it offered user-friendly low-code development tools which allowed us to adjust the processes regularly based on our changing business needs and strategies. Now we are fully satisfied with the system and its functionality. Creatio helps us serve our customers better daily. We utilize the platform actively to manage our customer-facing processes as well as improve our internal operations.
Pluspunten:
The system has advanced tools to not only manage but also to constantly improve customer relationship. The system's agility and scalability are some of the greatest benefits to us. Thanks to the platform's tools, we are able to keep introducing new solutions to our customers, adding new communication channels, and improving customer-facing workflows regularly. The system also helped us reduce operational costs and grow customer satisfaction level significantly. Even though the system is powerful and feature-rich already, we are confident that the product has a huge potential. Creatio's team of professionals keep enhancing the system's functionality with advanced AI-powered solutions and other latest technologies.
Minpunten:
The learning curve might be steep at times, especially since there is a wide range of useful features that we can utilize for the greater benefit of our business. Having an abundance of solutions and tools to use, we never stop learning something more about the system and its capabilities. While it is definitely a good thing, it might sometimes feel overwhelming since we need to continuously catch up with the new features that Creatio keeps rolling out. Another great thing – they are ensuring all the features are user-friendly, which makes the adoption of new functionality easy.
Overwogen alternatieven: ServiceNow Customer Service Management, Zoho CRM en Salesforce Sales Cloud
Redenen om voor Creatio CRM te kiezen: Creatio was significantly more affordable and added more features.
Overgestapt van: Zendesk Suite
Redenen om over te stappen op Creatio CRM: Best value for the capabilities and price.