Wat is JobNimbus?
JobNimbus is perfect voor dakdekkers, verbouwers, restaurateurs en meer, en bespaart je tijd en geld met tools voor project-, contact- en taakbeheer verpakt in een gebruiksvriendelijke interface. Met JobNimbus kun je moeiteloos je verkoop- en opdrachtpijplijnen volgen. Creëer ramingen en facturen, maak werkfoto's, wijs werkorders toe, creëer en deel documenten, plan taken, bekijk gedeelde agenda's, verzend materiaalbestellingen, volg betalingen en meer. Genereer krachtige live rapporten om alles inzichtelijk te maken. Web, iOS, Android.
Wie gebruikt JobNimbus?
Dakdekkers en verbouwers die op zoek zijn naar een werkelijk eenvoudige CRM plus oplossing voor projectmanagement voor het beheren van contacten, taken, projecten, documenten en financiële gegevens. Als software je in verwarring brengt, probeer dan eens JobNimbus.
Waar kan JobNimbus worden geïmplementeerd?
Cloud, SaaS, Web, Mac (desktop), Windows (desktop), Android (mobiel), iPhone (mobiel), iPad (mobiel)
Over de leverancier
JobNimbus
Gevestigd in American Fork, VS
Opgericht in 2011
Telefonische ondersteuning
Chatten
Beschikbaar in deze landen
Canada, Verenigde Staten
Over de leverancier
JobNimbus
Gevestigd in American Fork, VS
Opgericht in 2011
Telefonische ondersteuning
Chatten
Beschikbaar in deze landen
Canada, Verenigde Staten
Video's en afbeeldingen van JobNimbus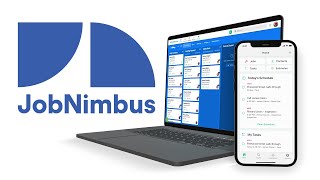 Vergelijk de kosten van JobNimbus met soortgelijke producten
Functies van JobNimbus
Aanpasbare rapporten
Aanpasbare sjablonen
Activiteitendashboard
Administratie
Afspraakplanning
Audittrail
Beheer van onderaannemers
Beheer van verkooppipeline
Beheer van wijzigingsorders
Bestanden delen
Biedingsbeheer
Budget volgen / taakuitgaven
Budgetbeheer
CRM
Contactenbeheer
Contactendatabase
Contract- en licentiebeheer
Documentbeheer
Documenten opslaan
E-mailbeheer
E-mailmarketing
Factureren
Foto's vastleggen
Historische database
Inkooporderbeheer
Inspectiebeheer
Integratie in de administratie
Integratie van derden
Kalender-/herinneringssysteem
Kalenderbeheer
Klanten volgen
Klantenbeheer
Klantendatabase
Klantenportal
Kosten van voltooiing bijhouden
Kostendatabase
Kostenschatting
Leads beheren
Mobiele app
Mobiele toegang
Offertes
Opmerkingen/notities
Plannen
Projectadministratie
Projectbeheer
Projecten bijhouden
Rapportage en analyse
Rapportage en statistieken
Realtime updates
Roosterbeheer
Samenwerkingstools
Schattingen
Status bijhouden
Taakbeheer
Taakplanning
Tijd bijhouden
Tijd en onkosten bijhouden
Vergunningenbeheer
Verkoopgoedkeuring
Voor de AEC-sector
Voor iPad-apparaten
Voorstellen genereren
Waarschuwingen/Meldingen
Werkorderbeheer
Woning
Workflowbeheer
Alternatieven voor JobNimbus
Stephen olawale J.
ARCHITECT in Nigeria
Geverifieerde LinkedIn-gebruiker
Bouw, 2-10 werknemers
Heeft de software gebruikt voor: 6-12 maanden
JOB TASK SCHEDULING,CLIENTS MANAGEMENT AND JOB TRACKING MADE EASY
Opmerkingen: life has being easy, the tension we get from tenant/client, that we should to their respond to their services failures has reduced, and get response from our team quickly.
Pluspunten:
My firm have being got a job to manage residential facilities and building services maintenance for clients and developers, we had a lot of job and calls from clients for over a year, with out a software, finally when we got a recommendation, we started with a trial version, the application was easy to learn through the help of videos, and the customer care response,tracking our jobs, technicians and client information and emergency needs on a mobile application software was a break through for my firm.
Minpunten:
Learning how to use the software with just videos was difficult, it would have being easier, if the customers care line can be available to respond at every instant,training the technicians and advising our client to subscribe to this application was not easy, but they now enjoyed its, they get their problems solve on just with the application on their mobile devices.
Reactie JobNimbus
3 jaar geleden
Thanks, Stephen! We're working on improving our app education and onboarding, so new features should be easier for you to learn and get going. We appreciate your feedback!
Bouw, 2-10 werknemers
Heeft de software gebruikt voor: 1+ jaar
Overwogen alternatieven:
Sharp Construction Thinks JobNimbus is Amazing
Opmerkingen: We have been bringing on additional salesman and being able to track the leads that we distribute has allowed us to see who is weak and where. We have also used JobNimbus to increase the amount of reviews that are coming in (93 5 Stars and counting). It has allowed us to measure lead success or failure, which has whet the taste buds to have more understanding and to discover deeper ways to measure our success in other ways. It makes you realize what could be if..... When you have questions that a product like JobNimbus answers, it makes you realize that with a little extra effort, you can explode your business. We are thrilled to have found JobNimbus.
Pluspunten:
We did not come from another CRM to this platform. This was our first experience and the choice to team up with JobNimbus has been exactly what we were hoping and looking for to help manage and grow our business. The automation features are, by far, what we have enjoyed the most. Adding automation has helped us seal up the cracks that occur when taking a customer thru the construction process. Nimbosa, as we affectionately call it for no apparent reason, has been a major factor in leveling up our company with regards to communication and customer management.
Minpunten:
This requires thought, which, I think, means that we would have to search to find a problem. We are anxiously anticipating the roll out of the tracking and measurement graphs that were dropped at the Orlando convention. So I guess, the fact that those are not fully rolled out yet would be one of the things that could be a negative.
Reactie JobNimbus
3 jaar geleden
Thank you so much, Ryan! We're so glad we found you guys, too, and are excited to build more powerful features into your workflow. You guys rock! Affectionately yours, Nimbosa
Edwin P.
Production Manager in VS
Bouw, 11-50 werknemers
Heeft de software gebruikt voor: 2+ jaar
Overwogen alternatieven:
JobNimbus Review
Opmerkingen: I enjoy the CRM a lot of different customizable platforms within the system.
Pluspunten:
Great place to keep your projects organized
Minpunten:
The data input and how at first you have to add all of your products to the CRM
Geverifieerde reviewer
Tech & Development in Mexico
Geverifieerde LinkedIn-gebruiker
Bouw, 11-50 werknemers
Heeft de software gebruikt voor: 6-12 maanden
Overwogen alternatieven:
Great concept for construction companies - Massive room for improvement
Opmerkingen: JobNimbus was built specifically for construction companies and offers an end-to-end solution, from Lead Acquisition to Invoicing. It's extremely difficult to tweak and configure more "generalist" CRM's and Project Management apps to fit the construction industry workflows and specific steps, so there definitely is value in this software. Although it is far from perfect, it offers an almost ready-made solution for construction and roofing companies, allowing for a fairly quick onboarding.
The starting idea is great, but it is definitely perfectible. The biggest flaw with JoNimbus is the fact that it has different workflows for Contacts (homeowners and people in general), and for Jobs (actual work being performed). While it sounds great, once you dig a little deeper, you realize that the pre-defined statuses for Contacts and Jobs are the same! This, instead of creating clarity and differentiating both aspects of a job, leads to massive confusions with low-tech employees: if a Sales Rep saves a contract under a Contact instead of a job, the person looking for that contract under Job will not find it unless they look under Contact. It might be hard to understand if you have never used JobNimbus, but the bottom line is it creates (many) mix-ups.
Additionally, the mobile apps are so bad our people have stopped using them and are opening the desktop version on their mobile devices. All in all, we are better off with JN than without, but needs a lot of improvement.
Pluspunten:
- Designed specifically for Construction and Roofing companies - End-to-end solution, from Lead Acquisition to Invoicing (not advanced financials though, it won't replace your accounting software) - Highly customizable (although not as much as we'd like or need) - reasonably priced when compared to alternatives, no setup fees - Great customer support
Minpunten:
- Confusing workflows (more on that below) - Not the easiest program for people who are not tech-savvy, steep learning curve - TERRIBLE mobile apps (IOS & Android). It's so bad our field guys have resorted to opening the desktop version on their browsers - Custom template building somehow limited: no math formulas allowed, inserting tables and making them fit the page is a pain - The main dashboard and the constant notifications and task reminders are overwhelming instead of being useful
Obada A.
Site Civil Engineer in Jordanië
Bouw, 201-500 werknemers
Heeft de software gebruikt voor: 2+ jaar
it is equipped with everything I'll need to manage Our works
Opmerkingen: When it comes to monitoring the development of our clients' projects, we rely on JobNimbus. With Jobnimbus, we've had better and more productive communication among our team members. In order to keep our company afloat in any situation, it has given us the ability to operate remotely.
Pluspunten:
Using JobNimbus is a snap, and you'll be up and running in no time thanks to its flexibility and ease of customization. What I particularly like about JobNimbus is how simple it is to add tasks and contacts and how flexible the calendar is. You can see exactly what's going on with customers, and the timetable makes it easy to keep appointments and responsibilities on time.
Minpunten:
My main concerns are that I would want to see greater customization options in some areas, as well as upgrades to the mobile app so that we can do more processes with it.