PetroBase Pro
Wat is PetroBase Pro?
PetroBase Pro, customized around each operator, integrates accounting, production volumes, and well histories regardless of source. P
Minder informatie
Wie gebruikt PetroBase Pro?
Large or small Oil & Gas Operators or Exploration companies.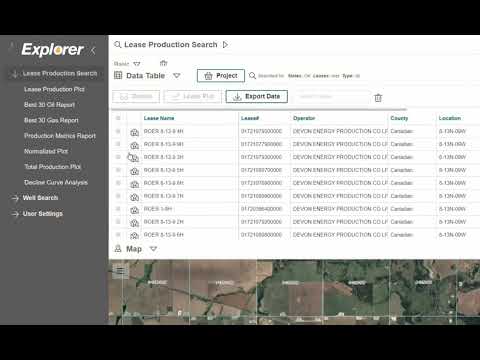 Twijfel je over PetroBase Pro? Vergelijk met een populair alternatief
Niet beschikbaar in jouw land
Geen prijsinformatie gevonden
Gratis versie
Gratis proefversie
Geen prijsinformatie gevonden
Gratis versie
Gratis proefversie
Waarom krijg ik dit te zien?
Alternatieven voor PetroBase Pro
Reviews over PetroBase Pro
Brent
Production Administrator in VS
Olie en energie, 11-50 werknemers
Heeft de software gebruikt voor: 2+ jaar
Production Administrator
Opmerkingen: [SENSITIVE CONTENT HIDDEN] is always a phone call away and I can depend on him to resolve any issues that rarely confront me. Go-To-Meetings allow [SENSITIVE CONTENT HIDDEN] to remotely take charge of the program and he instructs on how to resolve issues. PetroBase if the Best Tool for maintaining the pace we operate on.
Pluspunten:
Ease of use. Great for creating Daily Reports for Investors. Great features: Wellbore Diagram, Monthly Profit/Loss, Monitoring Downhole Problems, Chemical Usage, Populates a variety of Production matters. Great for importing data into other Engineering Software programs (PHDWin). The Rendition program is a great tool and expedites annual renditions in a matter of minutes. Tools allow for fine tuning of the annual declines. Contains many features that I have yet to learn and use.
Minpunten:
Can't think of anything. Once I get familiar with all the "bells and whistles" this program does, it is just a matter of remembering all the features.
Scott
VP Production in VS
Olie en energie, 11-50 werknemers
Heeft de software gebruikt voor: 2+ jaar
Petrobase Oilfield Software
Opmerkingen: Petrobase provides many helpful operational tools at an affordable price. These include electronic well files, production graphs, wellbore diagrams, operating expense analysis and Kansas Ad Valorem tax preparation.
Pluspunten:
Petrobase is an easy to use software that helps an E&P company manage all their lease, well and production data from their desktop computer. Besides organizing the data for quick retrieval, the software provides many useful ways to analyze the data, providing the operator various methods to make informed operational decisions that save both time and money. The features are extensive, from daily well reports to wellbore diagrams, daily & monthly production summaries and failure & expense reports. Also, The support from Petrobase is the best. Support is hands on, responsive and quick.
Minpunten:
There are no real cons with the software. Data input is sometimes cumbersome but that is true with any software.
Olie en energie, 11-50 werknemers
Heeft de software gebruikt voor: 2+ jaar
Colt Energy
Pluspunten:
Customized reports and ability to analyze large number of wells quickly
Minpunten:
Would be great to have ability to do more self-customization or report creation
Stacy
Office Manager in VS
Olie en energie, 11-50 werknemers
Heeft de software gebruikt voor: 2+ jaar
Easy to use
Opmerkingen: There is information on specific wells and leases that is easily accessible to office staff at any point in time. The automatic gauge sheet upload feature is wonderful. All staff members are able to find the information they need, and that has been very helpful for all departments. It is easy to look up failures, well production, well history, etc.
Pluspunten:
This software is easy to use. It is easy for the pumpers to input the raw data, and it is easy for the office staff to find and use the information. Reports are fairly easy to customize, and data entry is very user friendly.
Minpunten:
I would like to be able to do a little more customization, or have a little more flexibility on how reports are structured, on my user end.
Brent
Production Supt in VS
Olie en energie, 11-50 werknemers
Heeft de software gebruikt voor: 1-5 maanden
Outstanding
Opmerkingen: Overall our experience as been great so far. The staff at Petrobase are extremely helpful with technical questions that may come up. We honestly put our selves in a tough spot, by implementing this new system at the same time were rolling 300+ new wells into our production from an acquisition. It has been a challenge merging all the info from our original system and the company we bought out, but [SENSITIVE CONTENT HIDDEN] as been great at bringing everything together.
In just the first weeks of use, we have used some the analysis tools to identify over $20000 in expenses that normally would have required someone days of comparative analysis of chemical programs to chemical bills to identify as being in excess.
Pluspunten:
This software enables you to analysis an enormous amount of information, in a short period of time. While allowing everyone within the company to share data about each and every well, project etc, so real time decisions can be made.
Minpunten:
The absence of a true Phone App, that would at least allow you to access the data, even if you could not edit it.
Reactie PetroBase
3 jaar geleden
Thank you for your comments relating to future applications. Your suggestion is similar to our new Oil & Gas intelligence dashboards that are being beta tested. We look forward in working with you to make PetroBase better.