Wat is Olark?
Olark Live Chat is de gemakkelijkste manier om de klanten die je website bezoeken aan te spreken. Voeg een chatwidget van Olark toe aan je site om meer klanten te helpen en meer verkopen te sluiten. Olark kan worden geïntegreerd met een aantal CRM-, e-commerce- en helpdeskplatforms om je te voorzien van robuuste gegevens en krachtige klantinzichten.
Wie gebruikt Olark?
Olark Live Chat is ideaal voor kleine tot middelgrote bedrijven in uiteenlopende markten, waaronder detailhandel, e-Commerce, SaaS, onderwijs en meer.
Olark - Details
Olark
Opgericht in 2009
Olark - Details
Olark
Opgericht in 2009
Video's en afbeeldingen van Olark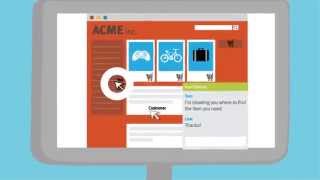 Vergelijk de kosten van Olark met soortgelijke producten
Vanaf
US$ 17,00/maand
US$ 19,00/maand
US$ 38,00/maand
N.v.t
Olark - implementatie en ondersteuning
Ondersteuning
E-mail/helpdesk
Veelgestelde vragen/forum
Kennisbank
Telefonische ondersteuning
Chatten
Implementatie
Cloud, SaaS, Web
Mac (desktop)
Windows (desktop)
Linux (desktop)
Windows (lokaal)
Linux (lokaal)
Chromebook (desktop)
Android (mobiel)
iPhone (mobiel)
iPad (mobiel)
Training
Live online
Webinars
Documentatie
Video's
Functies van Olark
@mentions
API
Aanpasbare branding
Activiteiten volgen
Activiteitendashboard
Autoresponders
Beheer van supporttickets
Beheer van vergaderingen
Bestanden delen
Bestandsbeheer
Bestandsoverdracht
Bewaking
CRM
Chatten/messaging
Communicatie via meerdere kanalen
Consumentgericht chatten in realtime
Contactenbeheer
Contentbeheer
Documenten opslaan
E-mailbeheer
Eenmalige aanmelding
Enquêtes en feedback
Geotargeting
Gestandaardiseerde antwoorden
Integraties van derden
Interactie bijhouden
Kalenderbeheer
Klantgeschiedenis
Live chatten
Markeren
Mobiele toegang
Offline formulier
Overdrachten en routering
Proactief chatten
Rapportage en analyse
Rapportage en statistieken
Realtime analyse
Realtime controle
Realtime meldingen
Samenwerkingstools
Scherm delen
Slepen en neerzetten
Taakplanning
Taakvoortgang bijhouden
Transcripten/chatgeschiedenis
Videovergaderen
Voortgang bijhouden
Websitebezoekers bijhouden
Workflowbeheer
Zoeken/filteren
Shayne H.
Director of Sales in India
Geverifieerde LinkedIn-gebruiker
Internet, 11-50 werknemers
Heeft de software gebruikt voor: 1-5 maanden
The Best Customer Service Add On!
Opmerkingen: Our company (which is a SaaS), started using Olark after we had major issues with another website chat client. Olark is way better and is definitely more reliable. Apart from work, I also use Olark for one of my e-commerce side businesses. Right now, it can easily be integrated with WordPress. Not sure about other platforms, though.
Pluspunten:
1) User-Friendly: I've found Olark to have a very simple and user-friendly interface for both - the recipient and the sender. 2) Affordability: Olark gives you the opportunity to look much bigger and way more professional than you already are! All of this at a very nominal price, of course. As of April 2019, Olark has one pricing model that can either be billed monthly, annually or for two years straight. As you choose a longer commitment, the prices reduce accordingly. Also, if you're not sure about what chat client is best suited for your business, you can always try Olark for 2 weeks, absolutely free. What I like the most is that there are no "Starter", "Pro", "Enterprise" discriminations! 3) Intelligence: Olark allows you to pre-assign quick responses that keep your customers from having to wait for an answer. Our employees love this feature because they don't have to type the same response again and again. Another smart feature is the notifications that our employees get when they leave their workstations and forget to log out. Olark gives the customer a quick response, giving them an option to send the chat as an email instead. This is great for a future follow-up. 4) Reporting Feature: Olark gives the administrator the option to assess the quality of an employees' chatting capabilities as well as his/her productivity levels. An employee can also learn from any feedback that's left by their customer with regard to their chat experience.
Minpunten:
1) No Image Sharing: This may not be a necessity for all businesses, however, we occasionally require our customers to send us screenshots of the issue that they are facing. This can help us serve them better. We have makeshift walkarounds for this, but having an image sharing option would be great. 2) One User At A Time: Unfortunately, only one user can be logged on to the agent at any given time. This could be a deal breaker larger businesses that have more than one customer care representative.
Santiago A.
Co Editor Chief in Venezuela
Geverifieerde LinkedIn-gebruiker
Marketing en reclame, 11-50 werknemers
Heeft de software gebruikt voor: Gratis proef
There is no better option today than Olark.
Opmerkingen: Every time a potential client came in, we noticed that soon after we left our portal, we began to prove that it was what was needed, and we noticed that the accompaniment in the purchase is fundamental, especially when it comes to highly specialized articles. We looked for options similar to Olark but none offered that great ability to adapt to our needs, so we decided to install their live chat platform and the results changed completely, from having visits of a few minutes to a secure sale after each interaction. Apart from that, we achieved an integration with another platform such as Slack, which has led the work team not to lose any sales, and at the same time, has integrated us more as a team for common purposes.
Pluspunten:
When working with businesses of all kinds, especially the one that is linked to sales and customer service, one of the aspects imposed by the criterion of a good or bad experience is customer service. That's why I like Olark a lot, because you can offer an exclusive experience, which translates into higher sales. Since we used Olark, we have attracted more people, because thanks to its platform, it allows you to respond in record time, all those doubts about your products or services. Another thing that I like, is the ability that offers you to customize the chat to the corporate image of your company. Also, when you start communicating with any visitor, it allows you to know valuable data for your work, information such as location and contact details. Live chat is so important to us, and the best option you can find is Olark.
Minpunten:
All their years of experience offer you a shielded commercial option, which makes me not identify negative aspects of their platform or their services, quite the contrary, I have compared them with others and greater are the profits, a marvel.
Jesse M.
Support Representative in VS
Financiële dienstverlening, 51-200 werknemers
Heeft de software gebruikt voor: 2+ jaar
Bron: SoftwareAdvice
Decent value but performance somewhat lacking
Opmerkingen: When Olark is functioning correctly, it's a decent tool. The service is affordable, and this has been the largest draw. Our organization uses it as an integrated chat support option and it has helped take our support to a higher level. Some issues arise however when our users contact our other support channels and report "not getting a response" which we determined to result from our rep's not receiving the text, simply open chats with no content. We have no way to determine when this is happening or why but it comes and goes sporadically. When the transcripts are later sent to our email inbox (another of their useful features) we see the conversation, but by then it's too late and our customers are already frustrated. We've kept it for over 2 years because we've built a lot of our other functionality around it, however the problems (such as not having accurate visibility of when other reps are online as another example) have continued and we will likely be seeking an alternative option.
Pluspunten:
Easy to use Through metrics and reporting Easily integrated with other ticketing and metrics tracking programs
Minpunten:
Unable to post images (from the chat rep side) Performance/ functionality somewhat inconsistent Limited ability to create personalized macros Agent visibility (knowing when teammates are online) often unreliable/ not functional
Ifeoma O.
Developer in Nigeria
Geverifieerde LinkedIn-gebruiker
1.001-5.000 werknemers
Heeft de software gebruikt voor: 2+ jaar
Easy to use support solution.
Pluspunten:
Olark is amongt the simplest helpdesk applications to try. It is intuitive and has a very short learning curve for new support staffs I have introduced to Olark. Olark has got an array of smart features , which helps the conversion rate on our website and also helps the sales team better improve the quality of customer service offered to customers and clients. I like the searchable transcript feature , which ensures every conversation between sales agents and web. visitors are saved in the cloud. Thereby allowing anyone on the sales team to search through the chat transcripts either for analysis purposes or to follow up on previous conversations. It has an efficient mobile approach ,which has ensures users who communicate with the website team via mobile phones, have a quality experience just as someone communicating via pc or tablet.
Minpunten:
Olark automatically closes open chat conversations if agents have not responded in over five minute. I wouldn't know why this was introduced ,however it does not do the sales team any good.
Crystal I.
Marketing Content Developer in VS
Geverifieerde LinkedIn-gebruiker
Verzekeringen, 11-50 werknemers
Heeft de software gebruikt voor: 1+ jaar
Best Live Chat
Pluspunten:
Olark is hands down the best chat software we have used based on functionality, ease of use, and price. We have used 2 other softwares and none compare to Olark. Olark is easy to customize to fit your website (color scheme, style, design, etc) and it is easy to use (for both back end and front end users). We found our users are more engaged when chatting to us through Olark.
Minpunten:
The only complaint we have is that we can't share seats. This makes sense. Olark doesn't want you to only purchase one seat, yet have multiple users using it. I guess we were blessed in the last software we used which allowed us to have 2 people for one seat. The other software failed in other regards though, so we are fine paying for multiple seats with Olark. I guess we actually have one more complaint: people who chat with you can upload screenshots, but not the other way around. We cannot upload screen shots into the chat while chatting with people. This makes it difficult sometimes. We have to explain via words where to click on our website or where to sign a document. We would love if a feature was developed where both front end and back end users could attach screenshots.