Wat is Zoho Recruit?
Zoho Recruit is een compleet online kandidatenvolgsysteem voor wervingsactiviteiten over de hele wereld.
Begint bij $ 25/maand.
Meld je nu aan voor een gratis proefperiode van 15 dagen.
Wie gebruikt Zoho Recruit?
Rekrutering- en personeelsprofessionals
Waar kan Zoho Recruit worden geïmplementeerd?
Cloud, SaaS, Web, Android (mobiel), iPhone (mobiel), iPad (mobiel)
Over de leverancier
Zoho
Opgericht in 1996
Telefonische ondersteuning
Chatten
prijzen van Zoho Recruit
Beginprijs:
US$ 25,00/maand
Ja, heeft een gratis proefversie
Ja, heeft een gratis versie
Zoho Recruit heeft een gratis versie en biedt een gratis proefperiode. Zoho Recruit heeft een betaalde versie vanaf US$ 25,00/maand.
Over de leverancier
Zoho
Opgericht in 1996
Telefonische ondersteuning
Chatten
Video's en afbeeldingen van Zoho Recruit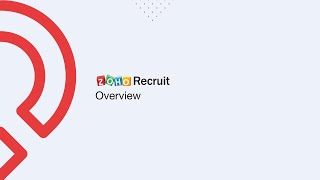 Vergelijk de kosten van Zoho Recruit met soortgelijke producten
Functies van Zoho Recruit
Aanpasbare branding
Aanstellen (van personeel)
Activiteitendashboard
Applicatiebeheer
Beheer van sollicitatiegesprekken
Beoordelingsbeheer
CRM
CV's zoeken
Campagnebeheer
Careers-pagina
Database met CV's
E-mailbeheer
E-mailmarketing
E-mailsjablonen
Integratie van sociale media
Interne HR
Marketing via meerdere kanalen
Opslag hervatten
Parseren hervatten
Prestatiemeetwaarden
Profielen van sollicitanten
Rapportage en analyse
Rapportage en statistieken
Samenwerkingstools
Sms-berichten
Sociale werving
Sollicitantenbeheer
Sollicitatiegesprekken plannen
Taakbeheer
Vacatures
Volgen van sollicitanten
Voor uitzendbureaus
Voor wervingsbureaus
Werven van talenten
Wervingsbeheer
Workflowbeheer
Zelfserviceportal
Alternatieven voor Zoho Recruit
Reviews over Zoho Recruit
Kim M.
Founder, Consultant, and Recruiting Business Partner in VS
Geverifieerde LinkedIn-gebruiker
Heeft de software gebruikt voor: 6-12 maanden
Start up business with no previous experience purchasing recruiting software/platform - Very happy!
Opmerkingen: Please read my review. It's faster ;)
Pluspunten:
With other programs, I felt restrictive with package tiers-v- budget (boxed in or obligated to spend the extra money). Whereas Zoho Recruit feels more intuitive - my learning curve follows the natural progression for wanting to expand on my business and functionality. How Zoho designed this expansion process allows the user to feel more intuitive and in control of upgrades. As a business owner, it allowed me to think of my next step and stage via expense-v-reward, and build into my business growth plan. It was something I was working towards as a business, instead of as a budget. Zoho Tech Support is awesome. I never feel as though I am a number, waiting for the tech ticket, or have information read to me from Google. Tech Support actually appears to know what they're talking about! They troubleshoot while I wait, reevaluate, and adjust until it's right. And if they can't resolve it right away, they promise they'll get back in a timely manner...AND THEY DO! It's the same Support person so the value of having established a short-term relationship is welcoming. This feels more human instead of automated and institutionalized; literally, the personal touch or white glove standard.
Minpunten:
I don't have any cons at this time, as I am still in a learning curve with adjusting recruiting model with module mapping, etc. The process has been positive and involves a LOT of customer service. My only con would be that issues found on weekend have to be held over until M-F. That creates a bottleneck for my activity, pushing weekend tasks into the "regular" work week. Please, open up a few weekend resolution hours!
Jaideep T.
Head of Product in India
Geverifieerde LinkedIn-gebruiker
Financiële dienstverlening, 11-50 werknemers
Heeft de software gebruikt voor: 2+ jaar
Using Zoho Recruit has streamlined Applicant Management for us like no other tool
Opmerkingen: Overall experience with Zoho Recruit is excellent. I would highly recommend it to anyone who is serious about building a team and tracking all the candidates passing through their system
Pluspunten:
Zoho Recruit is an excellent Application Tracking System that has streamlined my work and made my recruiting process very efficient. Every interaction with the candidate can be traced along with the history of conversation. This help tremendously when candidates reapply. The Hiring Pipeline allows me to customize the recruiting process and keep track of how candidates are moving through the recruiting process. The workflow rules allow me to create email triggers and save time on common rule based notifications to candidates. And the auto created job postings page makes it easy for me to post new job positions and capture candidate resume and data directly into my system without writing a line of code.
Minpunten:
Zoho's tiers are very rigid, and I would hope they would make their product more modular and allow customers to buy modules piecemeal. For a small startup, the professional and enterprise grade turn out to be very expensive, and we could easily trade some features we don't use for features we would like to use.
Geverifieerde reviewer
Instructional Technology Specialist in VS
Geverifieerde LinkedIn-gebruiker
Informatietechnologie en -diensten, 1.001-5.000 werknemers
Heeft de software gebruikt voor: 2+ jaar
Overwogen alternatieven:
Simply the best tool for staffing
Opmerkingen: It's inexpensive, effective, and customizable enough for any small or mid sized business.
Pluspunten:
Posting jobs is extremely easy with Zoho. Also, once they are posted I can check on multiple positions at once. From start to finish, I can track applicants, search qualifications, track interviews, and view offers.
Minpunten:
You need to be a somewhat computer savvy person to be able to navigate the system. Without prior knowledge of hiring systems, there's a steep learning curve for new users.
Brad D.
Partner in Canada
Gezondheid, wellness en fitness, 2-10 werknemers
Heeft de software gebruikt voor: 2+ jaar
Bron: SoftwareAdvice
Be Careful selecting this software to build your business
Pluspunten:
Front line customer support is excellent and they go above and beyond
Minpunten:
HORRIBLE Quality control. They keep releasing product that simply does not work!! Error codes at the very first step. And then they want you to get online with them and show them how their stuff is broken. I did this for 2 years and I am finally fed up with providing QC services to them when they CLEARLY do not have a functioning QC or testing regime. I am now 2+ years into the build out of our business and having to consider changing the core software that runs our business at immense costs in terms of time, training, business relationships etc. Not sure what I will do, maybe just screwed and have to put up with it for another 2 years. To be crystal clear, their front line support people are excellent - above and beyond and truly great to work with so it pains me to have to write this review. But fair warning their QC is BAD and you will spend a lot of time showing them how their product does not work.. Value for Dollar is good but if you expect this software to grow with you forget i. and pay a little more for something else.
Liza C.
HR Officer in Jordanië
Duurzaamheid en milieu, 201-500 werknemers
Heeft de software gebruikt voor: 2+ jaar
Unique, low-cost, flexible technology to organize recruitment procedures efficiently.
Opmerkingen: I really appreciate Zoho Recruit's help in tracking all stages of the recruitment process, it also made us pay more attention to all details, transparently sorting applicants' applications, in addition to preparing lists of eligible candidates, it also enabled us to organize correspondence with candidates and prepare and document assessments record.
Pluspunten:
I like the fact that Zoho Recruit is low in cost, and also enables us to get services comparable to similar high-cost platforms and enables us to coordinate job advertisements, receive applications, prepare lists of candidates and send them to schedule interviews, as well as prepare their own files that include interview results and recommendations of department heads with high efficiency. I love the fact that it is integrated with Zoho one , as well as Zoho CRM, which enables us to import, use and format data easily, and it has a distinct functionality panel that can be customized to suit our needs easily, and it also provides many templates that simplify the tasks greatly, and enables us to prepare for campaigns and setup Lists easily.
Minpunten:
I don't think there are any disadvantages, Zoho Recruit is low cost, you have all the capabilities that make us organize all phases of recruitment process easily, Zoho customer support is 24/7, and their response to requests and tickets doesn't take much time, Which always keeps us on the right track.