Wat is QT9 ERP?
ERP-software eenvoudig gemaakt. Verbind bedrijfsprocessen naadloos met elkaar met de cloudgebaseerde oplossing van QT9. QT9 ERP omvat onderling verbonden modules voor stuklijsten, klantenbeheer, leveranciersbeheer, boekhouding, verkooporders, verzending, facturering, voorraadbeheer, inkoop, taakplanning, werkvloerbeheer en meer. Zet tijdrovende taken op de automatische piloot met FDA 21 CFR Part 11 elektronische handtekeningen, e-mailherinneringen en realtime dashboards. Inclusief traceerbaarheid van kavel- en serienummer
Wie gebruikt QT9 ERP?
QT9 ERP is gebouwd voor allerlei soorten productie. Gespecialiseerd in medische apparaten, farmaceutica, werkwinkels, kunststof spuitgieten, ruimtevaart en algemene productie.
Waar kan QT9 ERP worden geïmplementeerd?
Cloud, SaaS, Web, Windows (desktop), Windows (lokaal), Linux (lokaal)
Over de leverancier
QT9 Software
Gevestigd in Aurora, VS
Opgericht in 2005
Telefonische ondersteuning
Chatten
Over de leverancier
QT9 Software
Gevestigd in Aurora, VS
Opgericht in 2005
Telefonische ondersteuning
Chatten
Video's en afbeeldingen van QT9 ERP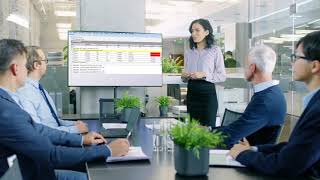 Vergelijk de kosten van QT9 ERP met soortgelijke producten
Functies van QT9 ERP
Aanpasbare facturen
Activabeheersysteem voor bedrijven
Activiteitendashboard
Afstemmen van inkooporders
Backorderbeheer
Belastingberekening
Bestellingen bijhouden
Budgettering/prognoses
CRM
Capaciteitsbeheer
Capaciteitsplanning
Cashbeheer
Catalogiseren/categoriseren
Cheques verwerken
Contactendatabase
Controle van goedkeuringsbeheer
Debiteurengrootboek
Documentbeheer
ERP
Elektronische geldoverdracht
Facturen opstellen
Factureren
Factuurgeschiedenis
Factuurverwerking
Financieel beheer
Geautomatiseerde planning
Gedeeltelijke betalingen
Gegevens importeren en exporteren
Gegevensvisualisatie
Geïntegreerde bedrijfsvoering
Geïntegreerde boekhouding
Historische verslaglegging
In- en uitchecken
Inkooporderbeheer
Inkooprapportage
Integratie in de administratie
Inventarisatie
Itembeheer
Klantenverhalen
Kosten bijhouden
Kwaliteitsbeheer
Kwaliteitscontrole
Leveranciersbeheer
Magazijnbeheer
Materiaallijsten
Nabestellingbeheer
Offertes
Online facturering
Orderbeheer
Orderinvoer
Orders afhandelen
Plannen
Planning voor materiaalvereisten
Prestatiemeetwaarden
Productidentificatie
Productiebeheer
Productiekosten
Productieplanning
Productplanning
Prognose
Rapportage en analyse
Rapportage en statistieken
Retourbeheer
Sourcingbeheer
Streepjescodes/RFID
Supply-chainbeheer
Terugkerende orders
Tijdsverloop van openstaande facturen bijhouden
Toegangsopties/machtigingen
Traceerbaarheid
Uitgavenbeheer
Veranderingsbeheer
Vervoersbeheer
Verwerking van overbetaling
Voorraad bijhouden
Voorraad bijvullen
Voorraadauditing
Voorraadbeheer
Voorraadoptimalisatie
Voorspellen van de vraag
Vorderingenbeheer
Waarschuwing bij dubbele betaling
Waarschuwingen/Meldingen
Wat-als-analyse
Zoeken/filteren
Alternatieven voor QT9 ERP
Geverifieerde reviewer
Operations Manager in VS
Geverifieerde LinkedIn-gebruiker
Voedselproductie, 11-50 werknemers
Heeft de software gebruikt voor: 2+ jaar
Overwogen alternatieven:
Bought Years ago (2017) Good Value for ERP and pretty easy to navigate overall
Opmerkingen: It's been good. It's our own companies fault we haven't maximized the potential of the software due to lack of staffing. [SENSITIVE CONTENT HIDDEN] is always helpful when starting up and they had a great support staff (especially [SENSITIVE CONTENT HIDDEN]). I know he isn't there anymore. I haven't built up enough chemistry with the new support staff so I can't really comment too much on them but overall they seem to be doing very well so I take it they are good too.
Pluspunten:
Overall the flow of the software is very easy to follow. I remember shopping for an ERP system around 3 years ago and this was by far the simplest to use and was also by far the cheapest as well which is obviously another great plus. I know it may be silly but I love the manual is always available to look at in a link. I don't use the software everyday anymore so when I get on it, it is always helpful to get a refresh if I forgot to do something say when adding a new product or process.
Minpunten:
Small things I feel like can be improved. I think the biggest one to me is for sales orders the product you are selling can only show up in the primary UOM. For example we have some products we use for manufacturing and sell them as well. For example, in our plant we use white sugar and also sell it to local customers. UOM white sugar is in lbs, when I sell the local customer a bag of sugar as well, the sales order defaults to lbs of sugar as opposed to being able to switch it off in that case to a bag of sugar. I always found that annoying because I think that is something that can easily be switched.
Reactie QT9 Software
2 jaar geleden
Thanks for the positive review! We appreciate you taking the time to share your feedback, and we are glad to hear you find the QT9 ERP easy to navigate. Hopefully we can help you maximize the included features soon. Please feel free to reach out to our team at anytime. Thanks again!
Ryan K.
Production Coordinator in VS
Plastics en kunststoffen, 51-200 werknemers
Heeft de software gebruikt voor: 2+ jaar
Overwogen alternatieven:
Best ERP Value
Opmerkingen: Production scheduling and shipping is so much easier than the pen, paper, and spreadsheet way. Prior to using QT9 we would have to break into production runs to complete missed or late orders. Those are now issues of the past, any break in production runs are now due to a customers request. Investing money into QT9 and using all the functions has been the biggest business improvement we've had. From Sales Orders to Shipping all the information needed is in one place. Production runs very efficiently. If you have a small to medium sized company still operating the old way please look into QT9 to solve many of the issues you're having from purchasing, sales, production, and shipping. We found to meet our customers demands we didn't need to add additional machinery, just improve the production efficiency of what we already had.
Pluspunten:
The software is easy to use for all users regardless of their computer skill level. It has reduced paperwork, increased productivity, and given us visibility into a packed warehouse.
Minpunten:
There are no glaring issues with the software. QT9 is constantly being improved and their support team is good about integrating feature requests.
Reactie QT9 Software
2 jaar geleden
Ryan - Thank you very much for taking the time to write up your positive review for QT9 ERP. We appreciate it. We are happy to hear users find the software easy to use, and that it has helped increase your efficiency!
Joshua P.
Vice President of Operations in VS
Plastics en kunststoffen, 11-50 werknemers
Heeft de software gebruikt voor: 2+ jaar
Overwogen alternatieven:
QT9 is an Effective and Powerful Software
Opmerkingen: QT9 is a very user friendly software. We had previously used Epicor and found it to be overloaded with unnecessary modules which slowed our overall efficiency. The navigation is intuitive and allows for better overall understanding of the processes within our organization.
Pluspunten:
Excellent customer service and training. The navigation within the software is intuitive and improves our efficiency. There are no hidden fees or extra features which require additional modules, the software came complete with everything we needed to run our organization. There are many features which allow users to see full screens of information rather than item by item like other software.
Minpunten:
Coming from an ERP software which more utilizes Standard Costing methods, QT9 implements Normal Costing Methods. While this gives us a better understanding of our actual costs, it required us to change many of our procedures and processes outside the ERP system. There are also some navigation menus that require a bit more understanding to fully utilize than we originally planned when we first implemented QT9.
Reactie QT9 Software
3 jaar geleden
Josh - Thank you for the positive review. We are happy to hear you have had a good experience with our customer service and training!
Farmaceutica, 11-50 werknemers
Heeft de software gebruikt voor: 6-12 maanden
Overwogen alternatieven:
EASY IMPLEMENTATION WITH GOOD CUSTOMER SERVICE SUPPORT
Opmerkingen: In previous companies I have worked with SAP Business One and SAP R3 (they both very good options). But I could mention the QT9 software was design to get a easier implementation understanding the most of requirement of manufacturing companies.
Pluspunten:
The most impressive feature for us is the Cloud Data Base. We did not have to install a server in the company or keep a engineer checking the network. Another feature is the shop floor manager. This application is very easy for production employees to use and will helped us improve the traceability of materials for production orders.
Minpunten:
I think one area for improvement could be make easier the setting of the production schedule (the calendar).
Reactie QT9 Software
2 jaar geleden
Thank you for the positive review Augusto! We are happy to hear you like the Shop Floor Manager. Please reach out to us if you or anyone new on your teams needs training.
Plastics en kunststoffen, 2-10 werknemers
Heeft de software gebruikt voor: 2+ jaar
QT9 ERP
Opmerkingen: I have heard about the benefits specifically of using the QT9 for ISO applications and how QT9 has been an incredible time saver. For me and sales, it has been a great program.
Pluspunten:
I am mostly in sales and I like the ability to put together quotes for customers and also to search closed orders to help in my sales efforts. QT9 is very easy for me to work with.
Minpunten:
I am not real big on how the quotes get closed to pricing and locked. I like to be able to continually work on quotes as I am selling over time. This is probably more a personal choice as I understand that others like that feature.
Reactie QT9 Software
2 jaar geleden
Nick - Thank you for sharing your positive review of QT9 ERP! We appreciate you taking the time to share your feedback. Please feel free to reach out to our team anytime.