Wat is Kickserv?
Gebouwd en vertrouwd door professionele servicebedrijven. De gebruiksvriendelijke en betaalbare software voor lokale servicebedrijven met 1-25 werknemers.
Compleet projectbeheer: planning, beheer van leads, schattingen, uitvoer van volledige opdrachten vanuit het veld, facturen, betalingen en meer. Volledig geïntegreerd met Quickbooks. Ook is het een bewezen platforms om je serviceactiviteiten mee te vereenvoudigen en te beheren.
Al meer dan 20 jaar vertrouwd door duizenden servicebedrijven.
Wie gebruikt Kickserv?
Het servicebedrijf dat op papier gebaseerde processen wil elimineren, meer leads wil converteren, leads en kansen beter wil volgen en benutten, de controle wil krijgen over projectplanning en de facturering en incasso van geld wil stroomlijnen.
Waar kan Kickserv worden geïmplementeerd?
Cloud, SaaS, Web, Windows (lokaal), Linux (lokaal), Android (mobiel), iPhone (mobiel), iPad (mobiel)
Over de leverancier
KickServ
Gevestigd in Mill Valley, VS
Telefonische ondersteuning
Chatten
Beschikbaar in deze landen
Australië, Canada, Verenigd Koninkrijk, Verenigde Staten
Over de leverancier
KickServ
Gevestigd in Mill Valley, VS
Telefonische ondersteuning
Chatten
Beschikbaar in deze landen
Australië, Canada, Verenigd Koninkrijk, Verenigde Staten
Video's en afbeeldingen van Kickserv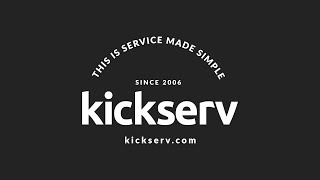 Vergelijk de kosten van Kickserv met soortgelijke producten
Functies van Kickserv
Aanpasbare sjablonen
Activiteiten volgen
Activiteitendashboard
Afspraakplanning
Apparatuur bijhouden
Apparatuurbeheer
Beheer van technici
Beschikbaarheidsbeheer
Betalingen innen in de buitendienst
Betalingen verwerken
Biedingsbeheer
CRM
Communicatiebeheer
Contactendatabase
Contract- en licentiebeheer
E-mailbeheer
Elektronische betalingen
Elektronische handtekening
Factureren
Factuurbeheer
Financieel beheer
GPS
Geautomatiseerde planning
Intakebeheer
Integratie in de administratie
Integraties van derden
Interactie bijhouden
Kalenderbeheer
Klantenbeheer
Klantendatabase
Klantgeschiedenis
Leads beheren
Mobiele app
Mobiele toegang
Mobiele waarschuwingen
Offertes
Onderhoudsplanning
Ongediertebestrijding bijhouden
Online tijdklok
Personeelsbeheer
Personeelsplanning
Plannen
Preventief onderhoud
Productiekosten
QuickBooks-integratie
Realtime planning
Reparatietickets
Reserveringsbeheer
Routering
Schattingen
Servicegeschiedenis
Taakbeheer
Taakplanning
Terugkerende afspraken
Tijd bijhouden
Verzendbeheer
Voor commerciële en/of industriële installateurs
Voor de installatiebranche
Voor ongediertebestrijders
Waarschuwingen/Meldingen
Werkorderbeheer
Werkorders maken
Zelfserviceportal
Alternatieven voor Kickserv
Ted S.
Vice President in VS
Geverifieerde LinkedIn-gebruiker
Bouw, 2-10 werknemers
Heeft de software gebruikt voor: 2+ jaar
Excellent functionality and ease of use
Opmerkingen: Kickserv offers us the opportunity to quickly reschedule and update work orders in real time. The Quikbooks integration saves us time and money because we only enter customer info once.
Pluspunten:
Kickserv enabled us to scale up the business and offers us excellent tracking for billing, communication, and customer service.
Minpunten:
There are no issues or downside for my company.
Reactie Kickserv
4 jaar geleden
Thank you Ted. Your loyalty and willingness to take a moment to give us feedback is worth a lot to us. I hope it also helps others. Cheers!
Doug H.
General Manager in VS
Muziek, 11-50 werknemers
Heeft de software gebruikt voor: 2+ jaar
Servicing Company - Long-time User
Opmerkingen: Generally very good.
Pluspunten:
- As a CRM software, we are able to manage all of our customers, scheduling, invoicing and reporting (not as bookkeeping or Financial Statements) in a generally good way. - The inter-connectionedness of the various parts of the software makes it easy to navigate from one function to another. - Although there has been some down time (which can be very difficult because we cannot function), but over the long-term it has not be crucial. Being an online CRM allows me to use any device. - We are able to save virtually anything (pics, docs, etc.) for future use, which has been crucially important to us. - The integration with Stripe for payment from our customers is now essential to our processes. It has worked flawlessly, easy to use, and easy to deal with Stripe for various things we need to do, including refunds. - It works well for both our field service and in-shop jobs. This is crucial because using two systems would be very difficult. -We are easily able to tailor the Products/Services, pricing, descriptions, to our specific needs - not being locked into some format that we don't like.
Minpunten:
- Support is sometimes tedious. - New features added (if we find out about them at all) can be very disruptive to our processes, and confusing. While some of them make sense in a wider world, they sometimes are baffling and frustrating in our business. - We have 2 locations (and hope to have many more) and need to have separate systems. Kickserv requires us to use separate browsers for each. How are we going to be able to do that with 5 or 10 locations? And we're finding that some functions (e.g. access to support!) are no longer working on Firefox, one of the best and most popular browsers available. This is a serious problem for us. - Although a great deal of our business is field work, we do not/cannot use the mobile app with our techs because it is far too limiting. They need to be able to access much more information than what is available to them, and so we have them login through a browser on their phones. - There are essential functions that we have to do in business that Kickserv has not been able to program into the system (even when we offered to pay big $ to get them). E.g. There are several email templates, and auto sending emails: We need one to be sent as a follow up to Jobs, and another (sent out 6 or 12 months later) to remind people to schedule services . We have to do all of this manually, and would love to find a way to get it done automatically. Summary: Some things are hard to get into the software that other companies would also make good use of.
Reactie KickServ
7 maanden geleden
Thank you Doug for your continued support and taking the time to leave us some feedback. We greatly appreciate it. Know that your feedback does not fall on deaf ears and we are always working on ways to improve Kickserv.
Linda W.
ADMINISTRATIVE ASSISTANT in VS
Consumentendiensten, 2-10 werknemers
Heeft de software gebruikt voor: 2+ jaar
Great Software
Opmerkingen: I am a lot more comfortable with the software now. However, in the beginning I used customer support A LOT. They were always prompt and helpful, which is a treat when learning a new software.
Pluspunten:
I love the ease of use and the ability to create a customer account and follow it through from the iniital contact, scheduling an estimate and the actual work itself, keeping track of payments, keeping track of customer services/purchases , downloading customer job information and sending out receipts. For me, who does not a very good memory, the reminder notes is paramount. I refer to them multiple times during a job and these notes have saved me many times because I do a lot of followup and the ability to pull up each day's followup notes is just great. I don't generally tend to miss a beat with my customer service - all because of Kickserv!!
Minpunten:
The only think I can think of, based on what I use, is being able to get to the Reminder section as quickly as I want to. If I am in the Job section, I have to go back to the customer name and then go to the Reminder section. Not a BIG deal, just a little glitch.
Reactie KickServ
2 maanden geleden
Another satisfied customer of Kickserv. I agree with the use of the reminders. I have so much to remember and the reminder of notes is a great way to never miss task or a follow-up. Thank you Linda.
Josh B.
Support mananger in VS
Informatietechnologie en -diensten, 11-50 werknemers
Heeft de software gebruikt voor: 2+ jaar
Lack of response to concerns. Converted us to new platform a day early while open.
Opmerkingen: Our experience with this software was average until the migration from SSK to Kickserv. 1) Our migration was scheduled for the evening of 2/2/17 but instead was run during the morning.
2) This resulted in us not being able to access our entire database for the entire workday. We lost customers and business as a result.
3) The only response we have gotten from Kickserv is "Sorry about the confusion".
4) Responses to issues about the new platform are not helpful and delayed.
5) Cannot upload certain file-types as attachments (Old SSK allowed anything)
6) Editing estimates does not work correctly
7) There are problems with payment capturing in Kickserv. Kickserv seems to ignore some line items.
8) When asked how to permanently complete tasks for re-occurring jobs, the only response I got was "Let me see if I can explain how to do this one".
9) None of our questions or issues have been resolved.
Pluspunten:
drag and drop capabilities
Minpunten:
Since switching over to the new platform, there are issues with billing and attaching. Customer support is not helpful
Reactie Kickserv
5 jaar geleden
The experience you had with the migration of your account was very unfortunate. Having your system not available during your working hours is a serious issue and we apologize for that error. We did work with your co-worker on the phone to handle the major issue which was mainly getting the sync working successfully again. To acknowledge some of your comments here we currently don't restrict file types. I have requested for your company to send us any file types that seem to not upload. Also, with the issues of editing estimates and capturing certain line items we are not aware of any issues and appreciate any specific feedback on these issues through the normal lines of support at any time. We will clarify with you on what occurred exactly with your earlier question via our support lines of how to complete tasks for re-occurring jobs. We very much appreciate your loyalty with us and hope we can make up for the disruption to your business as we move forward.
Facilitaire diensten, 2-10 werknemers
Heeft de software gebruikt voor: 2+ jaar
Simple, affordable work managment software
Opmerkingen: I tested several work order managment products before choosing Kickserv as my platfoem. Makes scheduling, timecards, and customer history a non headache for me and my business. Totally love the product!!
Pluspunten:
Kickserv is great for customer managment. Easily see past and future work orders for all customers. Love the ability to add attachments to customer profile and work orders. Great database.
Minpunten:
I have no dislikes. I would like to have the ability to select which items are shared per work order via the customer portal.
Reactie KickServ
2 maanden geleden
Hey Braeden, 10/10, all the stars, and no dislikes! We are grateful for the review. We are glad to hear that you love our product and that Kickserv is meeting your expectations. When you have some time send me an email at [email protected] so that I can get some more information about your request and we can submit it to our product team as a feature request! Thank you again for your review and for being a part of the Kickserv family.