Wat is Lightspeed Retail?
Lightspeed Retail POS is een alles-in-één cloudgebaseerde mobiele oplossing die de manier stroomlijnt waarop je klanten ondersteunt en je bedrijf runt over meerdere locaties. Beheer je inventaris, klanten, werknemers en verkopen vanaf je laptop, iPad of mobiele telefoon. Accepteer alle betaalmethoden en verkort je afrekentijd in de winkel en online. Bespaar tijd door geïntegreerde inkoopcatalogi te gebruiken. Neem gegevensgestuurde beslissingen om je bedrijf te laten groeien door kosten en oude voorraad bij te houden en lage voorraadmeldingen te automatiseren.
Wie gebruikt Lightspeed Retail?
De functionaliteiten van Lightspeed zijn afgestemd op de prioriteiten van detailhandelaars en restauranthouders. Het vereenvoudigt de dagelijkse taken, zodat je je kunt concentreren op wat er belangrijk is: bedrijfsgroei en klantervaring.
Waar kan Lightspeed Retail worden geïmplementeerd?
Cloud, SaaS, Web, Mac (desktop), Windows (desktop), Linux (desktop), Chromebook (desktop), iPad (mobiel)
Over de leverancier
Lightspeed
Gevestigd in Montreal, Canada
Opgericht in 2012
Telefonische ondersteuning
24/7 (contact met medewerker)
Chatten
Beschikbaar in deze landen
Canada
Talen
Duits, Engels, Frans, Nederlands
prijzen van Lightspeed Retail
Beginprijs:
€ 69,00/maand
Ja, heeft een gratis proefversie
Geen gratis versie
Lightspeed Retail heeft geen gratis versie maar biedt wel een gratis proefperiode. Lightspeed Retail heeft een betaalde versie vanaf € 69,00/maand.
Prijsmodellen
vraag een gratis proefversie aan
Over de leverancier
Lightspeed
Gevestigd in Montreal, Canada
Opgericht in 2012
Telefonische ondersteuning
24/7 (contact met medewerker)
Chatten
Beschikbaar in deze landen
Canada
Talen
Duits, Engels, Frans, Nederlands
Video's en afbeeldingen van Lightspeed Retail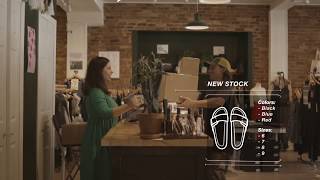 Functies van Lightspeed Retail
API
Aanpasbare velden
Activiteitendashboard
Administratie
Beheer van cadeaubonnen
Beheer van retailvoorraad
Betalingen verwerken
CRM
Catalogiseren/categoriseren
Contentbeheer
E-mailmarketing
Elektronische betalingen
Factureren
Gegevens importeren en exporteren
In- en uitchecken
Inkooporderbeheer
Integratie in de administratie
Integraties van derden
Inventarisatie
Itembeheer
Kanaalbeheer
Klantenaccounts
Klantenbeheer
Klantendatabase
Kortingsbeheer
Kosten bijhouden
Leveranciersbeheer
Loyaliteitsprogramma
Maatwerk
Marketing via meerdere kanalen
Mobiele toegang
Multilocatie
Nabestellingbeheer
Orderbeheer
Personeelsbeheer
Prijsbeheer
Productbeheer
Productidentificatie
Promotiebeheer
Rapportage en analyse
Rapportage en statistieken
Retailbeheer
Retourbeheer
Retouren bijhouden
SEO-beheer
SSL-beveiliging
Serienummers volgen
Streepjescodes en tickets scannen
Streepjescodes/RFID
Touchscreen
Transactiegeschiedenis
Verkooppunt
Verkooprapporten
Verwerking van creditcards
Voor bakkerijen
Voor de detailhandel
Voor iPad-apparaten
Voor mkb-bedrijven
Voorraad bijhouden
Voorraadauditing
Voorraadbeheer
Voorraadoptimalisatie
Websitebeheer
Winkelwagen
Zoeken/filteren
eCommerce-beheer
Alternatieven voor Lightspeed Retail
Reviews over Lightspeed Retail
Zondre W.
General Manager in VS
Geverifieerde LinkedIn-gebruiker
Detailhandel, 11-50 werknemers
Heeft de software gebruikt voor: 1+ jaar
Great integrated system
Opmerkingen: Lightspeed has been great. We have been using it for over a year and it has met my expectations. Whenever I request help, which isn't that often anymore they are quick to respond.
Pluspunten:
The best feature of LIghtspeed is the analytics package. As a senior manager you can spend a lot of time calculating your performance manually in excel. But the Analytics package takes care of all of that. It's easy to see the performance of your inventory, employees and marketing at any time. There are also a lot of apps that work with Lightspeed that make it the most functional POS system I've used. The fact that the ecommerce is integrated as well makes it a great fully integrated system. You could pay a lot more to piece together all the of the systems you need. Or you could spend a huge amount of money creating a custom system.
Minpunten:
There are some small idiosyncrasies like not adjusting sync times for your local time zone. So, yesterday is never accurate you have to wait for the next days sync to get have accurate information. I would also like to be able to have our time management app sync employee time to Lightspeed so we don't have to enter it manually. I've given up on tracking employee hourly performance for this reason. Or if they offered a better time clock management natively that would help. I'd also like them to include the previous year comparisons in their dashboard. And, I'd like to look at seasonal performance rather than just month to month and week to week.
Overwogen alternatieven: Clover, Shopify POS en Vend
Redenen om voor Lightspeed Retail te kiezen: I wanted a cloud based integrated system
Overgestapt van: Clover, Shopify POS en Vend
Redenen om over te stappen op Lightspeed Retail: I looked at a couple of others too that I can't remember. A lot of them had great features, but none of them had all of the features to have a fully integrated system for our customers to shop online or in person. And, none of them had the analytics tools that Lightspeed has.
Elizabeth C.
General Manager in VS
Recreatieve faciliteiten en diensten, 11-50 werknemers
Heeft de software gebruikt voor: 6-12 maanden
Fantastic product for any retail business. Excellent value.
Opmerkingen: Overall, I think Lightspeed Retail is an excellent product and very simple for most any retail operation. I highly recommend it to colleagues for their POS/Inventory/eCom solutions.
Pluspunten:
Creating items and managing retail is very easy through Lightspeed Retail. The reporting features allow you to make great decisions for your business based on accurate data. Anytime I need help with something or am unsure as to how to do something regarding any feature of Lightspeed Retail, support is only a click away through the helpful chat feature. They are almost always immediate to respond and always kind and patient with any question.
Minpunten:
Understanding how retail communicates with eCom is a little intimidating at first and simply took a minute to wrap my head around how it links together. Discounting could be a little more straight forward too but overall ok.
Overwogen alternatieven: GolfNow en IBS CLUB
Redenen om voor Lightspeed Retail te kiezen: There was nothing straight forward or easy about Club Prophet and their retail system. Everything was antiquated and reporting was challenging.
Overgestapt van: CPS Point of Sale
Redenen om over te stappen op Lightspeed Retail: Lightspeed offered everything we need as a whole for our golf operation including tee sheet management, retail, website, marketing, and more.
Olivier G.
Déplorable in België
Restaurants, 2-10 werknemers
Heeft de software gebruikt voor: 2+ jaar
Déplorable
Opmerkingen: Facile mais suivi produit et assistance nulle, prix prohibitif et à la limite du chantage commercial pour certaines de leur pratique, à fuir de toutes urgences, pour le marché Belge, il existe des alternatives intéressantes.
Pluspunten:
Facile d'utilisation et rapide, c'est tout mzis il existe mieux sur le marché.
Minpunten:
JE VOUS PRÉSENTE UN MESSAGE RESTER LETTRE MORTE POUR L'INTÉRESSÉ, PAS DE COURAGE POUR RÉPONDRE SI CE N'EST PAR COLLÈGUE INTERPOSÉ, FUYEZ PLUS QUE TOUT CETTE BOÎTE QUI N'HÉSITERA PAS UN INSTANT À AUGMENTER CES PRIX UNILATÉRALEMENT SANS JUSTIFICATION ET AVEC UN SERVIÇE D'ASSISTANCE DÉPLORABLE. AU PASSAGE, IL EXISTE DES SOLUTIONS AVEC LE MÊME SERVICE À MOITIÉ PRIX, N'HÉSITEZ PAS À ME CONTACTER POUR DE PLUS AMPLES INFORMATIONS. Bonjour Mr Kerkhove, Primo une semaine après plusieurs sollicitations de ma part en vocale et par courriel pour répondre à une question basique, vous vous appelez Lightspeed ! Votre chantage sur les augmentations de prix de vos abonnements est scandaleux et totalement injustifié. Vos tarifs sur votre terminal de payement sont déments aux vues des conditions du marché des payements par carte. Je n'espère pas de réponse de votre part avant 5 ou 6 jours ouvrable si du moins vous pouvez m'opposer un argumentaire valable. N'oubliez pas que les paroles s'envolent et que les écrits restent ! Dois-je confirmer mon désir de résilier par un autre moyen que cet échange de courrier ? C'est bien noté et la facture sera acquitté comme il se doit. Compter sur moi pour vous faire une publicité d'enfer autour de moi afin de vous faire perdre un maximum de clients. Je m'y attèlerai dès demain en allant voir vos partenaires de la place Fernand Cocq, votre concurrence a gagné un représentant commercial gratuit.
Reactie Lightspeed
4 weken geleden
Hi Olivier, Thank you for your feedback. We are sorry to hear that you were less than satisfied with your recent experience with Lightspeed. It is our utmost priority to provide a product and service that allows our customers to focus on running their businesses with ease. Someone will be reaching out to you once more to discuss your request further and next steps. Thank you, Lightspeed Commerce
Detailhandel, 2-10 werknemers
Heeft de software gebruikt voor: 6-12 maanden
Easy Switch to Lightspeed Retail
Opmerkingen: Overall it has been an easy switch and easy to use software.
Pluspunten:
The fully integrated credit card payments has been wonderful, not having to use two separate systems to complete the sale has been great. Also the integrated inventory between retail and ecom has been great. Sell it in one place and inventory get adjusted across all platforms. Also the ability to use multiple registers at once and complete payments at the same time has been a life saver.
Minpunten:
The additional cost for some of the features in the ecom, such as different layouts for the website that would incorporate things such as reviews on other websites. The limited analytical information you have at your disposal without having to pay for lightspeed analytics.
Overwogen alternatieven: The Edge, MicroBiz Cloud POS, WinJewel en PIRO Fusion
Redenen om voor Lightspeed Retail te kiezen: Lack of options, no website integration. Multiple registers and credit card terminals.
Overgestapt van: The Jewelry Shopkeeper
Redenen om over te stappen op Lightspeed Retail: Features that were part of the standard cost. No crazy one time fees to import inventory, customers, and vendors. Built in website designer and integrated inventory and payments.
Kleding en mode, 2-10 werknemers
Heeft de software gebruikt voor: 1-5 maanden
Bron: SoftwareAdvice
Horrible Customer Service
Opmerkingen: After making our first sales we were told we would have to wait 2 weeks to get our first deposit.
We understood and gave them time even though that seemed like a very long time to wait for a startup.
Unfortunately we never got out money. We were not informed anything was wrong and only when we realized we should have been paid by then did we call and ask what was wrong. We did the run-around with their support team for more than a week and STILL have not gotten paid. They are very bad at response time and when you sit on the phone you can't talk to anyone except a support member who knows nothing beyond how to help with the software. Good luck getting an email to anyone in the payments office or even have anyone in the office on a random Monday because it's a "holiday"?
We had to threaten twice that we would be moving companies before we got any sort of reassurance we would be helped within the next day. We have had to close our shop for a week now losing sales and making our potential investors skeptical of our business because of Lightspeed's mess up.
Pluspunten:
The System was very use friendly and I am sad to say I will have to go with another company because the customer service was so poor.
Minpunten:
Customer service is worse than anything we have experienced with more than 20 years in running a business.
Overwogen alternatieven: Epos Now en GoDaddy Website Builder
Redenen om over te stappen op Lightspeed Retail: Functionality and features. Retail and E-com in one package.
Reactie Lightspeed
vorige week
Hi Miguel, Thank you for your feedback. We are sorry to hear that you were less than satisfied with your recent experience with Lightspeed. It is our utmost priority to provide products and services that allow our customers to focus on running their businesses with ease. Someone will be reaching out to you once more to discuss your request further and any next steps. Thank you, Lightspeed Commerce