Jitbit Helpdesk
Wat is Jitbit Helpdesk?
Jitbit Helpdesk is een geweldige helpdesk-app met een duidelijke UI en een eenvoudig instellingsproces. Alle functies zijn echter aanwezig: automatiseringsengine, bestandsbijlagen, integraties (JIRA, Slack, Dropbox, Github enz.), e-mailintegratie, kennisbankmodule, enz.
Jitbit Helpdesk wordt zowel aangeboden als een SaaS-versie als een on-premises hulpprogramma dat lokaal op een server wordt geïnstalleerd.
Wie gebruikt Jitbit Helpdesk?
Jitbit richt zich op zowel startups als kleine zelf gefinancierde bedrijven en grote ondernemingen met meer dan 50 supportmedewerkers.
Jitbit Helpdesk - Details
Jitbit
Opgericht in 2005
prijzen van Jitbit Helpdesk
Beginprijs:
US$ 29,00/maand
Ja, heeft een gratis proefversie
Geen gratis versie
Jitbit Helpdesk heeft geen gratis versie maar biedt wel een gratis proefperiode. Jitbit Helpdesk heeft een betaalde versie vanaf US$ 29,00/maand.
Prijsmodellen
vraag een gratis proefversie aan
Jitbit Helpdesk - Details
Jitbit
Opgericht in 2005
Video's en afbeeldingen van Jitbit Helpdesk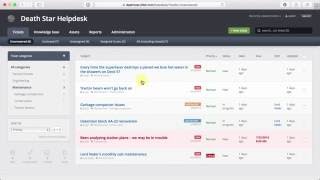 Jitbit Helpdesk - implementatie en ondersteuning
Ondersteuning
E-mail/helpdesk
Veelgestelde vragen/forum
Kennisbank
24/7 (contact met medewerker)
Chatten
Implementatie
Cloud, SaaS, Web
Windows (desktop)
Linux (desktop)
Windows (lokaal)
Linux (lokaal)
Android (mobiel)
iPhone (mobiel)
iPad (mobiel)
Training
Live online
Documentatie
Video's
Functies van Jitbit Helpdesk
API
Aanpasbare branding
Aanpasbare formulieren
Aanpasbare rapporten
Aanpasbare sjablonen
Aanpasbare velden
Activiteiten volgen
Activiteitendashboard
Beheer van IT-assets
Beheer van Service Level Agreements (SLA's)
Beheer van supporttickets
Bewaking
CRM
Callcenterbeheer
Chatten/messaging
Communicatie via meerdere kanalen
Documenten opslaan
E-mailbeheer
E-mailsjablonen
Enquêtes en feedback
Feedbackbeheer
Geautomatiseerde routing
Gegevens importeren en exporteren
Helpdeskbeheer
Integratie van sociale media
Integraties van derden
Interactie bijhouden
Kennisbankbeheer
Klantendatabase
Klantenportal
Klantgeschiedenis
Live chatten
Macro's/reacties via sjablonen
Netwerkcontrole
Ondersteuningstickets bijhouden
Prestatiemeetwaarden
Priorisering
Rapportage en analyse
Rapportage en statistieken
Realtime chatten
Realtime meldingen
Ticketbeheer
Toegang en controle op afstand
Toegangsopties/machtigingen
Waarschuwingen / Escalatie
Waarschuwingen/Meldingen
Workflowbeheer
Workflowconfiguratie
Zelfserviceportal
Matt F.
Telecoms Engineer in VK
Geverifieerde LinkedIn-gebruiker
Telecommunicatie, 11-50 werknemers
Heeft de software gebruikt voor: 2+ jaar
Fantastic Self Host Helpdesk
Pluspunten:
The pricing model for Jitbit self hosted makes the product exceptional value for money, made even better by the license being perpetual. With the backend being SQL this also allows for database level backups to be taken and managed, as well as 3rd party integration at database level. The interface is clean, and simple to use both from a tech and end user perspective. Unlike other helpdesk software on the markets the message thread is clean and easy to read. There is also a well build mobile application available.
Minpunten:
The reporting element of the helpdesk software is somewhat lacking in the number of reports which can be generated. These reports are also very rigid and allow little customisation.
Michael M.
IT Support Supervisor in VS
Industriële automatisering, 1.001-5.000 werknemers
Heeft de software gebruikt voor: 2+ jaar
Jitbit - The best Bang for the Buck!
Opmerkingen: Jitbit has provided me clear viability into my current workload for my team.
I am now able to create a strong business plan to grow my department, delegate the work efficiently , and allow me to interact with other lines of business without interrupting my day to day operations.
Pluspunten:
Flexibility, speed and ease of use are what make this software the premier application for a Web based HelpDesk. There is hardly any delay when waiting for a ticket to come in, and with a robust rule structure you can quickly get the ticket to the right support rep with minimal downtime or delay for the user.
Minpunten:
There's not a lot because every time I find a challenge or a missing feature, the Jitbit team is quick to review and address it.
Overwogen alternatieven: Zendesk
Redenen om voor Jitbit Helpdesk te kiezen: Speed, ease of use, flexibility, modern programming
Overgestapt van: FootPrints
Vervoer/over de weg/per spoor, 10.000+ werknemers
Heeft de software gebruikt voor: 1-5 maanden
Bron: SoftwareAdvice
Worst Customer Service
Opmerkingen: Worst customer service ever, The App doesn't work. Please keep your money. You will never get this to work on your own, and they offer no help at all.
Pluspunten:
Nothing, It didn't work
Minpunten:
It doesn't work
Reactie Alex
3 jaar geleden
We're sorry you were unable to set it up. I assume you were trying to install the on-premise version that does require some technical skills or administering a web-server, setting up a MS SQL database, configuring windows-integrated authentication and other tricky stuff depending on your requirements. That is why we also offer the SaaS (hosted) version that works in the cloud and requires literally zero setup. But nevertheless I regret and apologize the lack of support you experienced from us. If you could provide more details, we can investigate further.
Geverifieerde reviewer
Content & Experience Manager in Italië
Geverifieerde LinkedIn-gebruiker
Financiële dienstverlening, 51-200 werknemers
Heeft de software gebruikt voor: 2+ jaar
Ottima soluzione per la gestione dei ticket
Opmerkingen: Complessivamente trovo la gestione dei ticket completamente tracciabile e flessibile: ottimo il sistema di risposte interno al ticket, di cui apprezzo il campo di testo a cui è possibile allegare qualsiasi documento, oppure incollare direttamente uno screenshot. Comoda la possibilità di personalizzare le impostazioni per configurare gruppi di utenti, ad es. "Reparto IT", "Reparto Vendite" e così via, e gli agenti assegnati a tali gruppi riceveranno notifiche tramite posta elettronica. Comoda la possibilità di collegare due ticket, oppure di unirli.
Pluspunten:
In generale permette di avere una chiara visione del attuale carico di lavoro per ciascun elemento del team. Inoltre struttura il flusso di lavoro in modo efficiente e permette di interagire con gli altri reparti in modo veloce. Molto comoda l'Integrazione della posta elettronica, che permette di rispondere ai ticket via mail. Ho davvero apprezzato l'integrazione con Trello. Molto interessante la possibilità di sapere in tempo reale di sapere chi sta guardando o scrivendo un ticket, tramite gli alert "anche l'utente X sta guardando questo ticket e sta digitando una risposta"
Minpunten:
Non ho rilevato nessun difetto strutturale. Per quanto riguarda la versione mobile, non c'è la funzione "Cerca" e il layout non è organizzato come nella versione desktop: questo aspetto è molto migliorabile.
Geverifieerde reviewer
Geverifieerde LinkedIn-gebruiker
Heeft de software gebruikt voor: 1+ jaar
Bron: GetApp
Affordable and easy
Opmerkingen: We've been using this for 2.5 years. First, we wanted to go with the on-premise version (the company offers one) but then they convinced us to try the cloud-hosted and it worked great. We connect our users using SAML authentication use a hosted AD on Azure, and this makes life soo much easier.
Pluspunten:
Low price, responsive customer support, very nice UI.
Minpunten:
Lack of social media integration, but you hack your own using Zapier. Also, there's no "Search" function in the Android app, hope they add this.