Wat is Accord LMS?
Accord LMS heeft de geavanceerde functies die nodig zijn om grootschalige uitgebreide trainingsprogramma's voor ondernemingen uit te voeren tegen betaling voor kleine en middelgrote organisaties. Slimme functies automatiseren herhalende beheertaken. Onbeperkte leerrollen bieden elke gebruiker een aangepaste leerervaring op basis van hun unieke behoeften. Eenvoudige cursussamenstelling met quiz- en enquêtecreatie ondersteunt boeiende leerervaringen met behulp van SCORM, video, online documenten, live lessen en meer. Plan vandaag nog een gratis demo.
Wie gebruikt Accord LMS?
Accord bedient klanten die training beheren voor personeel, klanten of diverse leerlingcohorten. De goedkope en flexibele functies spreken kleine opleidingsafdelingen en grote ondernemingen aan.
Waar kan Accord LMS worden geïmplementeerd?
Cloud, SaaS, Web, Windows (desktop), Windows (lokaal), Linux (lokaal)
Over de leverancier
Accord LMS
Gevestigd in Boise, VS
Opgericht in 1996
Telefonische ondersteuning
24/7 (contact met medewerker)
Chatten
Beschikbaar in deze landen
Australië, Canada, Verenigde Staten
Over de leverancier
Accord LMS
Gevestigd in Boise, VS
Opgericht in 1996
Telefonische ondersteuning
24/7 (contact met medewerker)
Chatten
Beschikbaar in deze landen
Australië, Canada, Verenigde Staten
Video's en afbeeldingen van Accord LMS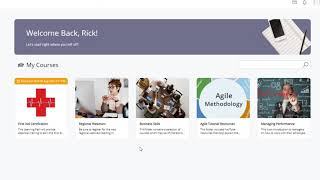 Vergelijk de kosten van Accord LMS met soortgelijke producten
Functies van Accord LMS
Activiteitendashboard
Asynchroon leren
Certificering en licentieverlening
Cijferlijst
Compliance bijhouden
Contentbeheer
Contentbibliotheek
Cursusbeheer
Cursussen bijhouden
Gemengd leren
Geïntegreerd systeem voor maken van cursussen
Leermanagement
Leerpaden en -trajecten
Mobiel leren
Naleving van SCORM-standaards
Portal voor leerlingen
Rapportage en analyse
Sociaal leren
Synchroon leren
Tests en beoordelingen
Trainingbeheer
Virtueel klaslokaal
Waarschuwingen/Meldingen
Werknemersprofielen
eCommerce-beheer
Alternatieven voor Accord LMS
Marie M.
Geverifieerde LinkedIn-gebruiker
Heeft de software gebruikt voor: 6-12 maanden
Bron: GetApp
Accord ranks #1 in support, price, and functionality!
Opmerkingen: My company first began our investigation into various Learning Management Systems a little over a year ago. After an initial introduction to Accord through Capterra, we quickly narrowed down our selections. Accord LMS remained our number one choice until we were ready to finalize the purchase. Though this was a lengthy process on my own company's end (approx. 12 months), our representative Mary Beth was nothing short of amazing as she remained patient, supportive, and enthusiastic. Mary Beth was always on hand to provide updates, answer questions, and consistently connect us to Solutions Engineers to provide insight into features of Accord that best benefited our company. We have been using Accord now for 6 months and have no complaints. Accord ranks #1 in support, price, and functionality in the world of LMS! Many thanks for the continued support!
Pluspunten:
Since we are utilizing Accord to connect various independent distributors, Accord's ability to provide Admin capabilities for over 40+ individuals is unmatched. The organization of levels of employees, as well as automatic reports sent to management is easy to understand and extremely effective.
Minpunten:
Thus far, nothing to report
Computersoftware
Heeft de software gebruikt voor: 2+ jaar
Bron: SoftwareAdvice
Accord LMS: Flexible, Valuable and Reliable.
Pluspunten:
Our client company licensed the Accord LMS several years ago to train temporary employees. The courses we implemented guide the employees to understand the business model, consider specific aspects of their new role, and train them to interact with the business system. Some of the content in the courses is confidential, and the Accord implementation helps to limit access to that content by limiting enrollment based on security roles. Courses are designed using the SCORM standard, which allows course development to be done independent of the LMS. The courses have loaded and interacted with Accord very well, correctly reporting quiz scores and completion status. Accord has been a very stabile product, requiring very little administrative attention. Our version of the product has a limit on the number of active learners, so we have had to monitor our usage and either limit the number of learners or adjust the license to fit our needs. We have directed several special requests to the sales department with regard to licensing, and each time they have accommodated our needs. We have found them a good partner to work with. We have kept the software on a maintenance contract throughout, and have generally found this to be a good value. While service requests have been minimal, there have been some key times during software upgrades where we have placed service requests. These were answered quickly and our issues were resolved. The cost of the maintenance contract has increased sharply, and this has caused us some concern. In summary, we have found the Accord LMS system to be flexible, valuable and reliable.
Minpunten:
We were recently surprised by a significant increase in the maintenance contract cost.
Reactie Rick
6 jaar geleden
Thank you for taking the time to write such a thorough review. I'll pass your comments onto the entire team. Our price increase in January 2016 was the first in 4 years. For our hosted accounts, which include maintenance, it was only a modest increase. Our self-hosted customers did experience a more substantial increase. This reflects the additional support requirements that factor into most on-premise installations such as client server access, configuration, updates, etc. This may be why most of our competitors do not offer self hosted systems. I'm confident that you will still find the Accord LMS to be the best deal around.
Riyaz A.
Global Director of Training in VS
Computersoftware, 501-1.000 werknemers
Heeft de software gebruikt voor: 2+ jaar
Accord LMS - Minor league player trying to play in the majors.
Opmerkingen: We inherited Accord LMS when we merged with our sister company. Even though we asked, we never received the onboarding experience you would normally get when implementing a new system. Accord LMS worked for our employees and customers however, the experience did not keep up with end-user expectations.
Pluspunten:
An excellent account management team who responds to all queries and concerns as needed. The product works reasonably well, especially if you don't need any fancy design changes.
Minpunten:
Customization requires professional services or knowledge of DNN. Not much documentation or assistance from the company. User management, reporting, and course management work until you want in-depth functionality that most other systems have - out of the box.
Reactie Accord LMS
2 jaar geleden
Hi Riyaz, Thanks for your feedback. We genuinely appreciate it. Your positive review of our account management team reflects the feedback we get from most clients. We think that they're the best. Your feedback on our documentation was insightful. We are currently in the process of updating our online manuals and dozens of support and training videos to be both easier to follow and more integrated with the product itself. I'm sorry that you weren't able to get all of the customizations that you were looking for. As an LCMS, the Accord solution is among the most configurable platforms available, but some things can be more challenging or even out of the system's scope. It's our goal to provide our clients with the best LMS experience for their unique needs. It sounds like we might not have remained the right fit for you after your mergers. We hope that you found the best solution for your training priorities. Thanks again, Accord Product Team
Emirhan S.
Music in Turkije
Muziek, Zelfstandig ondernemer
Heeft de software gebruikt voor: 6-12 maanden
Nice for creating lms
Pluspunten:
It is very easy to install and configure and has a functional interface.
Minpunten:
In fact, there is nothing that I do not like, I use it with pleasure, but the price may be a little high.
Candace G.
Consultant in VS
Basis- en voortgezet onderwijs
Heeft de software gebruikt voor: 1+ jaar
Bron: SoftwareAdvice
Review of Accord LMS
Pluspunten:
AccordLMS provides all of the expected LMS capabilities. The installation and upgrade of this product is simple. The administration is easy, customization is good, and the customer service is excellent. The eCommerce piece is robust and the system allows for multiple portals sharing courses from master to child. The system allows for free access (such as for internal training) as well as purchased access (for external sales, either individual or subscription).
Minpunten:
One client that I worked with had too many sub-folders for their courses, and this caused performance issues (this may have been addressed in latest release). Also, if you need detailed quiz reporting (down to the individual question and answer level) you must build your assessments with Articulate, as AccordLMS has custom code to extract their reporting details.
Reactie The Accord LMS Team
7 jaar geleden
The Accord provides detailed quiz reporting for ALL assessments that provide the information, not just those authored with Articulate. Some assessments, from other authoring tools, do not provide detailed quiz information which makes it impossible for the LMS to report it. Concerning sub-folders, our current version is supporting clients with over 10,000 courses and sub-folders with excellent performance.